Almost two in five secondary school pupils don't take part in any extracurricular activities, revealing a "big mismatch" between the skills that schools say they are offering and the reality for pupils, according to a new report.
Thirty-seven per cent of secondary pupils do nothing except their formal academic studies in school, taking part in no clubs or activities whatsoever, new polling published by the Sutton Trust shows.
The low participation rate comes despite the majority of schools saying they offer volunteering, debating and other programmes to develop the skills in their pupils so coveted by employers.
For instance, an Ipsos Mori survey found 92 per cent of secondary school pupils do not take part in volunteering activities. This is despite another survey, by NFER, finding that 78 per cent of secondary school teachers said their schools offered such opportunities.
Meanwhile, 45 per cent of teachers said their school provided debating clubs, but only two per cent of pupils have said they participate.
The poorest pupils are also least likely to take up activities, partly because schools with more pupils on free school meals offer fewer activities.
For example, 70 per cent of schools with the lowest proportions of pupils on free schools meals offer debating clubs, compared to just 35 per cent of schools with the highest.
This is despite teachers in schools from the poorest areas being most likely (at 78 per cent) to believe their school should offer more "life skills" activities, compared to fewer teachers (at 64 per cent) at schools with more affluent intakes.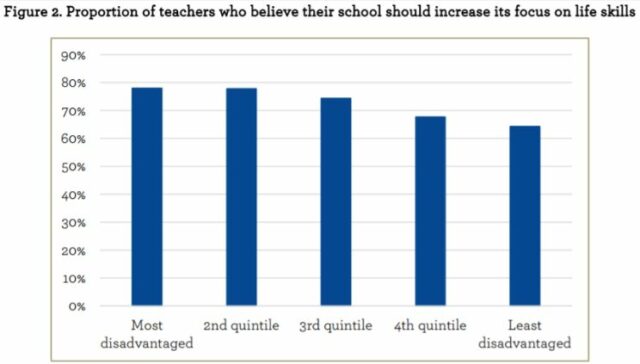 Sir Peter Lampl, chair of the Sutton Trust, said all pupils should have the opportunity to develop skills such as confidence, articulacy, social skills and team work.
"Independent schools by and large do an excellent job," he said.
"It is vital that state schools embed the development of these skills" in all aspects of learning, he said – so they were as "natural a part of school life as English and maths."
The Sutton Trust has repeated calls for a means-tested voucher funded through pupil premium money to enable poorer families to access more activities.
"Through this, lower income families could access additional
support and enrichment, including extra-curricular activities and one-to-one tuition," said the report.
The revelation that nearly two in five pupils do no extracurricular activity also disputes ministers' claims that the academic focus of the EBacc is counteracted by enrichment activities like sport, drama and dance pupils take part in outside of lessons.
The pressure of exams is indicated by the report, which found pupils were less likely to do clubs or other extracurricular activities while in their GCSE years.
While 77 per cent of year 7s starting secondary school said the curriculum helped them with "life skills", this fell to just 50 per cent in years 10 and 11 while pupils prepared for GCSEs.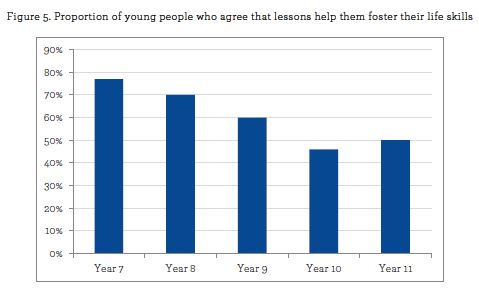 This was in stark contrast to how much pupils came to value them as they grew older – while just 15 per cent of year 7s believed "life skills were more important than grades", by year 11, 22 per cent of pupils agreed.