Cutting costs is the major issue facing school leaders, new research released today shows.
An annual survey of headteachers, principals, deputies, finance directors and school business managers, shows 55 per cent said reducing cost is a major priority over the next 12 months. The survey had 467 replies, with 462 answering the major priority question (see infographic below).
This is a rise of 15 percentage points on the results of the survey last year, which had 223 respondents, and found cost cutting was then a "major priority" for 40 per cent of school leaders.
The research by law firm Browne Jacobson, in partnership with the Association of School and College Leaders (ASCL), also shows how two thirds of leaders are concerned about the "extra pressure" the new special educational needs (SEN) framework would put on schools.
The report highlights concern from leaders that they would need to use funding for other children on pupils with special educational needs, with 82 per cent saying they would have to dip into their mainstream funding to cover the notional SEN budgets.
The findings also show leaders believe staff morale is "broadly the same" compared to this time last year, although the figure was higher in academies than maintained schools. In maintained schools, 34 per cent of leaders thought morale was "somewhat worse".
Overall two – thirds of school leaders were concerned about the extra pressure the new SEN framework would place on schools; of these around one-third (31 per cent) are very concerned. As a result the majority (82 per cent) are preparing to divert funds from their overall budgets in order to meet the pressures placed by the new SEN framework.
Nick MacKenzie, education partner at Browne Jacobson and author of the School Leaders Survey 2014, said: "The growing financial pressure placed on the shoulders of thousands of school leaders up and down the country is palpable, leading to an environment of growing uncertainty and falling morale.
"The decision not to proceed with a fairer national funding formula for schools for the time being will have only added to the growing frustration felt by many school leaders."
He added: "With an election next year, schools will be looking closely to see how the parties propose to help the system address these challenges.
"However, it is clear that dissatisfaction amongst school leaders extends well beyond school budgets. The deep concerns expressed by school leaders in delivering the new SEN framework and assessments should also act as a further wake-up call. However with the slowing down in the pace of reform, we are sensing encouraging signs of optimism in some key areas."
ASCL general secretary Brian Lightman said: "It is no surprise that funding is a growing concern for school leaders. Schools have been at the sharp end of far-reaching change, from the ongoing reforms to the curriculum and examinations, to the overhaul of the special educational needs funding.
"With these reforms come additional pressure on schools, not only in planning and preparation, but staff training, communication to pupils and parents, and managing the transition processes. All of this costs money.
"In addition, increasing numbers of schools are facing holes in their budgets caused by pension contribution rises and other increasing costs. With the election looming, we are pressing all political parties to commit to a national funding system that ensures all schools are funded equitably, adequately and in the context of the demands required of them.
"However it's not all doom and gloom. By nature school leaders are optimistic. Perhaps the fact that twice as many school leaders are positive about the educational prospects for their students is a sign that they are beginning to seize hold of the opportunity to play a leading role in developing a genuinely self-improving system."
The survey also shows 27 per cent of school leaders would like to be able to borrow funds from the private sector and 80 per cent believing the introduction of performance related pay has had no effect on pupil outcomes.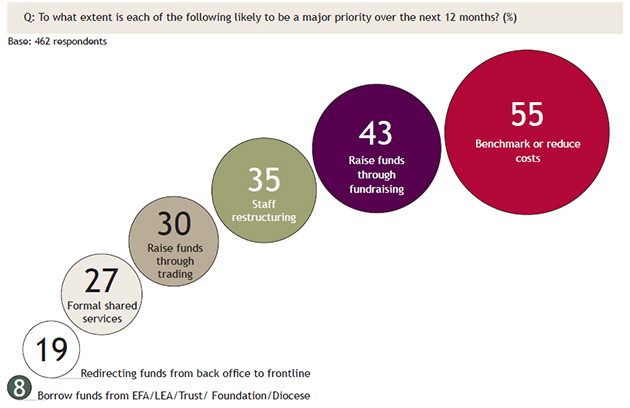 Source: Browne Jacobson school leaders survey 2014, assoication with ASCL