Pupils studying BTEC qualifications score on average the equivalent of a grade higher than they do in GCSE English and maths, a new analysis has found.
The study, by Education Datalab, analysed the average progress 8 points scores of pupils across both GCSE and technical qualifications compared to their English and maths scores.
It found that in BTEC health and social care, pupils scored on average the equivalent of a grade and a half higher than they did for GCSE English and maths – the largest difference for all technical qualifications with at least 5,000 state school entrants.
Pupils in another three BTEC qualifications (music, performing arts and sport) all scored the equivalent of over a grade higher.
Looking at variation in GCSEs, art and design – photography was the most generous with pupils scoring the equivalent of nearly a full grade more than they achieved in English and maths.
Meanwhile, at the other end of the scale, pupils tended to achieve lower outcomes in French, German, Spanish and computing.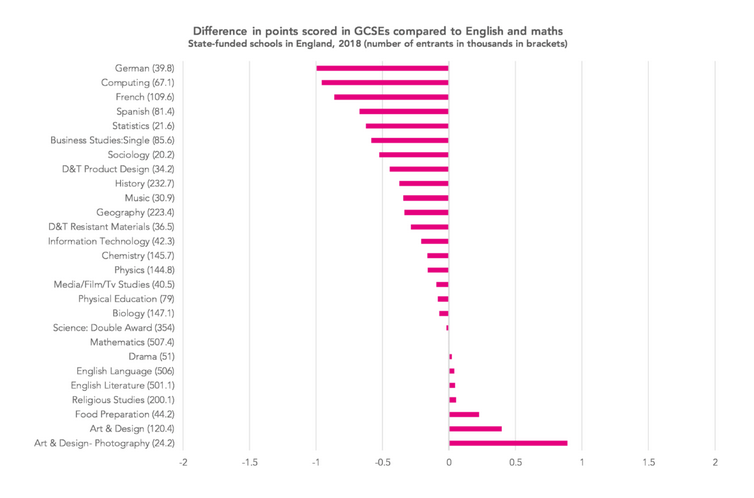 Datalab suggested the variation could create "perverse incentives" for schools to enter pupils for higher scoring qualifications that "may not be in their best interests".
It follows the ECDL scandal a few years ago where the government ditched the "fast track" qualification from league tables after gaming concerns exposed by Schools Week.
A similar Datalab study found pupils taking the qualification scored on average the equivalent of an A grade, despite achieving an average score of below a C across their GCSEs.
Schools were urged by the PIXL club – a membership organisation that aims to raise attainment in schools – to enter "vulnerable" pupils into the GCSE-equivalent qualification, which they claimed could be taught in three days.
The finding on BTECs also comes after exam board Pearson last month hiked up the grade boundaries for its new BTEC tech awards just days before pupils were due to get their results.
The move meant thousands of youngsters faced getting lower grades than they were expecting. Pearson said it had to act to ensure the grades were "fair and have equal value" to other qualifications.
Under the progress 8 measure, pupils' grades in qualifications counted in league tables are converted into points. Datalab stated the scoring system "tacitly assumes" that all passes at the same grade represent the same level of challenge, despite their study showing the differences between subjects.
The blog added: "There is a dilemma here. On the one hand, many would argue that there should be qualifications that pupils who might struggle with academic qualifications can succeed in.
"On the other hand, others would argue that this creates a perverse incentive to enter other pupils for higher scoring qualifications that may not be in their best interests."
Datalab suggested one solution would be to change the progress 8 points awarded to align them more closely with English and maths outcomes.
A DfE spokesperson said: "Performance measures such as Progress 8 are designed to encourage schools to offer a broad and balanced curriculum. We trust schools to make the right choices for their pupils, but where we see evidence that this is not happening, we will not hesitate to act."
They added that under the new Ofsted framework inspectors will challenge leaders and managers about any unusual patterns of exam entries that are not in the interest of their pupils.