Sprinklers were installed in just 3 per cent of English schools where fires broke out in the past five years, Schools Week can reveal.
Ministers are now under increasing pressure to make sprinklers compulsory in all new and refurbished schools – as is the case in Scotland.
The news comes as the government drags its feet in response to its consultation over updated guidance into fire safety design in schools, which was launched in the wake of the Grenfell Tower disaster.
Dr Mary Bousted, joint general secretary of the National Education Union, said it was "time that the government wakes up to the idea that investing in sprinklers is a small price to pay when measured against the threat to life".
Freedom of information responses from 38 of the 45 fire services in England showed that firefighters had attended 1,950 incidents at schools since 2014. Just 61 (3.1 per cent) of these had sprinkler systems installed.
Fourteen fire services which responded to a total of 489 reports of school fires said that not a single blaze they attended was in a building with a sprinkler system installed.
The figures relate solely to primary and secondary schools and do not include derelict properties.
Investing in sprinklers is a small price to pay when measured against the threat to life
The government ran a consultation process from March to the end of May on fire safety design in schools, calling for evidence to revise and update guidelines in the wake of the Grenfell Tower disaster in 2017 and a review led by Dame Judith Hackitt. However the government is now five weeks past the 12-week timeframe in which departments are expected to publish responses.
Areas that fared significantly better than the 3.1 per cent average include Northamptonshire, where 31.8 per cent of fires attended were at schools with sprinkler systems installed. Gloucestershire and Cleveland both had sprinklers in 14.3 per cent of schools where there were fires.
Cleveland Fire Brigade was called to Outwood Academy Bydales in Marske-by-the-Sea last October following an electrical blaze in a washing machine. The school was fitted with sprinklers, which firefighters said had contained and extinguished the fire by the time crews arrived.
"This incident once again proves the value that sprinklers can play," Joe Flounders, head of fire engineering at Cleveland Fire Brigade said. "They also bring down the cost of fire, reduce the impact on the environment and minimise disruption to the community."
London Fire Brigade (LFB) has attended the most school fires since 2014 – 350. Of these, just 10 schools, or 2.9 per cent, had sprinklers installed.
The LFB said that sprinklers could have saved Roding Primary School in Dagenham last September after a blaze destroyed a signification portion of the single-storey building, leaving hundreds of pupils needing alternative placements.
Lee Drawbridge, the LFB's deputy assistant commissioner, said there was "no clearer example" of the importance of sprinklers in schools, adding that such a safety system could have "significantly reduced the damage and impact of this fire".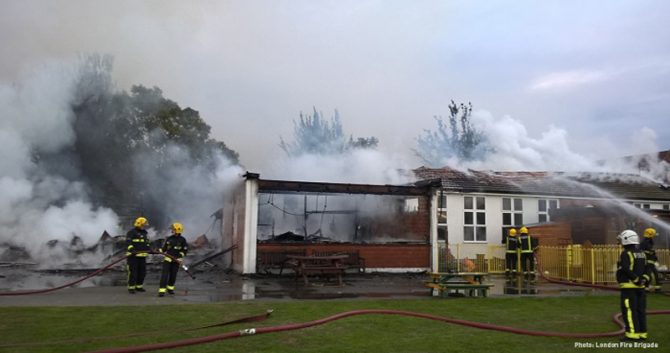 Schools Week revealed in 2017 that the proportion of new schools being built with sprinkler systems had halved to just 35 per cent since 2010.
Figures released last year showed that just 74 of the 260 schools rebuilt as part of phase one of the government's priority school building programme have, or are planned to have, sprinklers fitted.
Furthermore, analysis of 1,000 site surveys by schools insurer Zurich Municipal found that only 5 per cent of schools in England were rated "excellent" for fire protection systems, compared with 29 per cent of schools in Scotland.
Zurich said that larger school fires did damage that cost an average of £2.8 million to repair.
The National Fire Chiefs Council, which backs calls to make sprinklers mandatory in new and refurbished schools, estimates that the cost of installing a sprinkler system in a medium-sized school during construction is about £100,000 – about the same cost as providing carpets.
Andy Dark, assistant general secretary of the Fire Brigades Union, said: "After a decade of austerity, the fire and rescue service is hanging by a thread. With slowing response times and massive cuts to firefighter jobs, a sprinkler system could make the crucial difference, saving a school from destruction in a fire.
"Building schools on the cheap is counterproductive – and the cost could be the complete disruption of our children's education. We need to invest in schools as a part of investing in our future."
But a Department for Education spokesperson said that schools were "fundamentally safe places, designed to be evacuated as quickly as possible in the event of a fire".
The spokesperson added: "All schools are required to have an up-to-date fire risk assessment and to conduct regular fire drills – and all new school buildings must be signed off by an inspector to certify that they meet the requirements of building regulations. Where sprinklers are considered necessary, they must be installed."
Sprinklers are the key to achieving resilience
Dr James Glockling, technical director at the Fire Protection Association, told Schools Week that the fire risks in schools are changing – and so must regulations.
Building methods are using more combustible materials, schools are getting larger and technology, such as 3D printers and laser cutting systems, created the potential for more fires in the classroom, he said.
There is nothing to suggest that such building methods are less safe with regard to protecting people, but they "will not fare as well" when it comes to property protection and the continuation of services, Glockling said.
"It is a little understood fact that our building regulations in respect of fire seek to achieve nothing more than to assure 'evacuation before collapse' of building.
"The continuity of supply of education services is critical to community welfare and there is no doubt that the provision of sprinklers, in association with proper consideration of building methods and materials employed, is the key to achieving resilience."