INVESTIGATION: Only 1 in 3 new schools has sprinklers – and 'expectation' to fit them due to be removed from DfE policy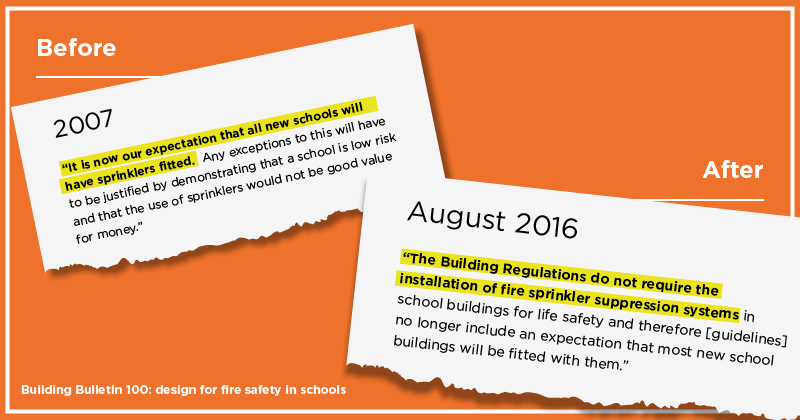 The proportion of new schools being built with fire-preventing sprinklers has halved to just 35 per cent since 2010, prompting fresh concerns over pupil safety following the Grenfell Tower blaze.
The figure could also decrease further as the government plans to water down the wording of its school fire safety guidance by suggesting sprinkler systems are no longer expected – a move lambasted by fire officers and education unions.
But the Department for Education (DfE) denies the rewording changes the policy, it only clarifies it.
Over 50 people died last week after a huge fire erupted at Grenfell Tower – a 24-storey housing block in west London.
After the blaze, Angela Rayner, Labour's shadow education secretary, tweeted that she warned the government last year of the dangers of removing an "expectation" to fit sprinklers in all new schools, and that they "should be fitted in housing too".
I was warning the Tories last August about removing the requirement to fit sprinklers in schools, they should be fitted in housing too! https://t.co/YrhB9wdlrm

— Angela Rayner MP (@AngelaRayner) June 14, 2017
So what is the DfE proposing on sprinklers?
The DfE released a draft of new fire safety guidance for schools last August.
In the same month it launched a consultation on the updated policy – the results of which have still not been published 10 months later and the document has now been removed from all government websites.
In relation to sprinklers, new wording in the guidance states: "Building regulations do not require the installation of fire sprinkler suppression systems in school buildings for life safety."
"Therefore," it added, "[guidelines] no longer include an expectation that most new school buildings will be fitted with them."
The government has claimed that despite this new wording, the rules on sprinklers in new schools continue as they were from 2007 when Labour's policy was created.
In 2007 the Labour party introduced Building Bulletin 100: Design for Fire Safety in School, a policy which favoured the use of sprinklers.
In the policy's guidance, then schools minister Jim Knight said: "It is now our expectation that all new schools will have sprinklers fitted. Any exceptions to this will have to be justified by demonstrating that a school is low risk and that the use of sprinklers would not be good value for money."
Between April 2007 and May 2010, around 70 per cent of new schools had sprinkler systems fitted.
But from 2010 to 2015, when the coalition government was in power, this figure plummeted to 35 per cent, according to David Amess, chair of the all-party parliamentary group for fire safety,
Based on these figures, at least 268 new free schools, built since 2011, do not have fire-preventing water systems in place.
Sprinkler policy 'characterised by chaos'
Schools Week understands the government changed the wording as an attempt to make it clearer that the expectation of fitting sprinklers was only on schools where a risk assessment says they are necessary, rather than that they should be installed everywhere.
But the change has been heavily criticised by fire officers and education unions.
Kevin Courtney, NUT general secretary, said the government's policy on sprinklers in schools is "characterised by chaos and confusion".
He told Schools Week: "Whatever claims the government may make about not changing the policy, it is the wording in the Building Bulletin that matters and that wording undoubtedly constitutes a weakening of the expectation around sprinkler fitting in new schools.
"The NUT and the Fire Brigades Union wrote to [education secretary] Justine Greening outlining our concerns in August 2016. In light of the tragic events at Grenfell Tower, to press ahead with this now would be utterly unacceptable and reckless."
After the wording change last August, Julian Parsons, of the Chief Fire Officers Association (CFOA), told Brighton newspaper The Argus: "This is a retrograde step that doesn't make any sense. Sprinklers don't just save lives, they prevent fires from spreading and causing significant damage and disruption to our children's education."
According to research by the CFOA there were 4,208 fires in schools between 2003-04 and 2013-14, resulting in 129 casualties.
Two major school fires occurred in quick succession in 2016. Up to 100 firefighters tackled a blaze at Selsey Academy in Sussex on August 21 but they could not stop part of the school from being destroyed.
Karen Roberts, chief executive of TKAT, the trust which runs the school, said it was "not a requirement" from the government for schools to have sprinklers and accordingly these were "not installed" at Selsey academy.
She added however, there was "little that could be done to stop it spreading so quickly on this occasion".
Just a few days later on August 24, 12 fire engines tackled a fire at Cecil Jones Academy in Southend-on-Sea. It was reported that the school also didn't have a sprinkler watering system fitted.
The DfE said the need for sprinklers is determined on a case by case basis using a risk based assessment, where all but those in low risk category will require sprinklers.
A spokesperson said: "All schools, like other public buildings, must adhere to stringent fire safety legislation. Specific guidance for new school buildings says where it is concluded that sprinklers must be fitted to protect property or keep children safe, they must be installed."