As the EU referendum debate continues to rage on, a new report published today hopes to shed some light on the impact of immigration from European countries on England's schools.
Concerns over the impact on schools of a Brexit vote has taken a number of forms in the last few months – from loss of access to loans to build new schools from the European Investment bank, to the risk of losing native French, German and Spanish teachers in classrooms, which could further exacerbate anticipated problems with the new "migrant salary thresholds" on schools.
Immigration is said to be one of the foremost issues of those planning to vote to leave the EU on June 23.
SchoolDash, an education data company, has attempted to inform the debate by establishing what official government figures tell us about schools and immigration in a report published today.
The Department for Education figures do not include nationality, only ethnicity – such as "white" or "Asian". SchoolDash was therefore unable to specifically find EU immigrants and has instead used the category "non-British, non-Irish white" (NBW) to categorise children who are most likely to be from EU countries.
Schools Week has rounded up the key points from the analysis:
The overall proportion of EU immigrant pupils is low
Nationally, 4.9 per cent of children at primary schools are NBW, and at secondary schools the proportion is 4.2 per cent.
And the increase in NBW pupils, overall, since 2011 is just 1.2 per cent.
But, unsurprisingly, some parts of the country have seen larger increases (and decreases) than others during that period – as shown in the below map.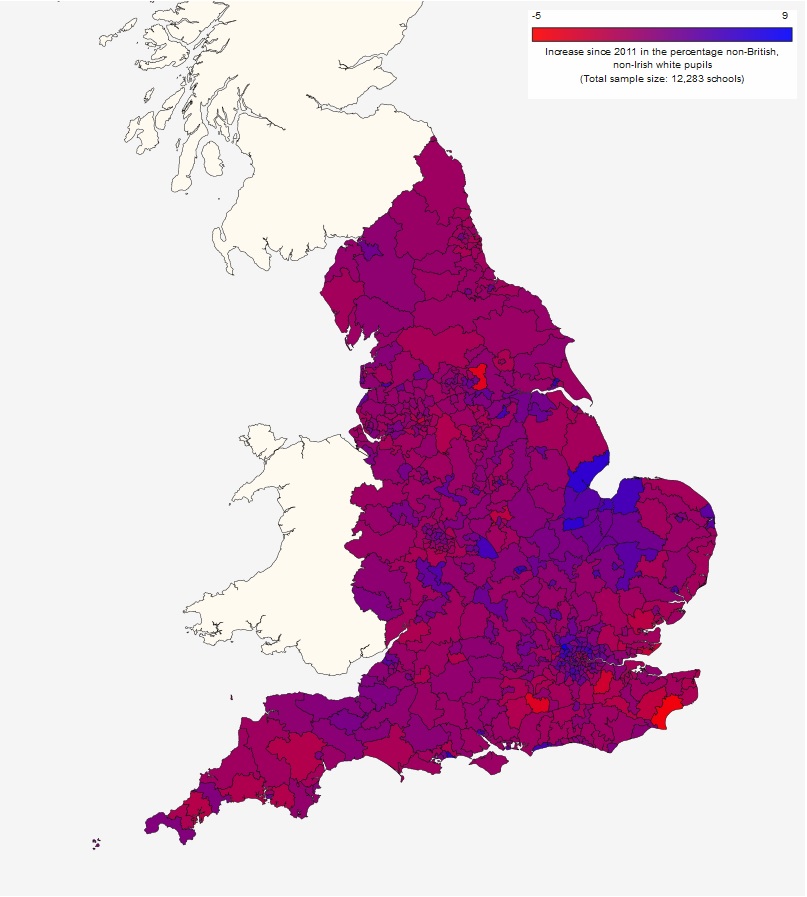 London, Boston and Peterborough, for example, have seen between a 6 to 8 per cent increase of NBW pupils, some of the largest in the country.
Conversely, in Folkestone and Hythe, there has been a decrease of 3 per cent.
Not all schools are impacted equally
Common sense tells us that just because an area has seen an increase of children from the EU (or even elsewhere) it does not mean ALL schools are affected.
The map below shows one school may have had an increase of NBW pupils by up to 6 per cent (blue dots), but the school in the next town might have actually had a decrease by 2 per cent (red dots).
The impact, then, is generally "hyperlocal".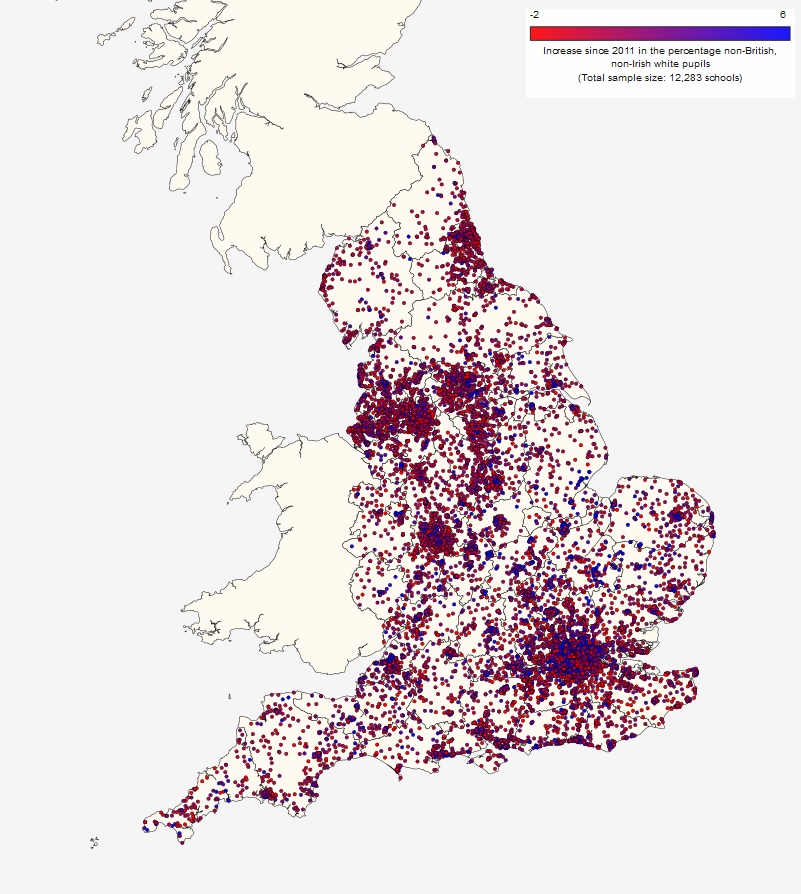 Attainment – a mixed, but positive picture
SchoolDash looked at how the performance of primary schools is impacted by having greater or smaller proportions of NBW pupils.
It analysed the difference in attainment in last year's key stage 2 SATs using four metrics: at national level; schools with high proportions of NBW pupils; schools with low proportions of NBW pupils; and schools with low NBW proportions but with similar characteristics (socio-economic etc) to high proportion NBW schools.
Here's what they found…
First, the make up of the schools analysed
Schools with more NBW pupils have much higher numbers of children classed as having English as an additional language (EAL) – 56.6 per cent, compared with a national average of 14.7 per cent, and just 2.2 per cent in low NBW schools.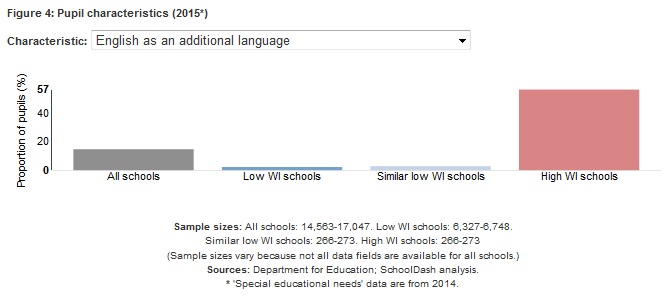 High NBW schools also have higher proportions of children in receipt of free school meals (FSM) – about one in five, compared with one in ten in low NBW schools.
What does this mean for attainment?
On average nationally, 81.4 per cent of children achieved a level 4 in reading, writing and maths (the national benchmark). Schools with higher numbers of NBW pupils, and therefore higher numbers of pupils with EAL, do less well in meeting this target than schools with low numbers of NBW pupils (79.3 per cent compared with 82.4 per cent).
But, schools with high proportions of NBW pupils do better than those schools most similar to them, but with low proportions of NBW pupils (79.3 per cent compared with 77.1 per cent).
Put simply: pupils at schools with fewer NBW pupils generally do better. But schools with few NBW pupils but with a similar make-up of pupils (i.e. FSM/non-FSM) do worse than schools with lots of NBW kids.
What about immigrant children on free school meals?
Disadvantaged pupils (those on free school meals) in high NBW schools do better than their peers across the spectrum of schools – 73.3 per cent achieving level 4 in RWM, against 67.9 per cent in similar low NBW schools.
This is higher than the national average (71.4 per cent) and at low NBW schools (70.4 per cent).
Why?
The author suggests the impact of EAL pupils is what factors into this, and that such children come from families who place more importance on education.
This is backed up by research from Professor Louise Ryan and colleagues at the Social Policy Research Centre (Middlesex University, London).
They said: "Migrants to Britain often originate from countries where there is a high regard for education and great respect for teachers. These migrants place a high value on education and encourage their children to work hard in school and listen to their teachers."
But London has quite an impact on the above results
London is, as always, the outlier in these statistics, as shown by the following graphs and figures.
The graph below shows how schools with high NBW proportions in London compare with those outside. For KS2 SATs, 84 per cent of pupils at high NBW schools in London achieved a level 4 in RWM, while just 70.8 per cent of pupils outside London did.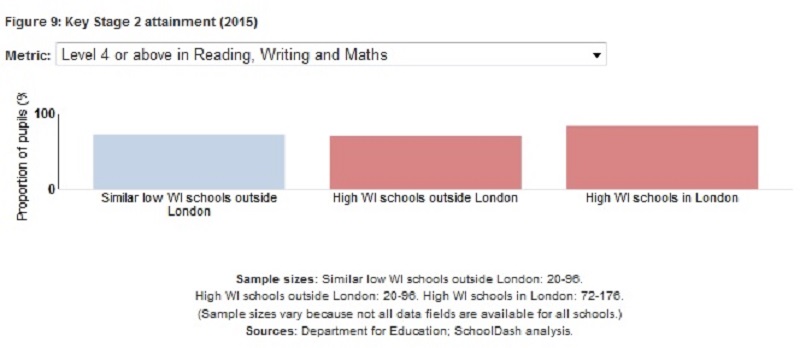 SchoolDash calls it "Laudable London" and says "if you believe (as some do) that London's educational strength comes in part from its ethnic and linguistic diversity then you could reasonably conclude that having a lot of white immigrant children at a school is likely to help rather than hinder its academic progress".
Schools Week has previously reported about the impact on EAL pupils and London in national figures for attainment. While overall EAL figures will include pupils from a large number of countries outside the EU, it does show how the difference in provision in schools could be what has more of a bearing on results.
Dr Antonina Tereshchenko, research associate at King's College London, found, by analysing the National Pupil Database for the GCSE results of pupils whose first language is recorded as either Bulgarian, Czech, Estonian, Hungarian, Latvian, Lithuanian, Polish, Romanian, Slovak, Slovenian, or Russian that there has been a marked improvement in results.
She said: "Over the last five years, pupils speaking the above Eastern European languages as their mother tongue have seen a steady improvement of their KS4  results. For example, between 2009 and 2013 the proportion of these pupils leaving secondary education with five GCSEs at grades A*-C increased by 22.2 per cent, compared with an average for the national cohort of 11.8 per cent."
Her research also found the gap between disadvantaged Eastern European pupils achieving five A*-C GCSEs, including English and maths, and their non-FSM pupils was just 3.2 percentage points in 2012-13, compared with a national average of 26.9 percentage points.
What the author says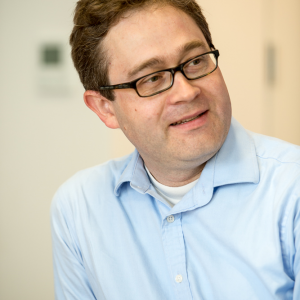 Dr Timo Hannay, SchoolDash founder and the son of a Polish immigrant, said it was "not surprising" he was in favour of free movement, but said the findings were analysed and presented "objectively".
Hannay added: "The effects of EU immigration in terms of both numbers and their effects on academic attainment therefore appear very local, with most areas largely unaffected, a few areas heavily affected and London positively thriving, at least in terms of academic outcomes."