Schools are not getting enough funding to provide for pupils with special educational needs (SEND), according to more than eight in ten school leaders.
The survey by The Key, a leadership and management support service, also revealed that almost 90 per cent of school leaders thought cuts to council services had a "detrimental impact" on the support their institutions received for SEND, and 88 per cent believe initial teacher training does not adequately prepare teachers to support pupils with additional needs.
At the same time, three quarters of respondents to the poll of more than 1,100 school leaders knew of pupils who had been waiting longer thanthe expected period of six weeks for an assessment of their needs or a new education, health and care plan, which replaced statements in September 2014.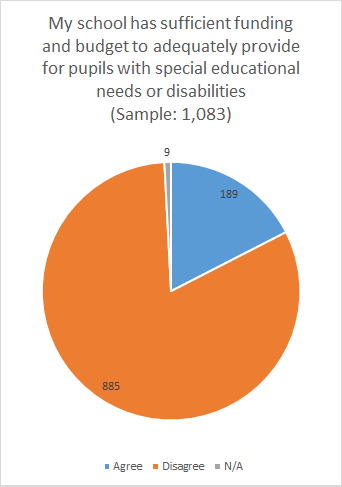 Schools are still waiting to hear details of the government's plan to introduce a national funding formula, and have expressed fears about the impact a shake-up of funding could have on cash for pupils with SEND.
The Key's survey gives an insight into the widespread nature of fears over the current funding system, with 68 per cent of respondents calling for a "greater focus" on children with SEND in education policymaking.
According to Cathy Earley, headteacher at Greenacre Community Nursery School in Merseyside, stretched funds meant schools were unable to absorb any additional staffing and funding demands for children with SEND.
She said: "The direction the curriculum is taking is also becoming less and less inclusive for these children, meaning schools need to look at alternative interventions which cost money and teacher time."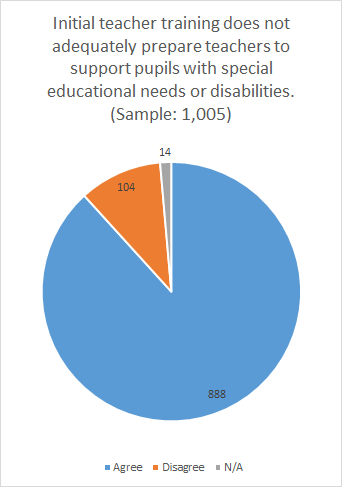 Earley's concerns were shared by Fergal Roche, chief executive of The Key, who warned that the findings represented "an important wake-up call from school leaders".
"Schools need adequate funding and a holistic, well co-ordinated and resourced system of support behind them to provide effectively for children with SEND," he added.
The survey also revealed that the problems explored were more acute in primary schools, where 84 per cent of leaders said their budget was insufficient and support for 91 per cent was affected by council cuts, compared to 70 per cent and 81 per cent respectively at secondaries.
It is not the first time in recent months that the issue of SEND training has been raised. At its annual conference in March, the National Union of Teachers approved a motion calling for all trainee teachers to receive "comprehensive" SEND training to cope with "greater responsibilities".
The NUT also voted to strike if further cuts to central and school support services are threatened, and expressed fears about an apparent drop of nearly 6 per cent in the number of pupils with special educational needs since 2010.
Almost half of that decrease occurred after a new code of practice was introduced in 2014 with stricter definitions, the union said.