It's the last week of term and all through the school everyone's . . . absolutely exhausted.
The year has been brutal. Not that it was a surprise. When Michael Gove finally was shown the door in July, some argued it was because he was too big for his boots and had become mean to teachers. He started that way! Gove's terminology was always divisive; unnecessarily saying one type of school was better than another.
Nicky Morgan has been nicer, but she's a bit of a night watchman. Plus, being fair to her, what could she do? She has to preside over curriculum changes that are a pain to implement and an Ofsted system that seems to be imploding. Her department so far has mainly busied itself putting out amusing press releases – such as weird economic studies about how many billions of pounds GCSE scores have added to the economy. I am not sure how this year's dip in results will be spun.
At this rate, I'll be laughing all the way to May.
Nicky Morgan has been nicer, but she's a bit of a night watchman
GCSE results are often a highlight (or terrifying lowlight) for headteachers. This year the headline scores didn't change much. However, some people will get a shock when the GCSE scores are released at school level. It's likely that online systems that show individual school scores will show dramatic dips in average point scores since the stripping out of vocational qualifications.
The changes to "early entry" GCSEs hit us. Bizarrely, in autumn 2013, we were congratulated by Ofsted for putting our students into early entry exam (83 per cent passed, so they were ready). Three months later and suddenly we are walloped over the head by a government that almost says it is cheating. If that's true, why the Ofsted praise? We carried on anyway – because it was right for our students.
In terms of Ofsted, the dropping of lesson grading for individual teachers during inspections was a bit of a shrug for us (we haven't done it for three years). But the British values thing, where schools now feel like they have to show what it means to be British, is meaningless. My British values are probably different to yours, unless it means "being human", and the idea that inspectors are trying to check that is really, really silly. Still, it shows the hold Ofsted has over schools, and the fear and anxiety that brings.
A bigger headache was the introduction of performance-related pay. It has been an interminable headache sucking hours of time to end up almost exactly where we would have been even if we hadn't had PRP. We adapted the NUT/NASUWT process and carefully considered all applications for teachers who wanted to move more than one point on the pay scale. Given that we don't grade lessons, it's very difficult. We tried a multi-layered evaluation system, but a lot of it can come down to "feeling" a teacher's presence. Knowing that judgments would be scrutinised by governors, I had to be meticulous, meeting all candidates looking to jump up. It took months and seemed a pointless bureaucratic exercise.
There are some positive lights ahead. My involvement with the headteachers' roundtable has been exciting; with Tom Sherrington we are looking at introducing a baccalaureate, giving students a better range of skills and ensuring they access the full spectrum of learning. The start of the College of Teachers, also has interested in building a professional organisation to represent teachers.
I also want to keep pleading for a better Ofsted system. What we have is punitive. Even though I know some people don't agree that Ofsted should be a "school improvement" partner, this is the way it has to go if it is going to get people's confidence back. Headteachers have lost faith. Having peer-to-peer inspections, where heads help each other get better, might restore it.
All that said, though, there's a general election next year. The only thing I would bet on is still being exhausted come December 2015!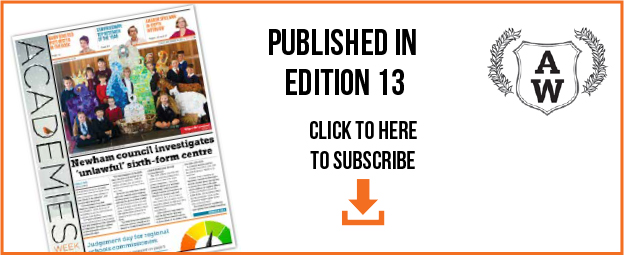 Liam Collins is Headteacher of Uplands Community College in Wadhurst, East Sussex