There is currently "no credible solution" to the problem of year group bubbles mixing with other pupils while travelling to and from school, a think tank has said.
The Education Policy Institute warned today that a "significant number of pupils" are likely to mix with pupils from other year groups – and even other schools – during their journeys to and from school from September.
The government has said it is currently "evaluating" its position on home-to-school transport, following warnings that social distancing efforts could go out of the window when pupils are forced to cram onto buses again in September. Pupils have been urged to walk or cycle to school if they can, but many don't have that option.
According to the EPI, around 1.1 million secondary school pupils in England rely either on a school bus or on public transport to get to and from school, and Jon Andrews, the think tank's deputy head of research, said there were "no easy solutions" to the problem.
"Schools and local authorities will have to work together the best they can. But the government needs to be open about any assessment they have made of the risk that travelling to and from school poses," he said.

Andrews's analysis found that the vast majority of pupils who can walk to school already do so, and only a "very small proportion" of those within a reasonable walking distance from school are taking public transport or school buses.
"In other words, if pupils are on school buses, or on public transport, it is because they have no other option unless they have access to a private car.
"So while the government is telling schools to create bubbles of entire year groups within schools, there is currently no credible solution to the problem of them then mixing with other year groups, and other schools, on the bus home again. Parents of pupils with health conditions will have even more concerns in such a situation."
The analysis found that key stage 4 pupils who travel several miles to school are more likely to rely on school buses than public transport.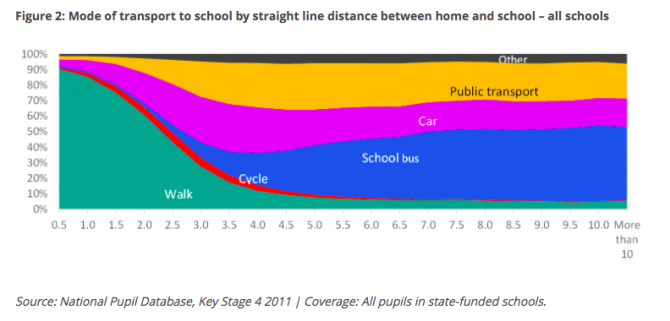 But in London, public transport dominates, accounting for around 70 per cent of longer journeys.
Secondary schools typically attract pupils from up to three miles away, but in rural areas it can be significantly further.
And pupils attending special schools travel further still, typically around three times the distance for pupils in mainstream education. The EPI estimated in the past that in rural areas, 1 in 10 pupils in special schools travelled over 20 miles to get to school.
However, some of the data used in the analysis is almost 10 years old. The government ended the requirement for schools to provide information on travel in 2012.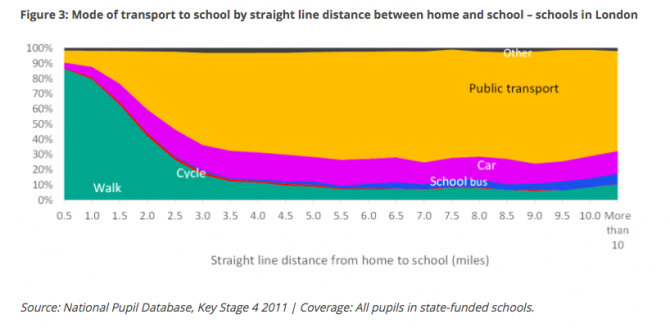 The Department for Transport's national travel survey estimates that 45 per cent of pupils either walk or cycle to school, and a further 35 per cent are taken by car – meaning that 1 in 5 pupils use either public transport or school buses. At secondary level this rises to 1 in 3 pupils – around 1.1 million.
In its guidance for reopening schools published yesterday, the DfE told schools to look for inspiration from the 2012 London Olympics for transport plans.
In his analysis, Andrews said "the situation we face today with an ongoing pandemic presents an assortment of very different challenges to those of eight years ago and many questions remain about the level of risk that school staff, pupils, and their families are being asked to take".
The DfE has said that given the pressure on public transport, it may have to work with councils to put on additional dedicated school transport services, including areas in which they do not currently operate. But the government is currently only "evaluating" its position, and will set out the next steps "shortly"
The DfT is asking local authorities to work urgently with schools to survey parents on their typical routes to school and potential alternatives.
They are also asking them to consider a range of options for shifting demand for public transport on to other modes, and to consider using traffic demand management approaches in order to ensure that children are able to attend school from the start of the autumn term.
Pressed by Schools Week yesterday on why a proper plan wasn't in place, education secretary Gavin Williamson said he would be working closely with councils in "making sure that depending on where we are in terms of dealing with this virus that the proper controls are properly in place on school transport".