More secondary moderns have moved from the lowest Ofsted ratings to good, leading some headteachers to say inspectors are recognising the impact of selection on their school data.
Thirty times more secondary moderns were rated requires improvement or inadequate than grammar schools in 2013, a gap that has now narrowed to just ten times as many.
Secondary modern heads, who did not want to be named, told Schools Week they had made inspectors acknowledge the high number of low-attaining pupils in their schools compared with nearby grammars.
A shift towards progress data was also fairer on secondary moderns than attainment data, they said.
But some heads said the inspection framework still made it harder for secondary moderns to achieve an outstanding grade compared with grammars.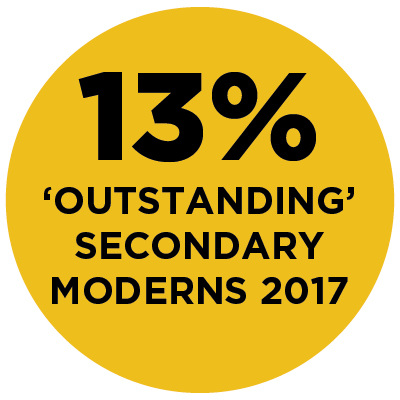 "The move to better Ofsted grades shows there's been a recognition that progress is a better indicator than attainment," said one.
Inspectors were "starting to show more support" for secondary modern schools, said another.
While just over half of secondary moderns (56 per cent) were rated good in 2013, that rose to 64.7 per cent in 2017.
Fewer secondary moderns were also rated requires improvement, moving from a quarter in 2013, to 15 per cent this year.
But more grammar schools have also moved into the outstanding category, from 77 in 2013 to 83 per cent this year.
Meanwhile, the number of secondary moderns awarded outstanding has dropped slightly over the five years, from 12.8 per cent to 12.6 per cent.
The secondary modern heads said many inspectors still did not understand the low-attainment profile of many pupils in their schools.
Inspectors might be "sympathetic to the complications" of being in a selective area "but the framework itself is not", said one head. Secondary moderns were often left with "little to feel positive about".
One head in a selective authority said inspectors had wrongly assumed that about 10 per cent of a year group went to grammar schools, whereas in his area about a third of the cohort went each year.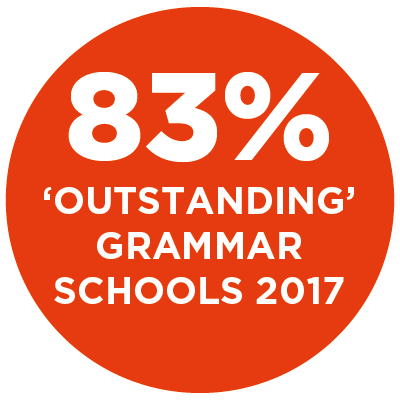 As a result, his school had more low-attaining pupils than the local authority average. About 16 per cent of pupils in the county were low-attaining based on their key stage 2 scores, but that proportion was almost double (29 per cent) in his school.
His school also had 11 per cent of high-attaining pupils, although 34 per cent of pupils in his area were considered in that group.
Secondary moderns "often have more families who do not value education", said another head. But inspectors "bluntly refuse to acknowledge the context of the school".
An Ofsted spokesperson said the number of schools in the sample was too low to draw conclusions about the change in the proportion receiving certain grades.
Sean Harford, director of education at Ofsted, said the common inspection framework had changed in 2015 to put more emphasis on pupil progress.
He added the context of a school was always considered when making judgments, but "all schools must meet the same high standards".