Geneticist Dame Kay Davies officially opened the UK's first Earth Charter school earlier this month when she cut the ribbon to a new £8 million Avonwood primary school building in Bournemouth that includes a purpose-built science laboratory.
As an Earth Charter school, the primary will follow the principles of the Rio-based organisation that promotes tolerance and peace, sustainability and democracy.
Debbie Godfrey-Phaure, chief executive of Avonbourne multi-academy trust, says: "With the Earth Charter principles underpinning everything we do at Avonwood we are building the foundations that will help every child contribute to a better world."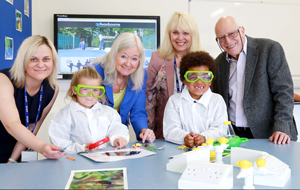 Speaking at the opening, Dame Kay – who helped to identify the gene that causes Duchenne muscular dystrophy – said: "If we can get very young children to discover the wonders of science from the outset of their education then we are more likely to nurture the scientists of the future."
Godfrey-Phaure added that she was "very proud" to have a "fantastic new building that provides the best start to a child's education by giving them the very best facilities, such as the science lab".
Main picture: Avonwood Primary School pupils celebrating achieving Earth Charter status