Schools across England are being told by councils that they must foot the bill for the government's apprenticeship levy, regardless of whether or not they employ their own staff, a Schools Week investigation has revealed.
The levy, which comes in next April, will see all employers, including councils and multi-academy trusts, in England with wage bills larger than £3 million pay a tax equivalent of 0.5 per cent of their payroll. In exchange, they will be able to claim digital apprenticeship vouchers to pay to train their own apprentices.
Although many schools that are still local authority-maintained are not technically responsible for paying the levy because their staff are officially employed by their local council, several authorities are already seeking to pass on responsibility for the payments, which for some schools will amount to tens of thousands of pounds.
Academies and academy trusts will also be liable for the levy, but are able to be more flexible on where the money comes from.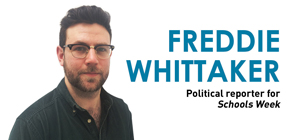 Suffolk County Council has asked its schools forum committee to sign off on plans to top-slice £12 per pupil from its schools next year, rising to £23 in 2018/19.
The head of one school in the London Borough of Barking and Dagenham says he has been told to pay 0.5 per cent of his payroll bill, despite not being the official employer of his staff.
The headteacher, who wanted to remain anonymous, told Schools Week he had received an update from the council by telephone, and was now struggling to work out how the levy bill of £50,000 a year could be paid.
"They have said that because the budget is delegated to the school, therefore the school pays the levy, but we are not the employer. It is £50,000 I cannot afford to lose."
A spokesperson for the council said the levy was on the payroll and "should be seen as part of the overall costs of employing staff".
"It is not any different from national insurance," he told Schools Week. "In both instances the council is the ultimate employer of the staff but budget for employing staff is delegated to schools along with the costs of pay, superannuation, national insurance and any new payroll levies.
"Where we are the payroll agent the council will administer the levy as part of its normal payroll service. We are not planning to top slice the budgets but schools will need to make sufficient provision for it when calculating the costs of employing staff.  We obviously have sympathy for the schools and agree it is an additional burden to them but it is not a burden of our making."
From next year, schools with more than 250 employees will also be subject to the public sector apprenticeship targets, which mean they will have to hire at least six apprentices every year, even if they do not want to take advantage of funding available from the levy pot.
This has also caused concern among the same heads facing additional costs as a result of the levy.
In Suffolk, the estimated cost to the council of the levy contribution for schools is £1.14 million. Instead of levying the 0.5 per cent rate on those schools with larger payroll bills, the council will spread the cost out across all of its schools, at a cost of £23 per pupil, per school.
Rachel Gooch, a Suffolk-based school governor and co-opted member of the county's education and children's services scrutiny committee, called the move an "unfair and a further unexpected cut to school budgets", and said councils should work with the government to find a solution.
She said: "It was never the government's intention that this levy should apply to small employers but this is how it is being applied to small schools.
"Small schools, like any small employer, can neither afford a 0.5 per cent paybill tax nor have the capacity to benefit from employing apprentices. There is nothing left to cut in small schools except staff. The DfE and councils need to work out a solution so that children's education is not affected by this levy."
Gordon Jones, Suffolk's cabinet member for education, said the council was having to "look at the options open to us" because no additional funding had been made available.
"As this is a levy on employment in organisations, the funding for the schools element should come from the schools budget," he insisted. "The cost amounts to £23 per pupil for each maintained school per year which is a small percentage of overall school funding per student.
"We recognise the challenge that this new national levy will present to school leaders in managing their budgets. We hope that schools will be able to make use of the employment opportunities the apprenticeship levy will create, as well as training opportunities for some of their staff."
The introduction of the levy and targets has prompted some schools to explore options for training teachers via an apprenticeship route.
A group of 11 schools in Buckinghamshire and the West Midlands has already passed the first hurdle in its bid to create a purely vocational route to qualified teacher status, after its framework for an apprenticeship for teaching assistants was rubber-stamped by the government.
Suffolk's school forum will make a decision on November 24.