Funding will be made available for schools and colleges to bring in staff during the summer holiday period to deal with "priority" appeals.
The Department for Education has confirmed that funding of £75 per "priority appeal" – those which are needed for a student to take up a university offer – will be made available. Further details are expected shortly.
It comes as the Joint Council for Qualifications has published new 45-page guidance for schools on the appeals process for this summer's teacher assessed grades.
This year, students can request the school reviews their grade to look for procedural problems or administrative errors before being escalated to exam boards which can look at whether an "unreasonable exercise of academic judgement" was made.
At the first stage in schools, the guidance says schools should have a "clearly documented process and appropriate resources in place" to handle reviews and appeal requests from results days, which have been brought forward to early August.
Geoff Barton, ASCL's general secretary, said the DfE has recognised the "implications" in August and told them "that funding will be made available for schools and colleges to bring in staff during the summer holiday period, and we appreciate that gesture".
A DfE spokesperson said in "most cases" subject teachers won't be needed to manage appeals during the summer holidays "but in a minority of cases where a previously unforeseen issue or error arises, a teacher may need to input to help to resolve the appeals swiftly".
"As a result, and exceptionally for this year, we are providing £75 for each priority appeal, which schools and colleges can use to compensate staff for the work involved in processing those appeals this summer."
'Schools are picking up the pieces'
But Barton said he remained "very concerned" that schools are "once again left having to pick up the pieces".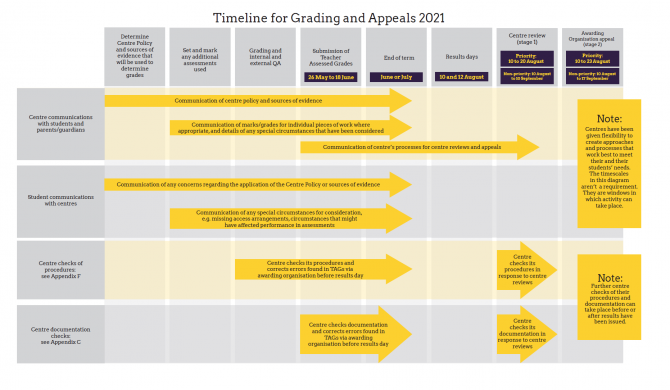 While some of the appeals process is being picked up by the exam boards, Barton added "there still a lot that is being landed on schools".
"The process entails them having in place systems, resources and staffing from results days onwards in August for priority appeals from students in danger of missing out on university places.
"Then in September, when schools and colleges are managing the start of the new school year, they will also have to deal with all other appeals.
"As appeals are free and available on demand, there is a risk that schools and colleges may face very significant extra workload at a time when they are already at full stretch."
In response to its consultation on the appeals system, published today, Ofqual said it recognised there was a "possibility" that appeals may be submitted by students who "simply disagree with reasonable decisions made by their centres" this year.
But the regulator added that "where reasonable decisions have been made such appeals should not succeed".