Schools in England have lost more than £2.8 million in funding this year after failing to enrol thousands of sixth formers in additional English and maths classes.
Analysis of funding allocation data by Schools Week's sister paper FE Week shows the government reduced funding for 139 academies, 42 school sixth forms and 24 university technical colleges and studio schools this year because of a controversial condition of funding relating to retakes.
Since September 2014 it has been compulsory for pupils who did not achieve at least a grade C or 4 in English and maths to continue to study the subjects during their post-16 education.
Under government funding rules, schools lose funding for every pupil who is not enrolled on an eligible course. Pupils who achieved a D or 3 in year 11 must continue to study GCSEs, but those who achieved a grade E or 2 or below can take functional skills qualifications instead.
FE Week's analysis shows schools lost £2,850,778 this year, based on enrolments in the academic year 2017-18.
Academies were the biggest losers, accounting for 29 per cent of all reductions with a £1.67m reduction for failing to enrol 3,827 pupils. School sixth forms lost £766,266 relating to 1,268 pupils, while UTCs and studio schools lost £411,777 for 395 pupils.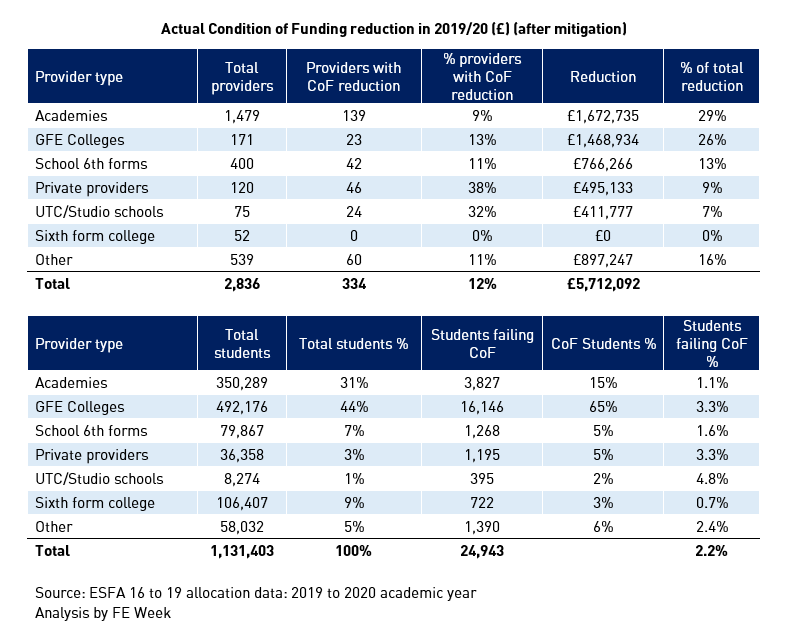 The English and maths retakes policy has been controversial, not least because of the additional resources required by schools and colleges to facilitate continued study of the subjects at sixth form.
Reforms to GCSEs have also complicated the issue. Last year, it was revealed that tens of thousands of sixth formers who were among the last cohort to sit the old GCSEs were forced to wait an extra year before resitting because they needed to complete "a full year of study" before sitting the reformed qualifications.
The knock-on effect of the reforms prompted a staggering 94 per cent rise in November entries among that year group, the figures show.
The retakes policy has been questioned by the leadership union ASCL's forgotten third commission, which looked at the plight of the third of pupils who don't reach a pass in English and maths every year. Labour has also pledged to scrap it.