Ofsted research has published a report into remote education following months of school visits and interviews with staff and parents.
These are main findings you need to know:
1. Switch to remote education has increased teachers' workload
Ofsted found leaders "frequently cited" the workload burden that remote learning has placed upon teachers – with a common message that it has become "trickier during the autumn term".
This was in part caused by the added pressure of providing learning in line with the curriculum for pupils both inside and outside the classroom – something Ofsted noted was a "particularly challenging situation".
As such, pressures were not as great when whole year or class bubbles were sent home to self-isolate as teachers could revert to full remote education.
Eight-six per cent of teachers said their work has increased since the implementation of remote education – with 45 percent saying it had "increased greatly".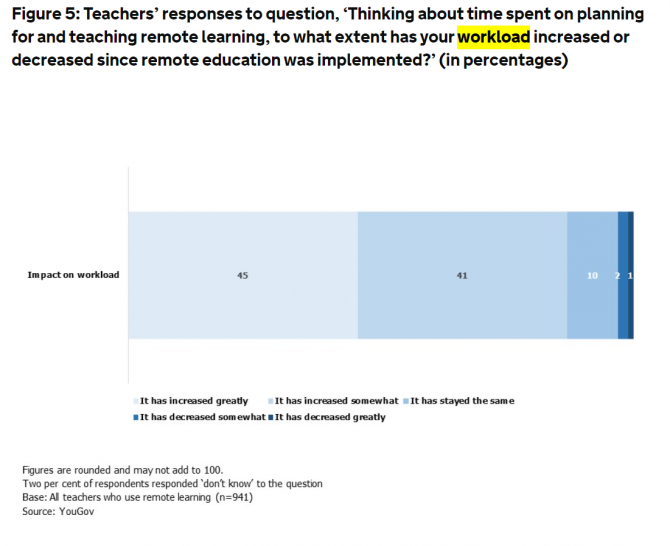 2. Difficulty aligning curriculum with remote education
Only a small proportion of teachers – 15 per cent – reported their school had managed to 'completely' align their remote education solution to their intended curriculum.
Although a further 65 per cent said they had 'somewhat' aligned their remote learning with the curriculum, according to YouGov survey data.
But subjects such as art, science, physical education and design and technology were commonly cited as being the most problematic to teach remotely because of their practical aspects.
Ofsted found examples of schools being able to deliver "as full a curriculum offer as possible" by delivering arts supplies and musical equipment to pupils' home, as well as using pre-recorded videos to demonstrate the practical lessons of science experiments.
3. A third of teachers not confident delivering remote lessons
Just over a third of teachers responding to the YouGov survey admitted they were not confident in teaching through remote methods.
However, around 48 per cent said they were quite confident, with 17 per cent classing themselves as very confident in delivering teaching this way.
Ofsted said shortening the length of lessons to aid pupils' concentration spans was among the slightly different approaches teachers spoke of using when teaching remotely.
4. SEND children 'more disengaged with learning'
The report also flagged worries over keeping pupils motivated, with 40 per cent of parents listing their child's focus on studying as a main concern.
However, the survey found 59 per cent of parents of a pupil with special educational needs said that their child has been disengaged with remote learning.
Schools also raised concerns that learning gaps would be greater for pupils with SEND and the negative social and emotional impact the disruption caused by remote learning "would be more severe for some of these pupils".
While some special schools have adapted their remote education to support SEND pupils, such as supplying assisted reading technology or arranging video calls with staff pupils have built a strong relationship with, more work needs to be done to engage children with send
Fewer than half (46 per cent) of the teachers surveyed stated that their school offered additional remote learning arrangements for pupils with SEND.
5. Feedback problems as teachers can't see body language
School leaders said giving feedback to pupils was still a "developing area" within their remote learning provision.
They noted one problem was that picking up on pupil misconceptions in the learning process was not quite as immediate as in the classroom.
This was because even during live lessons teachers lack the ability to "to wander round and look at pupils' faces in the classroom".
This provides a barrier to the normal informal feedback provided by teachers as it is "more difficult to check whether pupils are confused from their expressions and body language."
Some schools are attempting to circumvent this issue by providing 1-to-1 calls and interactive touch-screen questioning during live-lessons.
6. Schools went 'out of their way' to provide laptops
While access to digital devices was noted as an "initial barrier" faced by schools, especially for pupils from more disadvantaged backgrounds, Ofsted found that leaders went "out of their way to ensure that all pupils could access their digital platform".
It found schools were pro-active in sourcing appropriate devices from the local community – working with local businesses and charities to acquire devices.
The schools watchdog also found some schools used their Covid-19 catch-up premium funding to purchase digital equipment.
But when asked for their main challenges about their children learning remotely, 11 per cent of parents listed both access to an appropriate device and issues with tech.
Data from Ofsted's interim visits last term highlighted that "simply providing a device for all pupils is not necessarily a solution for access".
For instance, one in ten parents also said poor internet connection was a major challenge.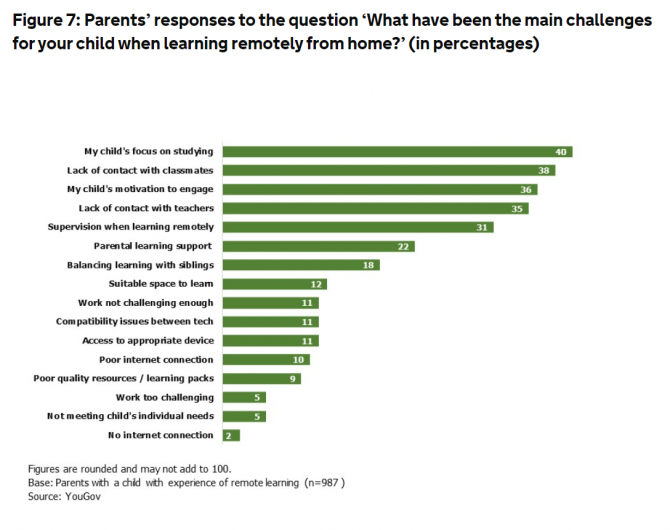 7. Video lessons offer solution for shortage subjects and snow days
Schools said they believed a potential future benefit of remote education systems developed during the pandemic was to use video lessons "where there are subject specific teacher recruitment and retention issues".
Video lessons were also put forward as a solution to covering staff absences with "video lessons from subject experts" providing cover instead of a usual substitute – such methods could also be used to support revision.
Leaders also said remote education could reduce potential lost learning during snow days or extended period of pupil absence.
The technology may also be employed going forward to support anxious or excluded students off site or in other on-site learning areas, leaders suggested.