Schools are going to enormous lengths to ensure hard-up children don't miss out, but funding cuts threaten the subsidies they can provide, warns Josephine Tucker.
The Child Poverty Action Group and the National Education Union surveyed more than 900 teachers and school staff about the impact of poverty on children. The findings paint an alarming picture of families under increasing financial pressure, in some cases unable to afford to provide their children a warm coat or basic stationery, putting children's wellbeing and learning at risk and denying them opportunities available to their peers.
These are not things which schools should be expected to do, and there can be no surer sign that the safety net is broken
Three-quarters of the survey respondents know children without a computer or access to the internet at home, meaning they miss out on opportunities to develop skills and learn from online resources which their classmates can use. More than 60 per cent sometimes or often see children unable to take part in extracurricular activities like music, drama and sport, because of the cost.
Schools are going to enormous lengths to ensure children do not miss out, with almost 80 per cent partially or fully subsidising trips and 50 per cent subsidising extracurricular activities. However even low-cost activities may be beyond the reach of some families – one teacher noted that some cannot afford a club costing just £1. And with their own budgets under huge pressure, some schools are having to reduce the subsidies they provide.
Other support has been cut too. Local authority assistance schemes which would previously have offered help in emergencies have seen their central funding slashed and ringfencing removed. As a result many programmes have closed or greatly scaled back provision. In London, for example, spending on these schemes is less than half what it was in 2012.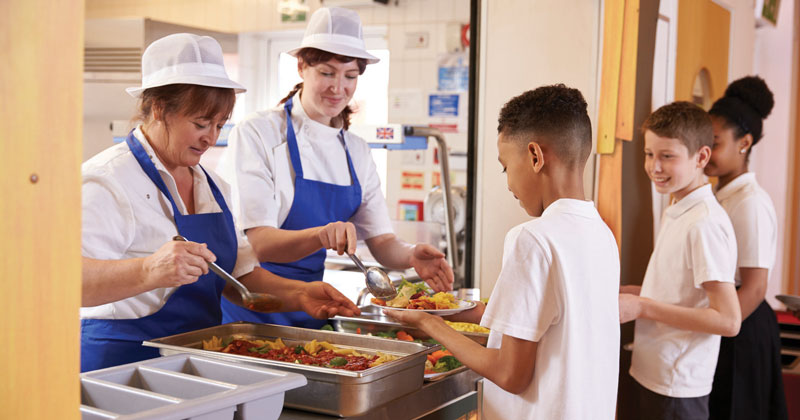 Our survey suggests that it's schools that are now having to step into the breach to support families in crisis, with almost half offering some form of help to families. Schools are issuing vouchers for foodbanks, absorbing dinner debt, providing food and clothes directly to children and their families, offering laundry and shower facilities, and in some cases even giving emergency loans.
These are not things which schools should be expected to do, and there can be no surer sign that the safety net is broken. Things are due to get worse, with three-quarters of cuts to family benefits since 2015 yet to take effect.
Beyond the obvious solution of re-investing in support for families, what else needs to be done in schools? More than the half the teachers surveyed felt that not enough children are today entitled to free school meals.
Extending free lunches to all children – or at least up to a higher income level such as by offering them to all children whose parents claim universal credit – would go a long way to alleviate financial stress on families while ensuring that all children have a nutritious hot meal every day and no stigma is associated with claiming.
The government recently changed the threshold for eligibility for free school meals, and it is a shame that they did not seize this opportunity to be more ambitious for our children. It is clear that as a country we need to do better for our kids.
Josephine Tucker is the Child Poverty Action Group's acting head of policy and advocacy