A council with a £50 million deficit has given its schools around £65,000 to spend on staff as a "token of appreciation" for their hard work and resilience during the pandemic.
Devon County Council (DCC) has awarded its schools £10 per employee to spend "in whatever way they think best to thank teaching and support staff".
A letter to governing bodies of its maintained schools, seen by Schools Week, said this could be spent on "something for the staff room, a thank-you event, or used for several smaller gestures" over the coming year.
The letter asked schools to "pass on" the council's "thanks for their hard work and resilience during this difficult time".
The money was issued to schools yesterday, the day after National Thank a Teacher Day.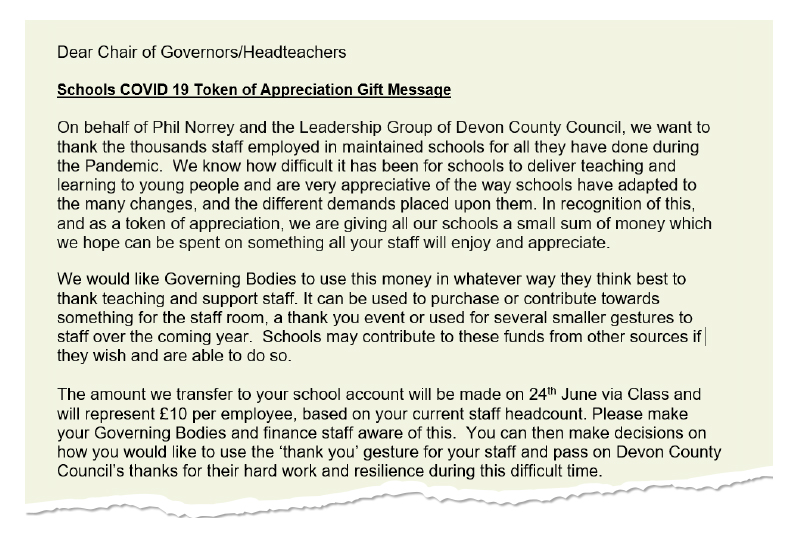 The council is believed to be the first to have given school staff a "thank-you" payment. While some have praised the gesture, it has also been criticised given the council's funding struggles.
The payment has also created divisions within the education community, with staff at academy trusts feeling snubbed. But DCC said the gesture was designed to thank those unable to take the extra day's leave offered to other council employees in response to Covid.
'It's a brave set of councillors who decide to do that'
A finance update to Devon Education Forum this month reported that the council had a cumulative dedicated schools grant (DSG) deficit of just under £49 million, including a high-needs funding deficit of £29.6 million.
Matthew Clements-Wheeler, former chair of the Institute of School Business Leadership, said that while it was a "lovely gesture", the money would have been better spent elsewhere.
"The first rule if you have a deficit is to balance your budget … in a council with a hole in the DSG and a problem with high-needs funding – it's a brave set of councillors who decide to do that when they're accountable at the ballot box," he added.
School workforce data from 2019 indicates that DCC has around 6,500 staff in its maintained schools – meaning the payments will total £65,000. The cash came from the council's central fund, rather than the dedicated schools budget.
Between 2015 and 2018, the council skimmed £6.5 million from funding for its schools and early years to make up the high-needs block shortfall. No funding has been transferred in the past three years.
An executive headteacher at a Devon academy trust, who wished to remain anonymous, told Schools Week it would have been better to put the money towards the "struggling SEND services. That would have been a better gesture for the children of Devon."
'Slap in the face' for academies
Education lawyer Antony Power warned that the move could "be perceived as divisive" as it was "a slap in the face for all those academies that helped their maintained colleagues without thought for themselves".
The executive head said trusts had worked alongside maintained schools during the pandemic, by staying open during holidays and taking on children from schools that had closed,  "because it was the right thing to do".
The head said academy staff were "disappointed that they haven't been recognised locally". The move had come across as a "very divisive act", they added.
Alex Walmsley, chair of the Devon Association of Governance, said the group would be "disappointed to see any initiatives becoming a source of division. [We] would hope and expect that the contribution made by all Devon schools – both academies and maintained – is recognised."
'We are extremely grateful to all schools'
A spokesperson for DCC said it was "extremely grateful to all schools for their tireless commitment" during the pandemic.
Like other councils and the NHS, they had given staff working directly for the council an extra day's leave as a thank you. However, "this wasn't practical for school-based employees, as it would mean closing schools".
Mary Bousted, joint general secretary of the National Education Union, said it was a "lovely gesture" and more than the "empty words" from the government.
Mark Lehain, director of the Campaign for Common Sense, said it was not a "budget-busting sum of money", and was a "lovely way to recognise and thank people for their efforts".