School attendance rose to 15 per cent last week, the highest level recorded so far this term, new data shows.
Attendance survey data published by the Department for Education shows that 1.211 million pupils, 14.9 per cent of the total pupil population, attended school last Thursday. This is up from 1.147 million, or 14.1 per cent, the previous week.
The rise appears to have been driven by an increase in primary attendance. This rose from 21 to 22 per cent over the period, while secondary attendance remained flat at 5 per cent. Special school attendance also rose from 30 to 33 per cent.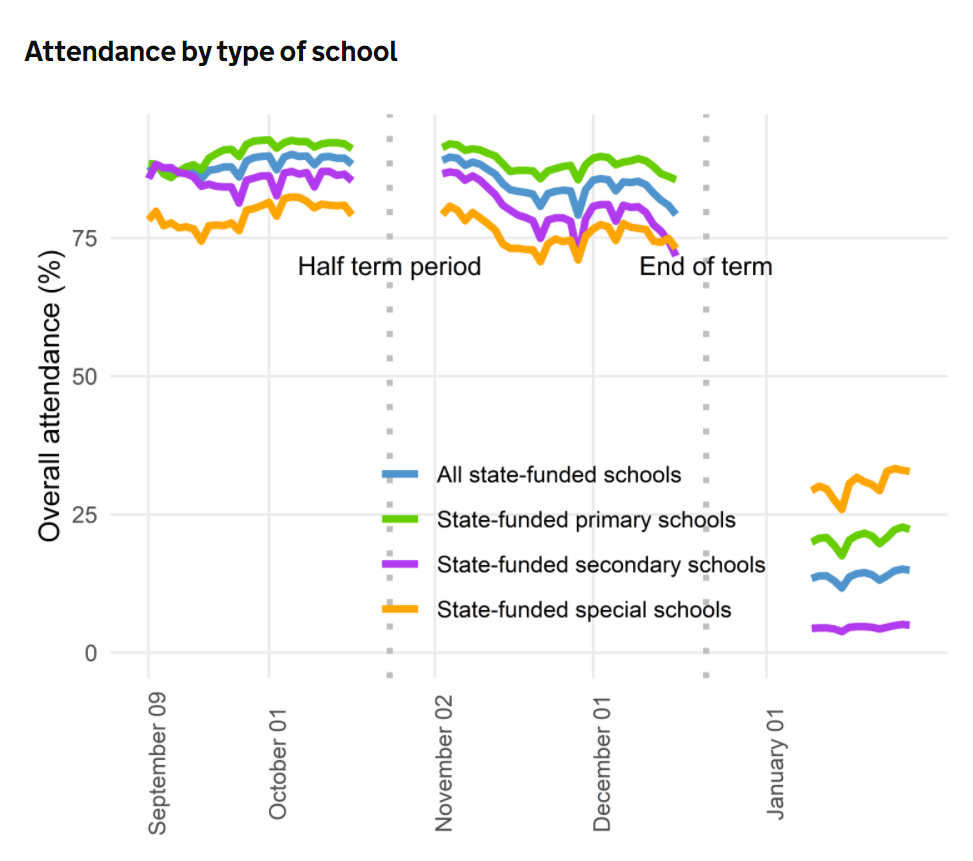 Schools are currently closed to all but the most vulnerable pupils and the children of key workers. They will remain so until at least March 8.
Today's data shows the number of key worker children attending schools rose to 850,000 on January 28. This is up from 813,000 the week before, and that numbers of vulnerable pupils attending also rose.
The proportion of pupils with an education health and care plan attending schools rose from 35 to 36 per cent. And the proportion of pupils with a social worker in attendance also increased from 31 per cent to 43 per cent.
Workforce absence data published
The DfE has also published workforce absence statistics for this term for the first time.
The data shows that 0.7 per cent of teachers and leaders and 1 per cent of teaching assistants and other staff were unable to work last Thursday due to a confirmed case of coronavirus.
Figures were higher in special schools – 1.1 per cent of teachers and leaders and 1.3 per cent of TAs and other staff.
Overall, the DfE estimates 2 per cent of teachers and leaders and 3 per cent of other staff were unable to work for Covid-related reasons on January 28. Covid-related reasons include confirmed cases, but also suspected cases and the need to self-isolate.
Around 4 per cent of teachers and leaders and 6 per cent of other staff were unable to work on the same day due to other reasons.
The DfE has stopped publishing data on the number of school staff working from home because of a suspected or confirmed case of Covid.
Data is now only reported for those who cannot work, either on-site or at home.
The DfE has also corrected workforce absence statistics for last term after it under-reported absence rates for TAs and other staff between October 12 and December 17.
The correction comes after the DfE also had to correct key worker children attendance stats for January 13. The department originally claimed only 709,000 key worker children attended, when in face the figure was 820,000.
Unions raise concerns
Geoff Barton, general secretary of the ASCL school leaders' union, said it was "worrying that demand for school places is obviously rising during the course of the lockdown".
"Schools are being placed in the very difficult position of much higher demand than in the first lockdown and no guidance from the government about how many children should be in school at any one time."
Paul Whiteman, the leader of the NAHT union, said the figures served as a "timely reminder that schools did not really close in the first place".
"A significant number of children continue to be taught by their teachers in school every day, while often those same teachers are simultaneously supporting remote learning to those pupils that remain at home."
A DfE spokesperson said it was taking "every possible measure to reduce Covid cases".
"The protective measures that schools have been following throughout the autumn term continue to be in place to help protect staff and students, while the national lockdown helps reduce transmission in the wider community."