Five schools investigated for spending more than £320,000 in severance payments without government approval have been named.
Stand-alone academies Wilnecote High School near Birmingham, Langley Park School for Boys in south London and the Cathedral C of E Academy Trust in Wakefield, plus the multi-academy trust owned former Rydens Enterprise School in Surrey, and Grindon Hall Christian School in Sunderland,  all made large payments to departing staff in 2015-16 without seeking government permission first.
Under academy funding rules, schools and trusts aren't allowed to make severance payments of more than £50,000 without approval. Schools under financial investigation are also banned from making similar payments of any amount without permission.
In its consolidated annual accounts last October the government said five academies were under investigation for six payments that breached the rules.
The names of all five were revealed to Schools Week by the Education and Skills Funding Agency in response to an information request.
Special severance payments are non-contractual payments made when a member of staff resigns, is dismissed or reaches an agreed termination of their contract.
Rydens School, which is overseen by the Howard Partnership trust and now called Three Rivers Academy, plus Wilnecote High, remain under review for payments of £53,000 and £57,000 respectively, while three other trusts were given "retrospective approval" for four other unapproved payments.
These include two payments of £59,000 and £55,000 by Langley Park and one of £55,000 by the Cathedral Academy.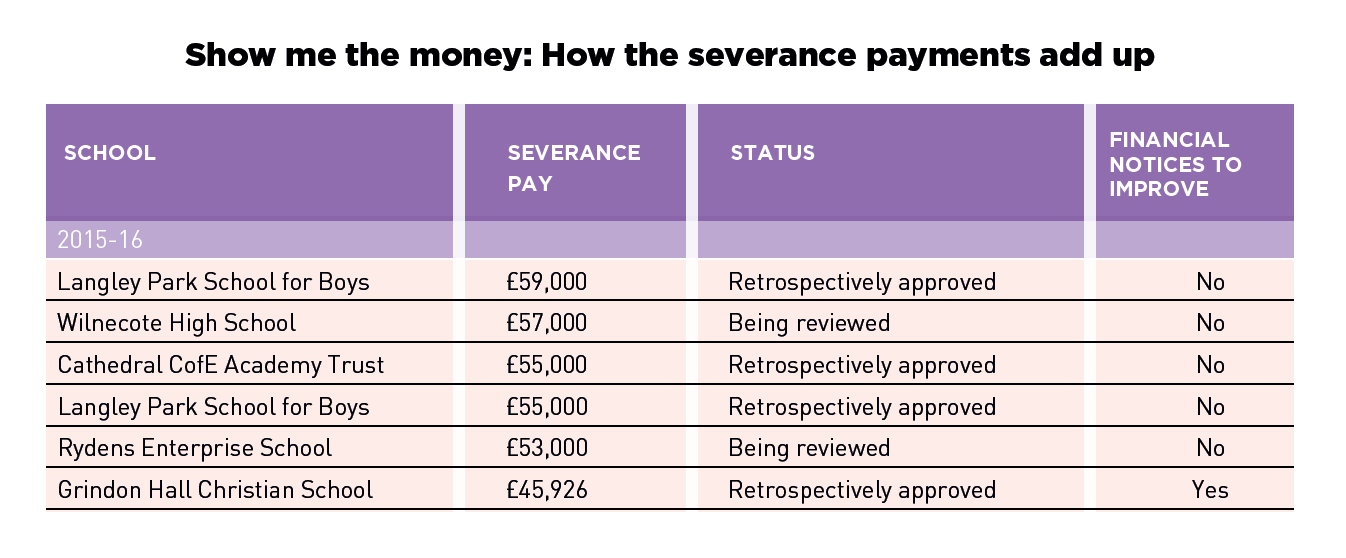 Grindon Hall, run by the beleaguered Bright Tribe Trust since June 2017, also failed to get approval before it paid £46,000 to its former principal Chris Gray in 2015-16, at a time when it was both in special measures and under a financial notice to improve.
None of the schools responded to requests for comment.
There are concerns that academies and their sponsors are often "not sufficiently aware" of strict financial rules.
Pamela Tuckett, a partner at the accountancy firm Bishop Fleming, warned that some trusts "don't think" to check strict financial rules in the academies financial handbook, and admitted that some governors lack the "genuine expertise" to ensure they don't unwittingly break the rules.
The schools now need to convince the ESFA they have "solid business cases" for the payments, she said.
Small trusts or single schools in particular may lack the necessary grasp of the handbook, she added, and pointed out that governors are required to ensure that every board has "at least one individual with the specific relevant skills and experience of financial matters".
The handbook says schools must satisfy certain conditions to defend the large amounts, such as the threat of being taken to an expensive employment tribunal instead. Schools must also set out "alternative options", in a value-for-money form given to the ESFA then sent on to the Treasury for approval.
Phil Reynolds, an academies specialist at accountancy firm Kreston Reeves, said new detail in this year's handbook, including examples of when trusts do and do not need approval for non-statutory payments, indicates that many trusts have previously been "confused" by the rules.
The ESFA's response also revealed that the total amount paid by academy trusts in severance has risen for each of the past three years and by 14 per cent overall, from £285,564 in 2013-14 to £324,926 in 2015-16.
However, every payment made by trusts in 2013-14 and 2014-15 were preapproved.
Among them were several payments made by the academy chain E-ACT while it was subject to a financial notice to improve, including one payment of £179,651 in 2013-14.
The highest payment made in 2014-15 was by Churchfields Academy, at £105,000.