A chunk of the new 22 free schools approved today will open in academy trusts that have expanded rapidly in recent years – despite previous government cautions over quick growth.
The Department for Education received 124 applications for the 13th wave of its free school programme, but less than 18 per cent of these were given the green light.
Almost a third (seven) of the trusts opening new schools have 10 or more schools already. Schools Week analysis of the successful trusts has found many have grown rapidly since September 2017 and already have free schools in the pipeline.
Sector leaders have repeatedly urged caution over trusts expanding too quickly. A report from Ambition School Leadership last year found academy trusts must pause as they grow or risk struggling to improve schools in a sustainable way.
Ofsted has also warned expanding too quickly can lead to poor performance, while multiple trusts have been placed on a 'pause list' by the DfE to limit growth.
John Taylor MAT has 12 academies, eight of which joined since September 2017. It has one primary school in the pipeline, and another approved in this wave.
Star Academies has 25 schools, 8 of which have joined the trust since September 2017. It has two secondary schools and a primary school in the pipeline, and has now been approved to open another secondary school.
Shireland Collegiate Academy Trust has been approved to open the Shireland CBSO School, a mainstream secondary that will focus on music education and be run in conjunction with the City of Birmingham Symphony Orchestra. Three of the trust's four schools have joined since September 2017, and it has another five primary schools in the pipeline.
All the free schools are founded by established academy trusts – suggesting none of the applications are from parent groups.
There's also no university technical colleges or studio schools approved, but there is a 16-19 specialist college called BOA Stage and Screen Production that will open in Birmingham.
The DfE said the new schools are focused on areas with low educational performance and "insufficient capacity to improve", as well as those areas that have not yet had free schools and have a need for new school places.
Eighteen of the 22 new schools will be targeted in the lowest performing local authorities as identified by the DfE's 'achieving excellence areas' methodology, which takes into account factors including access to good schools, attainment and progress data and academy sponsor coverage in the area.
However, when compared with the Education Policy Institute's ranking of academy trusts and local authorities, released last year, some of the worst performing areas appear to have missed out.
Three of the worst performing councils at key stage four, Nottingham, Newcastle and Barnsley, stand to gain new secondary schools, but fellow low-performers Southend-on-Sea, Solihull, Derby and Walsall will not.
The worst performers at key stage two – Bedford, Poole, Rutland, West Sussex and Northamptonshire – have not received new primary schools, but higher achieving Staffordshire, Nottingham and Derby have.
The DfE has also approved, in principle, a bid for funding to open Hampton Water Roman Catholic Voluntary Aided School in Peterborough. It said it is also working to identify suitable sites for two more bids.
Faith groups were urged set up new VA schools last year as a compromise, after ministers reneged on an earlier promise to life the cap on pupils who can be recruited based on faith in new free schools. However, Schools Week revealed in March that just 14 bids were received for the new schools.
Education secretary Damian Hinds said the new schools would ensure that "young people – often in the most disadvantaged areas of the country – can benefit from a great free school opening in their area".
Luke Tryl, director of New Schools Network, said the approvals mean "some of the areas most desperately in need of greater educational opportunity will soon have innovative and successful new schools opening their doors to the community".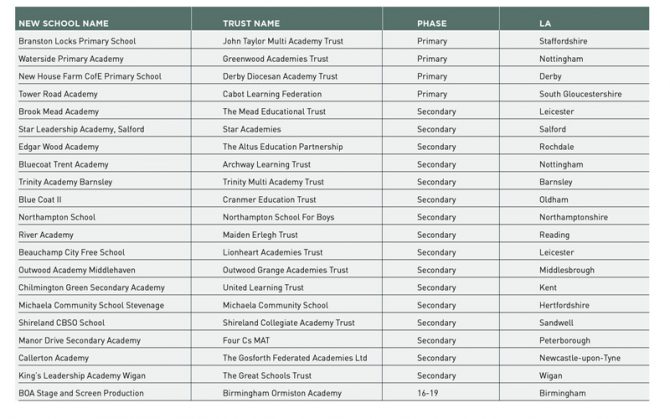 Click to expand