Schools are turning minibuses into mobile stationery vans to deliver basic equipment such as pens and paper to poorer pupils during lockdown.
Hundreds of families have accessed the services as school leaders move to extend their pandemic provision and "replicate normal school at home".
Research from The Sutton Trust into learning during lockdown found 31 per cent of families on the lowest incomes had not been able to spend anything on equipment to support their child's home-learning since September.
In contrast, 29 per cent of those on the highest income had spent more than £100. Nineteen per cent had spent more than £200.
At Westhoughton High School, in Bolton, staff use the school's minibus twice a week to deliver paper, pens, art supplies, calculators and exercise books.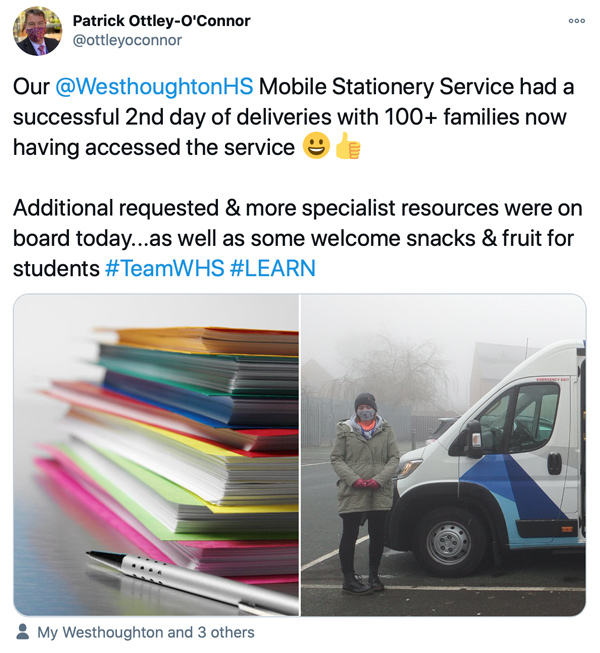 More than 100 families have collected supplies so far – with staff keeping a log so they can plan future provision.
Patrick Ottley-O'Connor, the school's head, said that while the school had worked hard to supply more than 200 laptops to pupils, some parents said they were also struggling to access essentials.
"It's a very challenging time for many people financially . . .  I don't care about having to spend additional money if it's allowing students to continue with their learning.
"A lot of students will be able to access it themselves, but I want everyone to – there's no excuse why everyone can't."
Schools have used supplies already on site, but say they would purchase extra equipment if they needed to.
Drop-off points are advertised through social media and text messages to parents.
At Fleetwood High School, in Lancashire, a stationery bus makes three stops once a week at locations such as supermarket carparks. About 100 families benefited in the first week alone.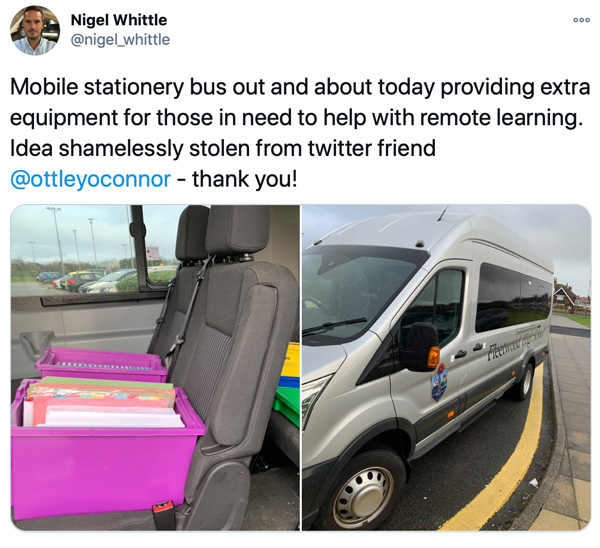 Nigel Whittle, head of school improvement, said the school was in an area of high "socio-economic disadvantage" and a bus was a way to "creatively support students".
He said providing equipment such as pens, pencils and notebooks meant pupils could "almost replicate normal school at home" and ensured they got the most out of live learning.
The Sutton Trust found that the increased costs of home-learning were in "a context of increased economic inequalities due to the pandemic".
Yet a teacher survey from the National Education Union and Child Poverty Action Group in 2018 highlighted how limited access to stationery impacted low-income families.
More than half of respondents (53 per cent) said they personally supplied school equipment, such as books and stationery, each term for pupils whose family could not afford them. Nearly a third provided items at least once a week.
Ian Parry, the headteacher of Meols Cop High School in Southport, Merseyside, said some families did not have access to equipment "we take for granted in school and can supply on a daily basis".
His school takes two minibuses to six locations once a week – one bus is packed with stationery, the other acts as a mobile library to ensure pupils have access to books.
While the service has provided "well over 1,000 pens", specialist equipment such as overlay sheets and worksheets in enlarged fonts were also available for pupils with special education needs and disabilities (SEND).
"We are finding more and more that there are families who just don't have the access to the resources they need as opposed to it being due to disadvantage," he said.