Schools must work with councils and the police to prevent the creation of a "lost generation" of teenagers, the children's commissioner has said, after a report found 1 in 25 young people are at risk of "falling through the gaps".
Anne Longfield said public bodies should focus resources on re-engaging teenagers most at risk of becoming "invisible" to education and social services, and those who have already gone "missing" during lockdown.
Ministers have said they want all pupils to return to school in September, following partial closures that have been in place since March.
But Longfield's report Teenagers falling through the gaps warns that over 120,000 pupils aged 13 to 17, who were already slipping "out of sight" before the coronavirus pandemic, may never return to full-time education.
This group includes pupils who are considered "in need", children in care who have moved several times during a year, those excluded or repeatedly suspended from school and pupils with high levels of absence from school or missing from care.
"Even before the lockdown, 1 in 25 teenagers in England were falling through gaps in the school or social services systems," said Longfield. "This puts them at increased risk of unemployment or of exploitation by gangs and organised criminals.
"This summer I am particularly worried that teenagers who have finished year 11, who have seen their apprenticeship collapse, or have simply lost their way through lockdown will simply fall off the radar."
Longfield said the Department for Education, schools, local authorities, police forces and safeguarding partnerships needed to work together on a plan to identify, track and support to re-engage these children.
She suggested that summer schemes – including sports clubs, play schemes, holiday clubs and youth clubs – would give young people a range of "safe, positive, structured activities" led by trusted adults and role models, adding that the government should work with local areas to remove any barriers to delivery.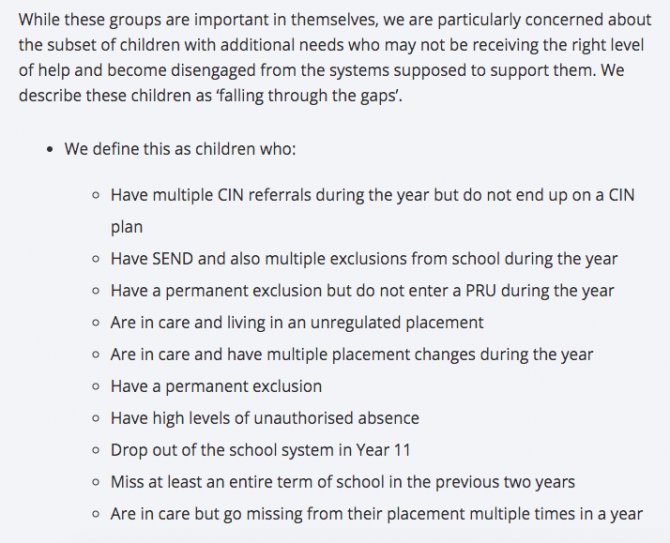 Longfield's analysis is based on data from the education and children's social care sectors.
It found that in 2017-18, around 81,000 teenagers in England met at least one of the "falling through the gaps" criteria, including 13,000 who met two or more.
A further 42,000 pupils are included because they were listed as not in education, employment, or training (NEET) at the time.
Nationally, around 4 per cent of teens met the criteria, but this was higher in certain areas. For example, more than 7 per cent of teens in Liverpool, Medway and Blackpool were said to be at risk.
"We need to identify these children quickly and do whatever it takes over the summer to stabilise their lives and get them prepared for the structure of school again," said Longfield.
"We must not look back in five years at a generation of vulnerable teenagers who fell out of society and ended up drifting into crime and unemployment. They need extra help now as we emerge from lockdown."
The DfE was approached for comment.