While the dangers of reinforced aerated autoclaved concrete (RAAC) have only recently been on the public's radar, it has been on my mind for the last ten months since, as Schools Weeks' investigations reporter, I revealed to the world that RAAC was leaving schools 'liable to collapse'.
Now, I find myself the parent of two children who cannot attend school regularly for the foreseeable future because of this crumbly concrete.
Luckily, the multiple incidents where RAAC has caused roofs to cave in in recent years have all happened outside school hours. And Gillian Keegan deserves some credit for getting a grip on the situation before a tragedy did unfurl.
But why did it take her, and just as importantly, her predecessors, so long to act? Then do so by closing all schools with RAAC just before the start of term?
The government might not have blood on its hands. But it does need to answer for the fact my 14-year-old daughter is currently listening to music in her bedroom, while her headteacher, James Saunders of Honywood School, in Essex, was (when we spoke this week) pinning his hopes on the Ministry of Defence coming to the rescue by supplying him with field hospitals as classrooms.
If you lived in a house that had water pouring in every time it rained, was riddled with dangerous asbestos or was built using a crumbly, lightweight concrete, you would refuse to live there any longer.
So why have we tolerated that situation for so long for the children in our schools?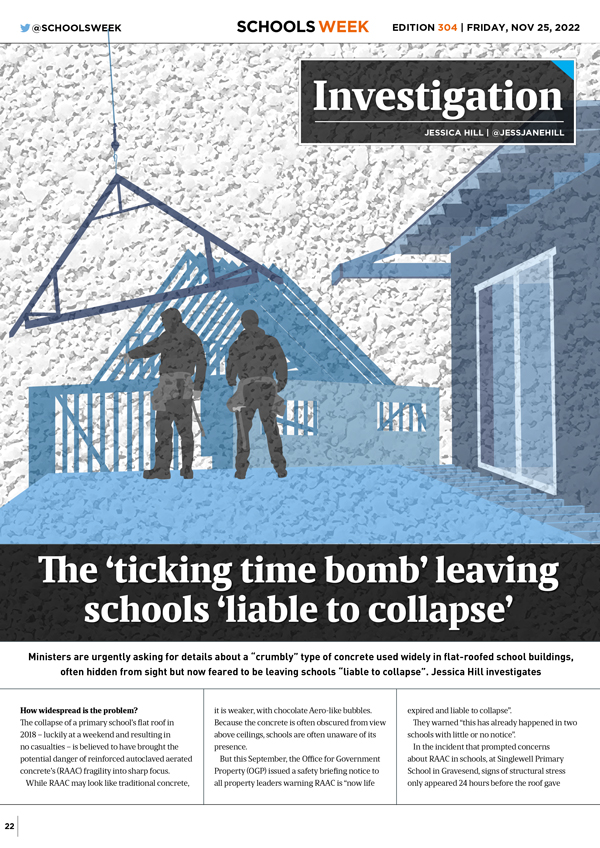 Lack of concrete direction
RAAC has been used in building structures in the UK and Europe since the late 1950s, most commonly as precast roof panels in flat roof construction, and structural deficiencies started emerging in the 1990s.
A feature published in Verulam (a journal published by the Institution of Structural Engineers) way back in 1995 explains about RAAC cracking in a school roof.
But the government, structural engineering bodies, councils and trusts have all been aware that RAAC was present in schools and could cause roofs to collapse with "little or no warning" since at least 2018.
The Local Government Association and Department for Education contacted all school building owners to draw attention to the failure of a flat roof with RAAC planks at Singlewell Primary School in Gravesend. Signs of structural stress only appeared 24 hours before the roof gave way, luckily outside of school hours.
But since then, ministers did very little until March last year – when leaders were asked to check for the material and fill in a government questionnaire. Perhaps the most indefensible part of all this was that ministers did nothing despite knowing just how dangerous this was.
DfE officials escalated the risk level of school buildings collapsing to 'critical – likely' in July 2021 and then again to 'critical – very likely' in October that year.
This was down to an increasing number of "serious structural issues" identified, specifically in schools built between 1945 to 1970 using "system build light frame techniques", which is a category RAAC falls into. The issue was also escalated to the Civil Service Board as a cross-governmental risk.
DfE's most recent annual accounts state the high risk of collapse persists because the Treasury refused pleas in the 2021 spending review for extra rebuilding funding.
Then permanent secretary at the department, Jonathan Slater, told the BBC the then chancellor Rishi Sunak was told "there's a critical risk to life if this programme is not funded".
The department estimated 300 to 400 schools a year needed to be rebuilt. They pushed for the Treasury to up the number of rebuilds to 200 a year, but got funding for 50.
This is also despite capital spending in schools falling by 50 per cent in real terms since the Conservatives came into power in 2010.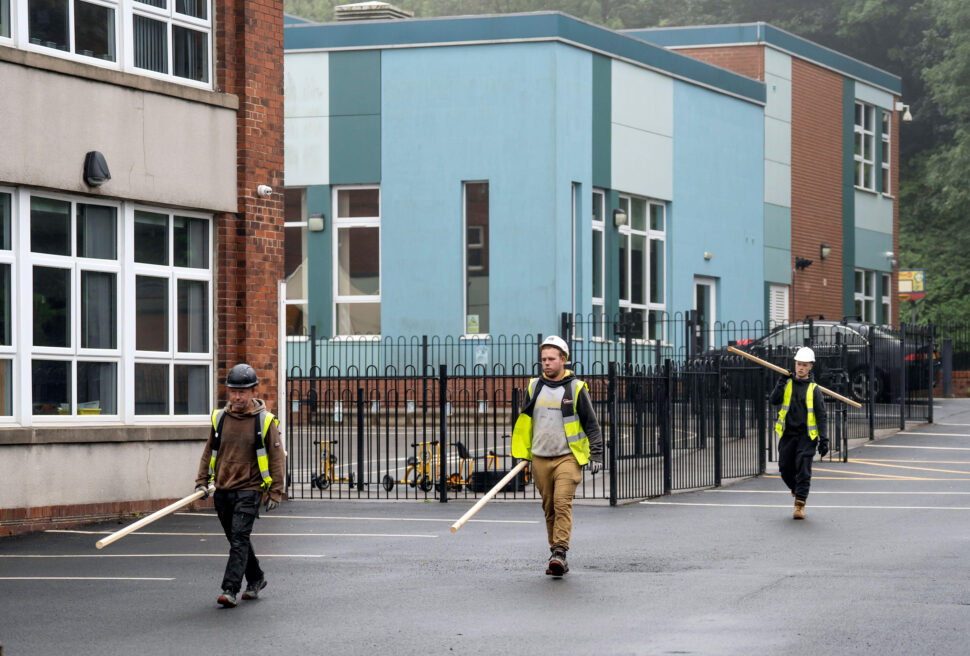 Survey stress
The government said its higher risk rating for school buildings was also down to being "unable to estimate the prevalence of RAAC in the school estate from existing departmental information".
The academisation of schools and changes to the role and geographic footprints of councils over the years have left schools, and government, without appropriate records of what school buildings are made of – then having to pay out for expensive structural surveys to find out.
A new school building condition data collection programme, launched in 2021 that would see every government-funded school and college in England visited by 2026, was expanded to include RAAC.
The DfE said the scheme is "one of the biggest condition data collection exercises in the UK public sector" and will provide a "comprehensive picture of the condition" of the school estate.
But in September last year, the Office for Government Property (OGP) issued a safety briefing notice to all property leaders warning RAAC is "now life expired and liable to collapse… This has already happened in two schools with little or no notice."
The government launched its own RAAC questionnaire in March last year for responsible bodies – councils and trusts – to fill in on behalf of their schools.
One in ten hadn't responded before the summer recess. Five per cent – around 1,100 schools – are yet to do checks for RAAC, government said this week.
That is five months after the second deadline to do so has passed. School and council budget cuts have left them with severely diminished capacity and fewer experts to respond to government information requests.
But leaders who had filled in surveys months ago were wrongly told by government this week they hadn't. Others have been unable to submit information.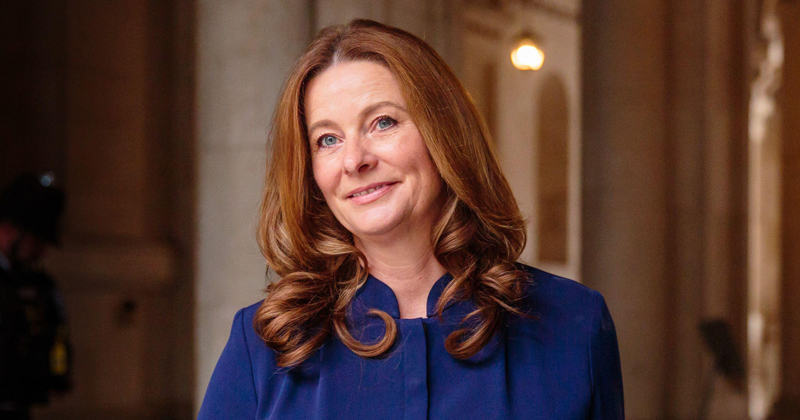 'They would have had no defence'
Keegan was caught on camera this week accusing others of having "sat on their arse" over the RAAC crisis, and expressing frustration at a lack of gratitude for doing a "f***ing good job".
The government escalated its policy last week to stipulate any school buildings containing RAAC – regardless of whether they had been deemed to be 'critical' or not – were to be closed.
Keegan said this was prompted by three cases which emerged over the summer where RAAC deemed "non-critical" collapsed. But at least one of these, a private school in Scotland, was actually examined by officials way back in May.
Matt Byatt, the president of the Institution of Structural Engineers (IStructE), cited quality control issues in the manufacture of panels, and many "were not made properly and don't have reinforcement going all the way to their ends. That's why they have the potential to fail."
New evidence relating to the unsafe width of support bearings underneath RAAC panels frum IStructE in April also led the DfE to start "rapid initial assessments" across all schools with suspected RAAC.
They assessed if its presence presented "life critical risk", according to a briefing by Essex Council to its members seen by Schools Week. With 54 affected schools, Essex is one of the worst-hit councils.
Byatt believes the policy change was mainly down to it "suddenly occurring" to "someone in government, with the best of intentions, that we cannot wait for loss of life before we act. They knew about this – so if anyone had been hurt, they would have had no defence."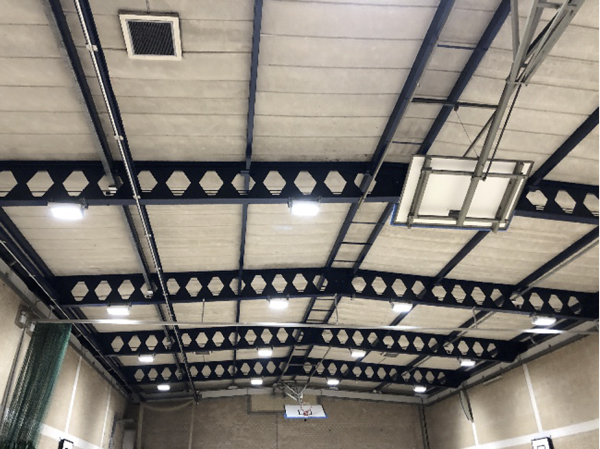 What next?
While urgent action is now being taken, 100,000 pupils in the 147 schools with confirmed RAAC have been impacted.
Some have been squeezed into the remaining suitable classrooms on their site, others are being bused to local schools. One third of those schools have had to delay the start of term or teach pupils remotely. And these figures will continue to rise as all schools get checked.
About 450 schools with suspected RAAC are still waiting for an official assessment from a government engineer.
DfE has gone from using just three to eight consulting structural engineering firms to assess for RAAC – while Byatt points out there are "hundreds" of such firms across the country that are up to the task.
But while finding out if a school building contains RAAC is "easy for a qualified and professional person", the next step – determining the condition of it, which means investigating reinforcement on the inside and the bearings – is "not a simple task".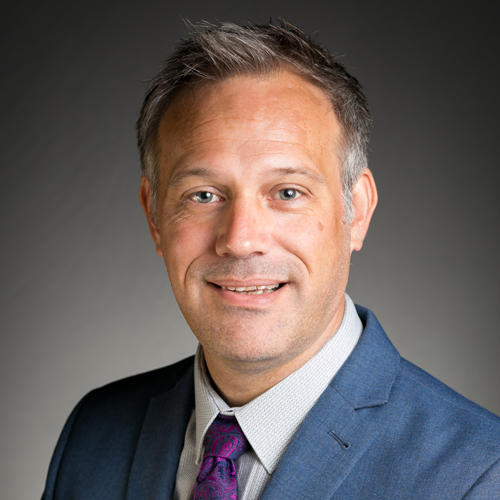 "You cannot just wave a magic wand at it."
There are also grave concerns about doing this while not disturbing any potentially lethal asbestos, in around four in five schools.
While the government will foot the bill for some temporary repair costs, there has been nothing but warm words so far on funding permanent fixes.
And we're still finding out more about RAAC; it was only thought before to have been in use until the early nineties. But the Institution of Structural Engineers recently found RAAC in buildings constructed as recently as 1998.
And while experts previously believed its lightweight nature meant it would only have been used in single story buildings, RAAC has been found in two story school buildings – including that of my daughter.
After the pandemic and a year of frequent school strikes, she is becoming rather accustomed to life at home rather than school. Saunders has been begging for school rebuilding cash from the government since he came into post five years ago.
If the treasury and Sunak while chancellor had taken school building risks more seriously, she would be in school today.