A group of school projects commemorating World War One have been celebrated at an awards ceremony at the House of Lords.
Among the projects on display were film documentaries, a poppy-planting intiative, and plays based on poems written during the Great War, all conceived and executed by secondary school pupils across England, following visits to major battlefields through the First World War Centenary Battlefield Tours Programme.
Six schools were crowned winners at the event for their Legacy 110 projects, which encouraged students to share their post-tour experiences with at least 110 members of their local community.
One of the winning schools, Helsby High School in Cheshire, started a research club inviting younger students to explore their family's involvement in the war following two year 11 pupils' visits to battlefields in Ypres and the Somme.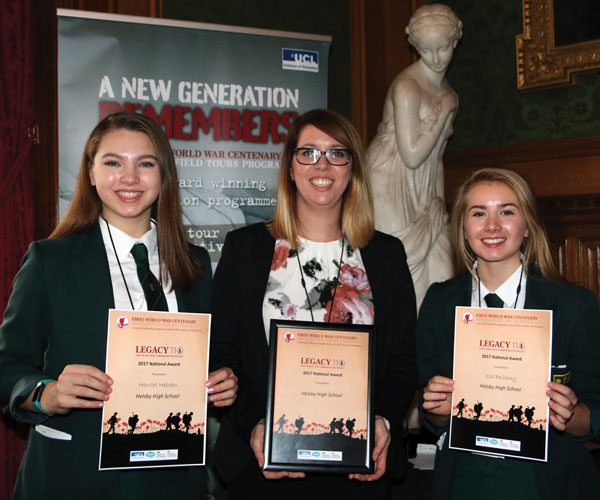 "The club we ran gave KS3 pupils an insight into the reality of war and the real lives affected both at home and abroad," said Katie Jones, a history teacher at Helsby High. "One pupil said to me that the names on our local church memorial now seem to have much more meaning."
Fellow winners Hall Green School in Birmingham shot a film about the war which was shown at half-time during the Premier League football fixture between West Bromwich Albion and Chelsea earlier this month.
The £5.3 million First World War Centenary Battlefield Tours Programme is a government initiative to commemorate the war, jointly funded by the Department for Communities and Local Government and the Department for Education.
It gives two students and one teacher from every state secondary school in England the chance to visit battle sites from the war.
"The programme is all about providing students with a tangible insight into the lives of those who fought in the First World War," said Simon Bendry, the programme's director. "It is great to see so many students continuing their study of the conflict with such enthusiasm once back at home."