Children not in school during the lockdown have been spending an average of 2.5 hours a day doing schoolwork, new research suggests.
According to the UCL Institute of Education, which conducted the study, the figure is around half that suggested by previous research, "implying that learning losses are much greater than previously thought".
One fifth of pupils – the equivalent of two million children – did no schoolwork at home, or less than an hour a day. While 17 per cent put in more than four hours a day.
Furthermore, 27 per cent of UK children were given no offline schoolwork or less than one piece by their schools over a two-week period at the end of April.
Professor Francis Green, who led the study, said: "Everyone is losing out in this generation, some much more than others. Better home schoolwork provision, and better still an early safe return to school for as many as possible, should now become a top priority for government."
It comes after more than 100 psychologists and child development experts wrote to the Sunday Times urging ministers to release children from lockdown "as soon as possible".
Reports this weekend also suggested Gavin Williamson, the education secretary, could be demoted in the next reshuffle over his handling of the wider reopening of schools.
Last week, Williamson announced the government had dropped its ambition to see all primary school pupils return before the summer holidays.
He told the House of Commons that the government was "working to bring all children back to school in September", but faced accusations of being "asleep on the job" over his refusal to release details of his plans to help pupils catch up on their education.
Today's IoE study, based on a survey of more than 4,500 households conducted during the last two weeks of April, again highlighted the disproportionate impact of school closures on the disadvantaged.
For instance, the proportion of pupils putting in more than four hours each day (17 per cent) slumped to 11 per cent among pupils eligible for free school meals.
The report also shows regional variations in work set. In the south east, 28 per cent of pupils received four or more pieces of offline schoolwork per day, compared to just 9 per cent in the north east.
But the largest difference was between state and private pupils. Half of pupils at independent schools were set four or more hours of homework per day, 33 percentage points higher than their state peers.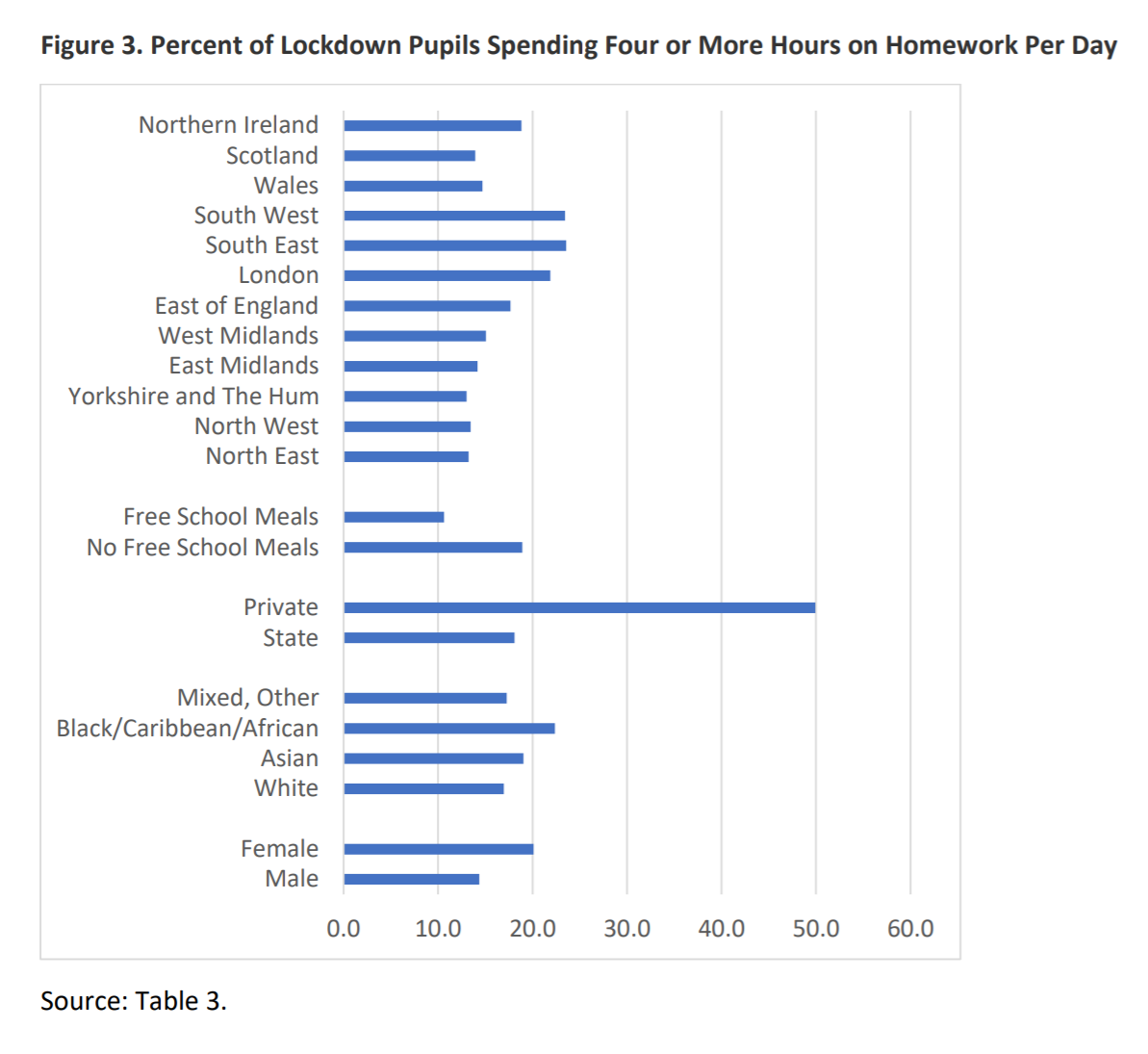 Green added the new evidence "paints a gloomy picture of lost schooling. The closure of schools, and their only-partial re-opening, constitute a potential threat to the educational development of a generation of children."
Earlier this month, Schools Week reported that the government had backed plans for a national online tutoring pilot, aimed at helping pupils affected by coronavirus and associated partial school closures to catch up.
This week, ministers are expected to go further with details of a national catch-up plan, including wider provisions for one-on-one tutoring.
However, the Guardian revealed yesterday that unions and local authorities had not been consulted on the government's proposals.
Dr Mary Bousted, joint general secretary of the National Education Union, said she "suspects that a lot of civil servants are running around madly at the moment trying desperately to stitch something together that sounds feasible".
Most secondary schools across England are due to start welcoming back year 10 and 12 pupils for some face-to-face support this week, with the rest of their pupils not due to return until September at the earliest.
But the ASCL leadership union, which represents secondary leaders across England, has told its members to prepare for potential disruption going into the next academic year.
Geoff Barton, ASCL's general secretary, told the Guardian that schools would have to have a rota system with "one week or two weeks of half the children being in school, and then one or two weeks out while the other half is in."