A pilot to encourage qualified teachers to return to teaching in state schools saw mixed results last year, with many more modern language teachers getting onboard than physics teachers.
A programme by the National College for Teaching and Leadership (NCTL), which rewarded schools that re-trained and employed "returner teachers" who were not working in the state sector, also had more success in London and the south east than across the rest of the country.
And a Freedom of Information request by Schools Week revealed that only three of the 53 lead schools in the pilot trained 20 or more returner teachers – despite funding for up to 40 teachers being available in each case.
Schools Week can reveal that out of the 428 returner teachers trained in the pilot last year, 100 were languages teachers and 106 were English. There were 574 "returner teachers" who applied to be involved in total.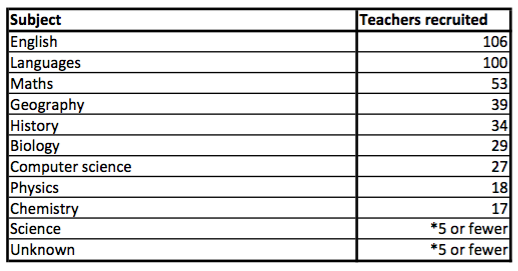 Only 17 teachers were recruited to re-train in chemistry, however, and 18 to physics – with computer science the next lowest at 27.
The south east had more than double the number of recruits (108) than most other regions. London came second with 91 – compared to the east Midlands which only had 18 recruits overall.
None of the 644 lead schools in the pilot came close to filling the government's maximum 40 places in their schools.
Only three had more than 20 returners enrolled in their training programme. Bromley Schools' Collegiate, a partnership of 13 schools in Kent, had 23, Knutsford academy in Cheshire had 25 and Ringwood school in Hampshire also had 23.
Thirty-seven of the lead schools involved had 10 or fewer teachers involved.
The Department for Education (DfE) could not confirm how much funding was issued to the pilot overall, or how many returner teachers went on to become employed after the programme, as "final employment figures are yet to be determined".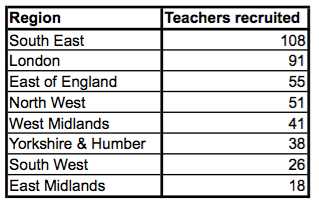 Schools will be offered £2,500 to re-train teachers in those subjects.
In the south east only, they will also be offered  "up to £1,500" in addition if workers are returned on a part-time or flexible basis after experts said such working arrangements could encourage more qualified teachers back into the profession.
Teachers with QTS not in the state school sector may be working in the independent school sector, be on a career break or have moved to another industry.
Save