The Parliamentary Review "misleadingly implied" it was an official government magazine, the advertising watchdog has ruled. A Schools Week investigation now takes a looks behind the scenes at the controversial publication.
Last year, we revealed how schools were approached by the Parliamentary Review through letters from senior politicians, including Lord Pickles, the former communities secretary, and David Curry, a former Conservative MP and the publication's editor.
Are they picking the top schools in the country? No, they're not
The letters told heads they had been selected to share best practice by contributing to the magazine and were invited to a glitzy gala in London.
But, when they enquired further, they said they were told they had to pay up to £3,500.
Whistleblowers have now claimed schools were approached indiscriminately with those selected not always high-performing.
But the magazine's publisher insists it is not indiscriminate, and that it has previously dropped schools that did not meet its "strict criteria".
If the 118 schools featured this year and the 217 included in 2018 were charged the same, the publication would have made more than £1 million from schools in two years.
While the publication did not confirm its fees to schools, The Parliamentary Review said that less than 10 per cent of its annual turnover derived from schools.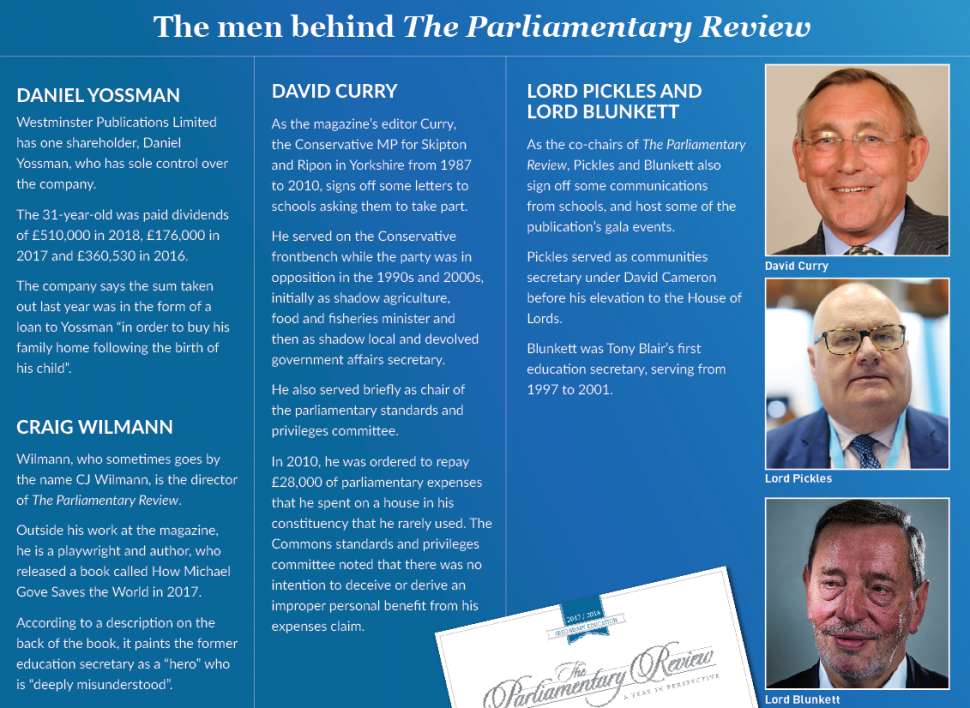 Earlier this month, the Advertising Standards Agency ruled that The Parliamentary Review was unclear about its links to government. The ASA said the magazine also failed to make clear that letters sent to potential customers were marketing communications, or that articles included in its publications were advertisements.
Two complainants said the letters, issued to businesses, were not "obviously identifiable" as marketing communications and misleadingly implied the review was an official government publication.
They also complained it was not obvious that the magazine content was marketing.
The ASA upheld all three complaints and ordered Westminster Publications, the magazine's publisher, to change the way it presented its publications and written communications and to make it clearer that it is not associated with government.
Westminster Publications did not respond to a request for comment from Schools Week after the ruling.
But in its official response to the authority, the publisher said it was "not its intention to mislead consumers" in the letters and that it would add words to future mailings to prevent further issues.
It said it did not believe submitted articles counted as adverts because the content was controlled by the company, and not the contributors. But former staff have questioned the rationale for choosing schools.
Whistleblowers come forward
"Are they picking the top schools in the country? No, they're not," said one former staffer, who spoke to Schools Week on condition of anonymity.
They said some schools that agreed to be included were "desperate to get some recognition on a national level".
"If you're a struggling headteacher with a poor Ofsted report, appearing in The Parliamentary Review can give you some breathing space. Think about what it does to be told that you have been asked to appear in a politician-run, prestigious magazine."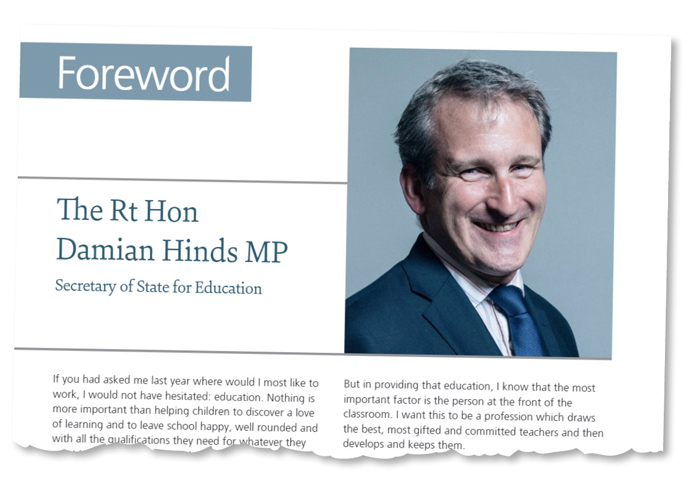 Westminster Publications insisted it was "false" to claim that schools were approached and published indiscriminately, and said it had previously dropped schools that did not meet its "strict criteria".
It also said best practice "is not directly linked to Ofsted grades and it [is] imperative that all those working in education have a chance to talk about how they are responding to educational challenges".
Another former employee, who also asked not to be identified, alleged that schools were led to believe the magazines and gala events were exclusive.
"It's the fact they think it's an exclusive evening gala that's tailored to them, when in fact it's done on a massive scale with about 24 galas a year," they said.
The Parliamentary Review said that these allegations were false and that the events were exclusive. It said that the publication was sent to all schools in the country, but later said "near enough every school in the country receives a copy of the review each year".
It also said that the whistleblowers were "disgruntled employees" and that it was "extremely proud" of its publication and "all that it has achieved".
Former education secretaries respond
Damian Hinds, the former education secretary, who wrote a foreword for the 2018 edition, told Schools Week this year that he was not aware schools had to pay thousands of pounds to appear.
When approached by Schools Week in July with the whistleblowers' concerns over how schools were recruited, Lord Blunkett – co-chair of The Parliamentary Review – said: "If there is serious concern by schools then of course this should be addressed as a matter of urgency."
He said his signature was at the bottom of articles and letters "only when I have approved them", adding: "This is normal practice in wide-ranging organisations of this sort, where there is an interchange between parliamentary activity and the world that parliament is there to serve.
"That is why I have supported the interesting and groundbreaking work that does not feature in any other current organisation."
In its ruling, the ASA agreed with the complainants that letters sent by The Parliamentary Review and signed off by politicians were not "obviously identifiable" as marketing communications.
It also agreed that the letters "misleadingly implied that The Parliamentary Review was an official government publication".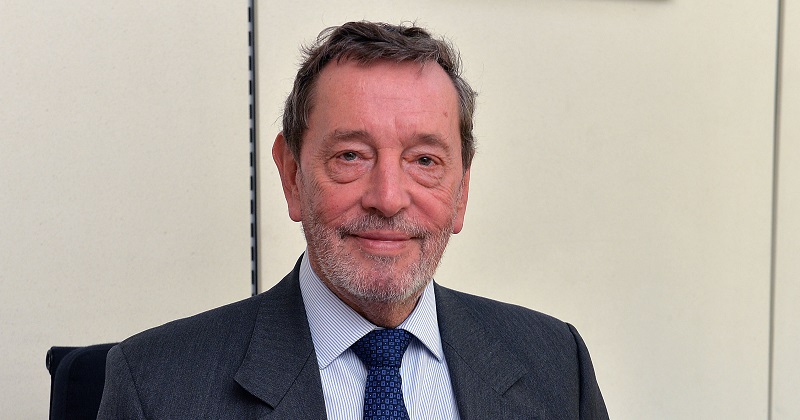 The ASA also agreed that articles in the magazine were not identifiable as marketing communications, because the review did not label them as advertising. This complaint related to articles contributed for The Parliamentary Review 2017-18, and viewed online in May this year.
The Parliamentary Review argued that its articles "did not include any agreement as to what the articles would say", and that editorial guidelines were "sent to all contributors and clearly stated that The Parliamentary Review retained editorial control over the final published piece".
However guidelines it provided to the ASA "related to stylistic considerations rather than content". The watchdog said that simply proofreading or editing the articles was not "in line with the definition of editorial control intended by the code".
The ASA also noted that the review's website included an FAQ section that stated organisations were "free to use the review, and their article within it, to promote themselves to a wide audience".
Marketing letters said the review was "fiercely independent and, as such, you would have full freedom to express yourself entirely as you wish".
The ASA said adverts "must not appear again in the forms complained about", and ordered Westminster Publications "to ensure that their marketing communications were obviously identifiable as such".
"We also told them to ensure they did not imply that The Parliamentary Review was an official government publication."