A glossy magazine that charges schools thousands of pounds to be featured in its pages has been accused of misleading headteachers over its links to parliament.
School leaders across England received letters last month telling them they had been selected to appear in The Parliamentary Review and attend a gala event in Westminster with politicians and celebrities.
The letters from "The Rt Hon David Curry", a former Conservative MP and minister, boast of recent contributions from Theresa May and Damian Hinds, the education secretary, and encourage schools to submit articles demonstrating their "best practice".
I don't think this publication offers value for money to schools at a time of falling school budgets and I would not feel comfortable contributing to it again.
However, headteachers who responded to the invitations were later asked to stump up thousands of pounds to be featured in the publication, which is distributed free each year to every school in the country.
The magazine – which has editions for several industries – purports to be "hugely popular" with schools. But some headteachers told Schools Week they were led to believe it was published by parliament itself.
The magazine refuted "any suggestion" that it misled schools.
"It looks like a parliamentary publication," Sam Nixon, head at Ashleigh Primary School in Wymondham, Suffolk, said. "You open the first page and it's got Theresa May doing the foreword and Damian Hinds on the second page. That makes it look even more so.
"We had a letter that looks quite similar from Lord Agnew, again with his title at the top, congratulating the school on its outstanding grade. So having seen this one when it came, I thought 'oh excellent, great news'."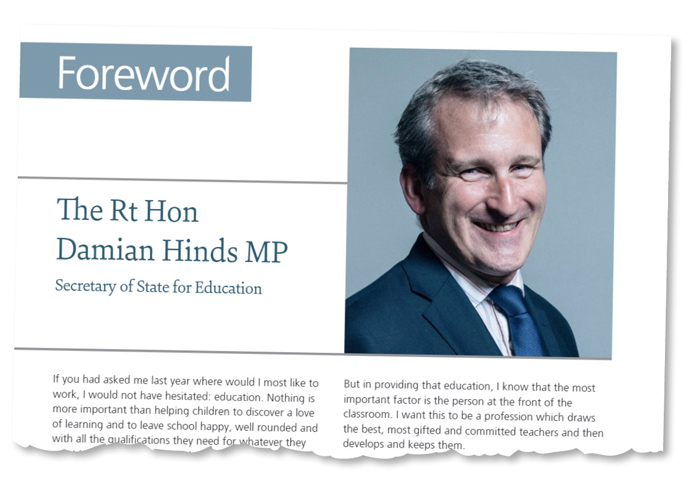 The letter said that Curry would like the school to be one of the representatives for next year's edition and to write 1,000 words with the guidance of its editorial team.
The letter included an invitation from Lord Blunkett, the review's chair, to an annual gala. Previous attendees were listed as George Osborne, the former chancellor, Frank Lampard, the footballer, and Jonny Wilkinson, the rugby player.
The letter urged the school to phone so the "whole process" could be explained. It made no mention of a fee.
Assuming it was a free service provided by a public sector organisation, Nixon responded enthusiastically, only to be told in a later phone conversation and email that he would have to pay £1,200 for his school to be included. He declined.
"Speaking to a couple of other heads, everyone felt that they had been highlighted for recognition for the work they'd done," Nixon said.
He also questioned the use of Hinds's name to promote a publication that charged schools "at a time when you're being told you have to be careful with how you spend your budget". He said the education secretary's contribution appeared to "validate" the magazine.
Nick King, the head of Scarning Voluntary Controlled Primary School in Norfolk, was also contacted by Curry in October. He said he felt "flattered" to have been approached, but was subsequently told he would have to pay £3,500 to take part.
"We were more than happy to contribute 1,500 words or whatever it was they wanted about how life is at our school," he told Schools Week, adding that his school was "very close" to signing up.
There seemed to be a general view that it wasn't necessarily the most upfront process
"My deputy did a little bit of digging and there seemed to be a general view that it wasn't necessarily the most upfront process."
Both headteachers said they understood why some schools signed up. King said one leader he knew had found the publication a useful way to promote her school, but he still questioned its value for money.
"She had had a bit of a bad time in terms of publicity locally and she said they found it quite a good way to promote the school in a positive way. I get that, but ultimately the £3,500 was a bit of a warning sign, and we decided not to do it.
"You get it on that distinguished-looking paper, and you see 'parliament' in there and a reference to Theresa May, and it's all very grand and quite flattering.
"On investigation, it was unclear why we were being asked to pay £3,500."
Other recent contributors to the magazine include Michael Gove, the former education secretary, Nick Gibb, the current schools minister, and Lucy Powell, the former shadow secretary.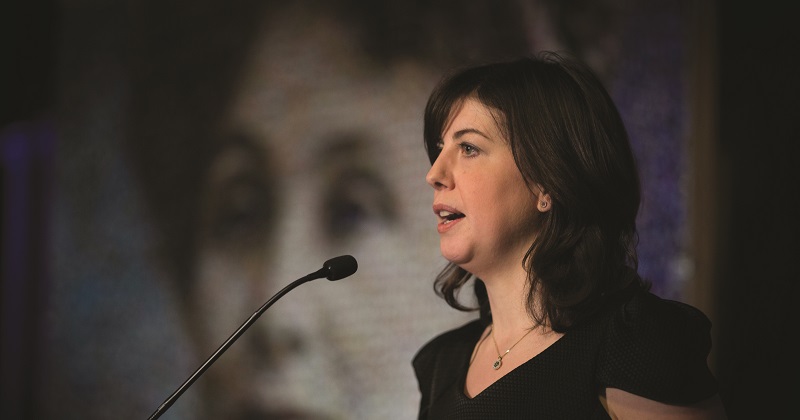 Powell, who now sits on the parliamentary education committee, said she did not know about the charges and would not write for the publication again.
"I was asked to write a piece…but I had no idea until much later that schools were paying so much money to be included," she said.
"From what I know of it, I don't think this publication offers value for money to schools at a time of falling school budgets and I would not feel comfortable contributing to it again."
But Craig Wilmann, the director of The Parliamentary Review, said it was made clear to schools "in the very first call" and on the magazine's website that it was published by an "independent organisation".
The publication's name "reflects the fact that each document discusses parliamentary policy pertaining to the relevant policy sector.
"It does not imply that we are directly connected to parliament ourselves and it would be remiss of us not to mention the fact that the prime minister and the education secretary have contributed forewords. Ministers regularly contribute to non-governmental publications.
"We absolutely refute any suggestion that we in any way mislead schools or organisations who partake in the review."
A DfE spokesperson said a contribution by any government minister was "not an endorsement and nor should it be seen as such.
"Any organisation or publication that approaches a school to sell a product or service should be transparent about what they are doing."
What is The Parliamentary Review?
A printed and online publication with a number of editions across a range of sectors – including primary and secondary education. It is distributed free to all schools once a year.
The magazine is published by Westminster Publications, a private company that has just one director, Daniel Yossman and, according to The Times, has an annual turnover of £2 million.
The publication is chaired by Lord Pickles, the former communities secretary, and David Blunkett, the former education secretary, both of whom are paid for their services. It is edited by David Curry, a former standards committee chair who in 2010 was ordered to repay £28,000 of parliamentary expenses that he spent on a house in his constituency that he rarely used.
The review also organises an annual gala, which in the past has been attended by Tony Blair and Nick Clegg.