Paralympic swimmer Chris Holmes will chair a new expert group to help improve the use of technology in schools.
The EdTech Leadership Group, which met for the first time today, consists of 27 members – 16 of whom are from education sector. The remaining 11 are 'industry' members and include companies such as Apple, Microsoft, Google and Amazon.
The group aims to boost accessibility and inclusion of technology in the classroom. It follows education secretary Damian Hinds announcing the government would spend £10 million supporting the use of education technology in schools earlier this year.
Alongside the new panel, the Department for Education has also announced a £4.6 million EdTech Innovation Fund.
Universities minister Chris Skidmore has asked EdTech companies to step forward with bold, innovative proposals that will "make a real difference to the lives of students and teachers".
"Technology can be one of the single most important elements in any school, college or university and act as a catalyst for those who learn and those who teach."
The DfE will invest £3.5 million to the scheme, alongside £1.1 million from innovation foundation Nesta.
Table: EdTech Leadership Group members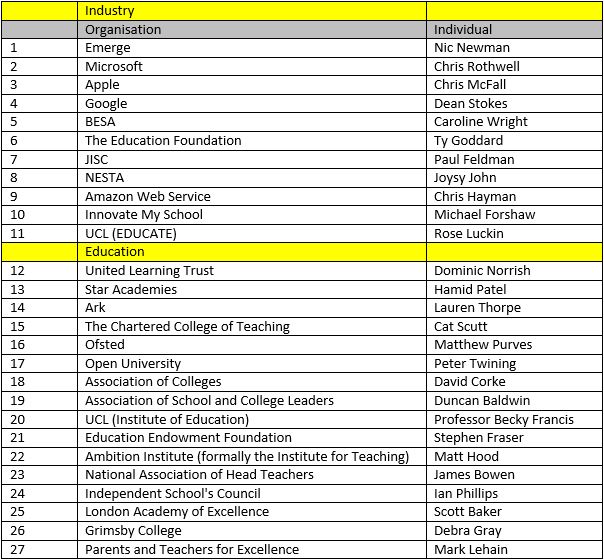 Nesta has also announced that up to 20 edtech organisations will receive up to £100,000 to improve, evaluate and grow the reach of digital tools across formative assessment, essay marking, parental engagement and timetabling.
These are four of the ten challenge areas identified in the edtech strategy. Others include reducing teachers' marking workload, boosting training opportunities for teachers, identifying how anti-cheating software can be improved and levelling the playing field for people with special educational needs and disabilities.
In April, Hinds said that all teaching job adverts should offer applicants the chance to explore flexible working options. The education secretary said that the teaching profession "can't afford" to continue to have a lower incidence of flexible working options like job shares or part time roles than society as a whole.
The Department for Education also plans to assess and "quality-mark" smartphone and tablet education apps for younger pupils under its technology push.
Holmes, who is co-chair of the All-Party Parliamentary Group on Assistive Technology, said: "I am passionate about the potential of technology; how it can potentially significantly help our educators, improve learning and foster accessibility and inclusion."