Opportunity areas exclude regions where attainment gap grows fastest, EPI finds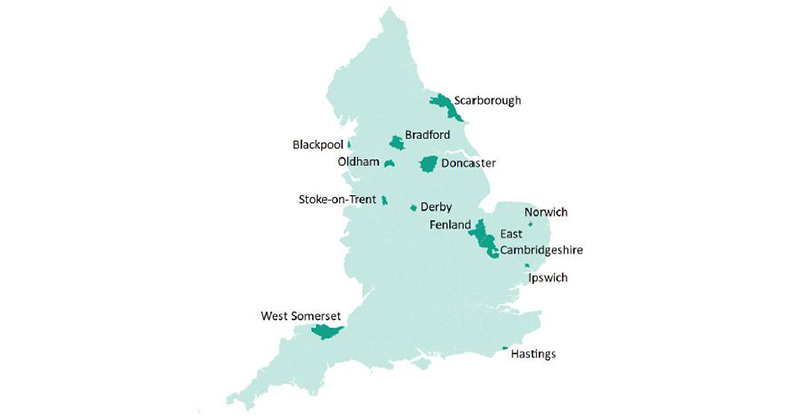 The government's 'opportunity areas' fail to include regions where the gap in attainment between the poorest pupils and their richer peers has grown fastest, a new analysis has found.
The Department for Education's (DfE) has pledged £72 million additional funding for 12 opportunity areas that have been identified as being the most challenged when it comes to social mobility.
However a new report by the Education Policy Institute (EPI) has claimed key areas – where the gap between poor and rich pupils have grown the largest – have been missed out.
The think tank has now called on the DfE to expand its initiative to include eight areas identified as having the fastest growing attainment gaps.
These are Darlington, South Gloucestershire, Swale in Kent, Rossendale in Lancashire, Boston, West Lindsey in Lincolnshire, Vale of White Horse in Oxfordshire and Newcastle-under-Lyme.
Jon Andrews, an author of the report, said the government was "right" to focus on the 12 areas where the attainment gap was wide, but warned it was "widening more quickly" in these eight areas.
The EPI report found that the overall gap between all pupils on free school meals (FSM) and non-FSM pupils in year 11 has narrowed by three months over the last decade, equating to 19 months of learning.
But the think tank estimated it will take 50 years before the attainment gap between the poorest pupils and their peers is closed. It follows similarly grave warnings in a Social Mobility Commission report published in June.
A DfE spokesperson said the attainment gap has narrowed since 2011, but they added the opportunity areas programme was also under "continual review".
The current opportunity areas are West Somerset, Norwich, Blackpool, Scarborough, Derby and Oldham – all announced by the DfE in October 2016 – and Bradford, Doncaster, Fenland & East Cambridgeshire, Hastings, Ipswich and Stoke-on-Trent – announced in January 2017.
Four of the 12 areas to get more funds have actually seen the gap in attainment for FSM pupils narrow by the end of primary school over 2012 to 2016, EPI found.
For instance in East Cambridgeshire, the poorest pupils caught up by 1.5 months of learning compared to five years ago. In Norwich they caught up by 1.2 months.
But EPI researchers found poor pupils in the eight areas with the fastest growing attainment rates were faring worse than in the opportunity areas.
Pupils on free school meals in Rossendale were falling behind by 3.6 more months in 2016 than they were in 2012 at the end of primary school, by 3.4 more months in Darlington, and by 3.3 more months in Boston.
Areas with the biggest change in attainment 
The change in attainment in the government's opportunity areas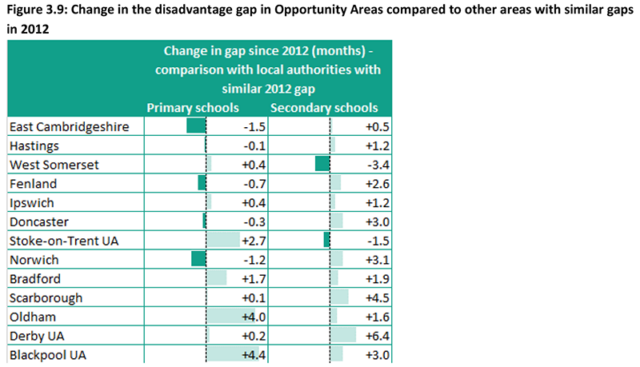 The gap widened even further by the end of secondary school in these eight areas, the report found. Pupils in Darlington were 7.1 months more behind in 2016 than they were in 2012, followed by 6.4 months more in Rossendale, 4.9 months more in Boston, and so on.
Paul Whiteman, general secretary designate of the National Association of Head Teachers, said the government must be sure opportunity areas were backed by evidence, otherwise "they will join the long list of failed attempts to improve equality across Britain."
The report also echoed recent findings by Education Datalab that the attainment gap since 2007 has actually widened for pupils who are "persistently disadvantaged", which researchers defined as being on free school meals for 80 per cent of their school lives.
But for the most "persistently disadvantaged" year 11 pupils widened by 0.3 months between 2007 and 2016, and now equates to more than two years of learning against their richer peers.
The government selected the 12 areas based on those identified as part of the social mobility index published by the Social Mobility Commission.
A spokesperson for the DfE said while the attainment gap is closing, there is "more to do", with £2.5 billion additional Pupil Premium funding being handed out this year, and the opportunity areas programme helping to spread best practice to other schools.