Almost a third of pupils believe it's not safe to be openly gay, lesbian or bisexual at their school while almost two thirds are aware of homophobic bullying, a survey of over 1,000 pupils has revealed.
The campaign organisation Diversity Role Models has called for a "whole-school approach" to tackling issues like homophobia, including workshops for pupils using LGBT role models, diversity education embedded in the curriculum, enhanced teacher training and better engagement with parents and governors.
In a report due to be launched in Parliament today with education secretary Nicky Morgan in attendance, the organisation has called for pupils to be exposed to positive LGBT role models and receive better diversity education.
It comes after a survey by the group found that 64 per cent of pupils were "aware of some bullying at school that was about being LGBT". For 11 per cent of respondents, most (9 per cent) or all (2 per cent) bullying was about being LGBT.
The survey also found that 32 per cent considered it not very safe (24 per cent) or completely unsafe (8 per cent to be openly gay, lesbian or bisexual at their school.
The organisation surveyed 1,102 secondary school pupils across the UK between May and July 2015. Of the respondents, 78 per cent identified as heterosexual, 14.5 per cent identified as either not sure or lesbian, gay or bisexual. Nearly 4 per cent did not identify with any gender.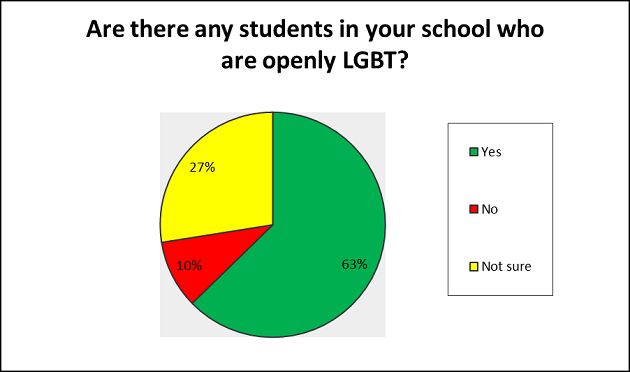 When asked if they knew anyone who was LGBT, 40 per cent of respondents said they knew many, while 36 per cent said they had met one or two. 15 per cent said they weren't sure, and 8 per cent said they had never met anyone who was LGBT.
63 per cent of pupils said they were aware of others in their school who were openly LGBT, while 10 per cent said they were not aware, and 27 per cent said they did not know.
Diversity Role Models interim chief executive Lucy Caldicott said homophobic, biphobic and transphobic bullying followed young people around "in every area of their lives – at school, at home, in social settings" – and left them "without anywhere to turn for support".
Ms Caldicott said that, alongside high profile same-sex marriage legislation, there had also been valuable change to policy, such as the 2011 transgender equality action plan.
But she added: "Despite this progress, school can remain a hostile place for LGBT youngsters. More needs to be done to support them and all young people to express themselves freely."