The University of Cambridge has told schools today it will introduce a "common format" admissions test.
Pupils applying to the university for 2017 entry will sit a written assessment either in November or at their interview, depending on the subject.
Schools Week first revealed the university was consulting on proposals to bring back testing in April last year – because of the government's A-level reforms.
Dr Sam Lucy, director of admissions for the Cambridge colleges, told schools and sixth forms in a letter today that it will "provide admission tutors with valuable additional evidence to applicants' academic abilities, knowledge and potential to succeed".
Dr Lucy said: "They will form part of our holistic assessment of applicants, rather than being a stand-alone mechanism for interview selection".
Well-placed sources at the university previously told Schools Week they feared test scores alone would be the main criteria for interview invitations.
The assessments will be scheduled on the same day as University of Oxford's pre-interview tests "to make them easier for schools and colleges to administer".
For some subjects, tests will still take place during the December interview period, usually on the same day as the academic interview.
Dr Lucy added: "No advance preparation will be needed, other than revision of relevant recent subject knowledge where appropriate. Most at-interview assessments will be one hour in duration, and most pre-interview assessments will last no longer than two hours."
The pre-interview tests will be administered by the Admissions Testing Service and will be free to applicants. Schools and colleges will be responsible for register pupils no later than October 15.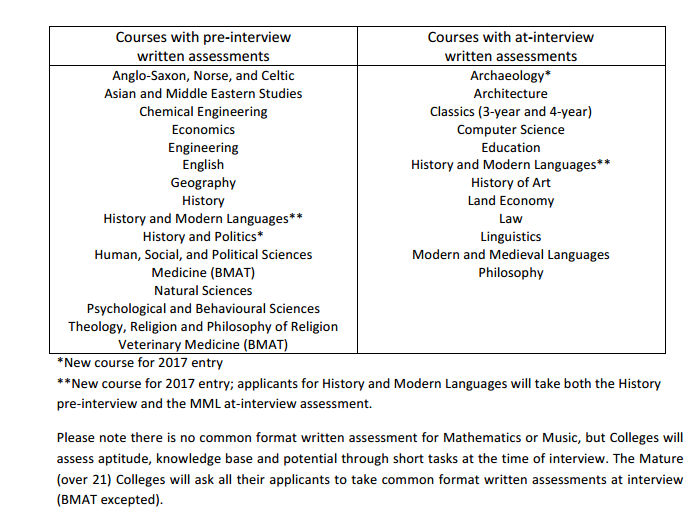 Schools Week revealed in April that a paper circulating among university departments revealed trial data suggesting that if a test known as the Thinking Skills Assessment had been used to make interview decisions for the past two years then 7 per cent of successful applicants would never have been interviewed.
That equates to about 210 current students, the equivalent of an entire year group in a large state school.
Schools Week also revealed last month the university held a secret briefing for selected teachers over its plans to bring back admission tests.
Documents seen by Schools Week said the university did not plan to inform other teachers of a full outline of its plans until March, although this appears to have been brought forward after our coverage.
The letter sent to schools today also states there will be a dedicated website next month – www.cam.ac.uk/assessment – to provide more information, including the precise duration, subject content and format of each assessment.
Schools Week understands some tutors have raised concerns at bringing back admission tests, and Sir Peter Lampl, chairman of the social mobility think tank the Sutton Trust told Schools Week they could present a disadvantage for low and middle income students.
But documents from a senior tutors' committee, previously seen by Schools Week, state the university is "being forced" into changing its "well-tried system" of using AS-levels to assess applicants.