There has been a dramatic drop in the number of special schools inspected by Ofsted this academic year.
Last term just 27 special and alternative provision schools were inspected compared to 150 inspections during the previous autumn term, according to data, compiled by Watchsted for Schools Week.
The number of inspections in all schools dropped last year with commentators attributing this to difficulties recruiting inspectors.
But the fall in special school inspections is far greater than in the mainstream sector – dropping by 85 per cent.
Ofsted previously told Schools Week that fewer inspections were scheduled for the autumn term to "manage the transition" to a new set of standards, first rolled out in September.
The proportion of special and alternative provision schools rated less than good has also increased this year, although this reflected more schools with lower ratings being inspected rather than a drop in performance.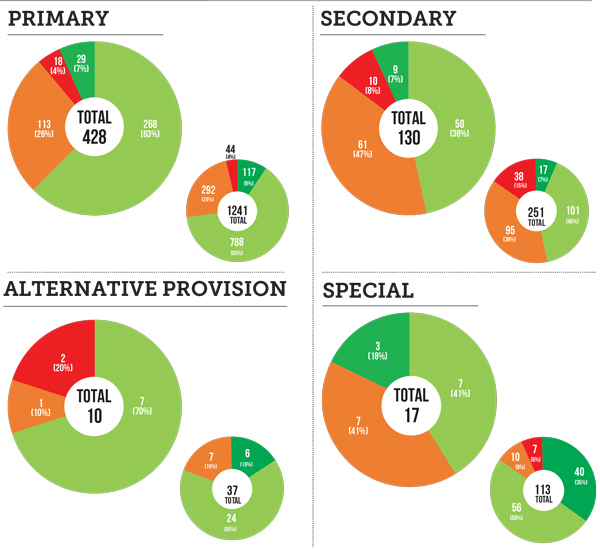 Barney Angliss, SEND co-ordinator at Rydens Enterprise School in Surrey, said the lower number of inspections raised questions about Ofsted's ability to cope with its workload.
But he was unconcerned about the increased number of schools with low inspection grades as the majority were re-inspections of schools already in special measures or given a 'requires improvement' rating.
"Therefore they were highly likely to yield lower grades than in the same period of the previous year where most inspections in the special sector were full scheduled inspections on the standard rota. So you're not comparing like with like," he added.
An Ofsted spokesperson said: "We scheduled fewer inspections than usual last term to make sure the transition to our new inspection system was as smooth as possible.
"Outstanding special schools and pupil referral units now qualify for short inspections, having previously been subject to full section 5 inspections.
"It is too soon to draw any conclusions about outcomes under the new inspection system, which only came into effect in September."
In September, Ofsted introduced new criteria for inspections but the changes for special and alternative schools were minimal.
Special schools judged to be outstanding at their previous inspection are not exempt from inspections in the way that outstanding schools now are. Instead they now receive so-called short inspections every three years akin to those given to 'good' schools.