Ofsted have acted swiftly to remove a lead inspector after Schools Week presented damning evidence of whole report sections being identical or near identical.
The inspection reports shown to Ofsted were all written by David Marshall, an inspector working for the private contractor, Tribal.
Ofsted chief operating officer Matthew Coffey said they had raised concerns in 2012 with Tribal over the similarity of Mr Marshall's inspections, but "as a result of the new evidence brought to our attention we have agreed with Tribal that the additional inspector concerned will no longer undertake inspection work on behalf of Ofsted".
Tribal's website "pen portrait" from June 2014 says that Mr Marshall "has been the headteacher of two primary schools and has 13 years extensive experience of inspection. He has conducted a number of pieces of research, in leadership and management and special education, and has experience of teacher training."
Analysis by Schools Week showed that Mr Marshall has carried out approximately 60 section five (full) inspections over the past three years across the south-east and south-west, though the evidence presented to Ofsted covered only a small selection of reports.
Mr Coffey added: "The professionalism of our workforce, and accuracy and quality of all Ofsted inspection reports is our highest priority. Ofsted takes very seriously any allegations of plagiarism or inappropriate copying and pasting in reports.
Ofsted takes very seriously any inappropriate copying and pasting
"Ofsted previously identified concerns about the similarities of a small number of inspection reports written by the same inspector in 2012.
"We ordered our contractor to review each report to ensure that the judgments were accurate. The contractor confirmed all judgments were robust and shared with us plans to monitor all subsequent inspections and reports written by this individual."
A Tribal spokesperson said: "Tribal does not comment on individual disciplinary cases. However, we have robust quality control measures in place and thoroughly investigate all complaints, taking action when appropriate."
This is not the first time inspectors have been caught recycling passages in their reports.
In September it emerged that at least two inspectors had been dismissed over cut-and-pasting in recent years.
At the time, Ofsted schools director Mike Cladingbowl told Schools Week: "If it were true that there were inspectors out there who were routinely going from one inspection to the other, cutting and pasting in the way that one of the myths has it, then we would know about it.
"It has happened in the past [and] we've taken action. But I'm pretty confident it's not routine."
In May, Ofsted announced plans to stop using inspectors employed by outside contractors.
This followed comments by Ofsted's chief inspector, Sir Michael Wilshaw, at the Association of School and College Leaders conference in March, where he said: "Inspection, as far as I'm concerned, is just too important for Ofsted to simply have oversight of third-party arrangements."
Robert Peal, an honorary research fellow at the think-tank Civitas and author of a report into Ofsted published in July, said: "The most basic of computer programs could be set up to scan new reports, and ensure that this lazy, cynical behaviour by lead inspectors is caught out.
"The fact that this doesn't happen just goes to show how contracting-out inspections to public service providers has led to a reduction in quality, and further vindicates Sir Michael's decision to bring all inspectors back in house from next year.
"One can only hope that when this does happen, such instances of 'cut-and-paste' reporting will become a thing of the past."
Main pic: Sir Michael Wilshaw, Chief Inspector of Schools In England and head of Ofsted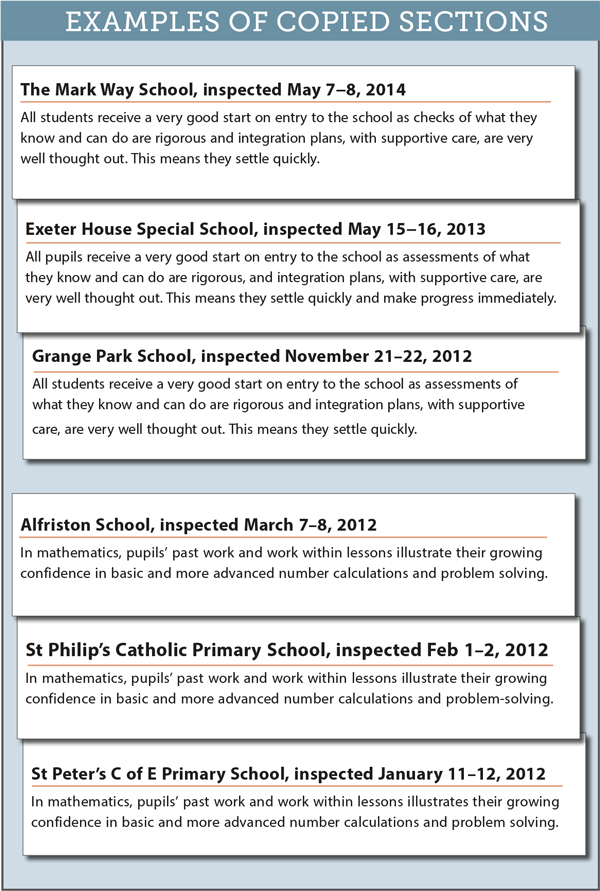 EDITOR'S COMMENT
After presenting Ofsted with irrefutable evidence of recycled reports from inspections less than six months ago, they have sacked the inspector.
Additional [contracted] inspectors have been caught doing this before and have been sacked. But what is truly shocking about this latest copy-and-paste story is Ofsted knew he was doing it in 2012.
Relying on the contractor to
"monitor all subsequent inspections and reports" was clearly a weak and insufficient response.
He continued doing it in 2013 and 2014, as our investigation and published examples show.
Bringing inspectors in-house may help stamp this out, but Ofsted will now need to regain the trust of parents and the profession.
So Sir Michael Wilshaw should take Robert Peal's advice and quality assure reports using simple plagiarism software.
I'll say this once: nobody wants this story repeated.