Sir Dan Moynihan, the country's highest-paid academy trust boss, has not been handed a pay rise for the first time in six years, amid an ongoing government crackdown on CEO salaries.
It means the Harris Federation chief executive's pay has remained in the £440,000 to £450,000 bracket, new annual accounts are due to confirm. Trusts must publish annual accounts for 2017-18 on their websites by Thursday (January 31).
It's the first time Moynihan has not received an annual pay rise since 2012. Previously, his pay has been boosted by between £20,000 and £44,000 every year (see table).
The Department for Education has launched a high-profile crack down on CEO pay in academy trusts, issuing warning letters demanding trusts justify executive pay of more than £150,000.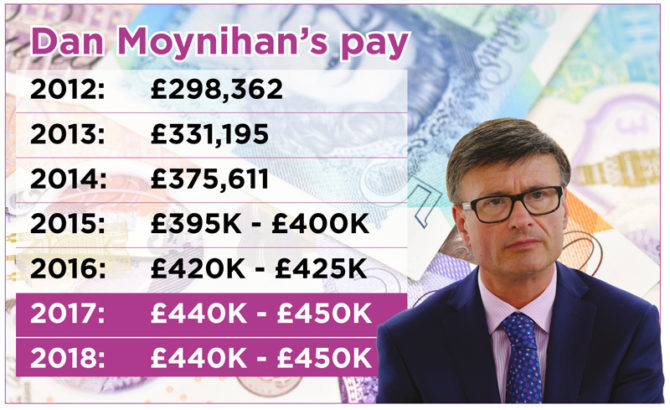 Harris received one of these letters in February 2018 but, in November, Lord Agnew told Schools Week that he deemed Moynihan's salary to be appropriate because of the size of the trust, its financial situation and the outcomes for pupils.
Figures published in multi-academy trust (MAT) league tables last week show Harris had an average progress eight score of +0.49, considerably higher than the national average of -0.02 and of the next highest-performing large MAT (Delta Academies Trust, at +0.29).
The trust also said it performs highly on the progress measure for its most disadvantaged pupils at +0.33, compared with an average of -0.44 nationally.
Schools Week reported earlier this month how one in three academy trusts told to justify their pay by the government had chosen to review their policies or commit to future pay cuts.
Some bosses are also turning down pay rises. Accounts for Outwood Grange Academies Trust show that its boss, Martyn Oliver, "voluntarily rejected" a rise for the second-year running.
The trust also lowered the upper limit of the salaries earned by Oliver and his chief executive principal for secondary schools, with Oliver's upper limit dropping by £32,000.
The Harris Federation ran 44 schools last year, meaning Moynihan's pay works out at around £13.75 per pupil.
That is considerably less that other trusts who have hit the headlines for high executive pay, including the single-academy trust Holland Park School which paid its head Colin Hall £260,000 last year – coming in at £186 per pupil.
A spokesperson for Harris said it now has 47 "highly successful academies in and around London", and added that of the 36 that have been inspected by Ofsted, 28 are 'outstanding' and eight are 'good'.
"Many of these joined our federation as failing schools," she said. "The latest Department for Education performance tables show that Harris Federation is the top performing large MAT for Progress 8, Ebacc and for the progress made by disadvantaged pupils."
Update: The published accounts reveal another senior employee at Harris saw their pay rise from the £260,000 to £270,000 bracket up to at least £290,000.
The accounts did not reveal the name of the employee, but the rise makes them one of the highest-paid people in the academy sector.