Government officials will "work closely" with schools hit by flooding, Nicky Morgan said after visiting storm-hit buildings in Cumbria.
Visiting schools in Carlisle last Thursday, Ms Morgan met with staff and pupils at Trinity School and Richard Rose Central Academy, where she said the "shocking impact of the floods" was "still very evident", although both schools are now open.
Several schools across the north of England are facing long waits to get back onto their original sites following serious weather damage after heavy rainfall called floods during the Christmas holidays.
Ms Morgan also visited Newman Catholic School which has now re-opened in temporary classrooms on the site of the former Pennine Way Primary School in Harraby.
The school also flooded in January 2005 and was left at the time with a £4 million repair bill. County education bosses are said to be working with government officials on finding a permanent solution to its flood risk.
Ms Morgan said she was pleased to have the opportunity to thank everyone for "all their hard work", and said her department would "continue to work very closely with the local authorities and the schools affected to help minimise disruption".
A Trinity School spokesperson said: "The secretary of state came to see for herself the extent of the damage caused to our school by storm Desmond.
"She spent time talking to staff and students about the ongoing difficulties caused by the floods as well as listening to our hopes for the future."
Schools in the Calder Valley have also been significantly affected.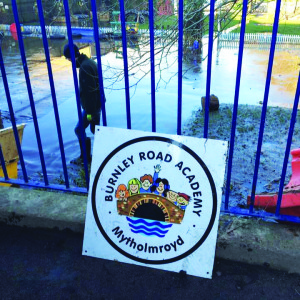 At Burnley Road Academy in Mytholmroyd near Hebden Bridge, ground floor classrooms and offices have flooded, leaving debris and mud around the building in the playgrounds and walkways.
The school has sent all pupils from reception to year 2 to Savile Park Primary School's Heath site, while years 3 to 6 will use four classrooms, an ICT suite and assembly hall in Calder High School's sixth-form block.
Hayley Morgan, a member of the school's parents, teachers and friends association, said the water had been at least a metre deep in classrooms, ruining books and pupils' work.
"The most upsetting bit was when we had to throw the library and exercise books away."
Ms Morgan said parents had been impressed by the speed of Calderdale Council's response and that pupils were happy to have a site to work from. It is not known when they will return.
Scout Road Academy posted on its website that it is unlikely to open for about six months following a landslip.
A spokesperson told parents: "We have been informed that Scout Road Academy will remain closed for the foreseeable future and our current planning assumption is that this will be for possibly six months, maybe sooner.
"Once we have the necessary approval from our insurers we will be in a position to share our solution with parents. Please be assured that we are doing everything we can to find the very best solution for our children."
Picture: Trinity School