Two schools are considering high court action to settle a row with their local authority over a disputed PFI bill they claim has stalled their academy conversion.
Rokeby School and Lister Community School, in the London borough of Newham, want to convert and form a multi-academy trust, with plans to take over the Newham Collegiate sixth form – which the schools' leaders are helping to run on a temporary basis.
However the schools say their conversion has been delayed by 18 months while negotiations drag on over £500,000 of extra cash which Newham Council believes the schools should pay towards private finance initiative (PFI) repayments.
The cash would be on top of current repayments – totalling more than £1 million for both schools – to firms that built their schools six years ago.
The council has maintained the level of repayments was clearly set out in a contract signed in 2008. But it now looks like the dispute could end up in court after lawyers for the schools sent the council a "letter before claim" this week.
We have no choice but to pursue court action
It stated the school will go to the high court to seek a resolution unless the council "ceases to make demands for payments that are unlawful and to which they have no right to payment".
John Ainsworth, chair of the proposed multi-academy trust, to be called Newham Community Schools Trust, said: "We are astonished that the council is looking to balance its books at our expense, and is holding back our schools' vision of progressing from good to great.
"Our only motivation in seeking these academy conversions is to provide thousands of Newham students with an even higher quality of education."
He said the council is "leaving us with no choice but to pursue court action".
It appears the threat of legal action was triggered after it emerged the government is considering a new sponsor from outside the area to take over Newham Collegiate – which Schools Week revealed in 2014 had been set up unlawfully by the council.
Schools Week also reported last week how Noel-Baker school, a PFI school in Derby, was rated inadequate by Ofsted with inspectors blaming "messy and protracted" talks over academy status having a "negative impact on vital school improvement work".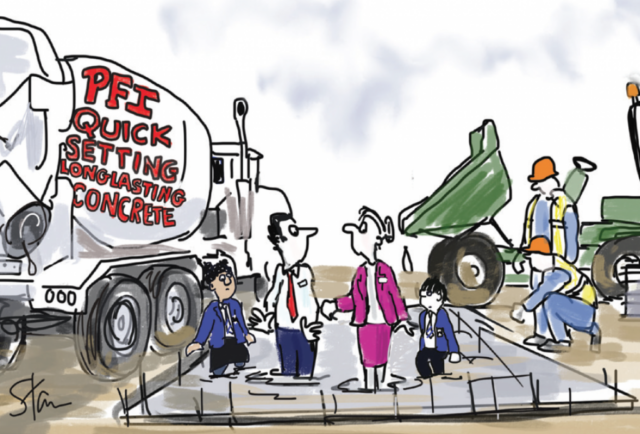 Several other PFI schools have been denied transformative takeovers because trusts did not want to take on their hefty PFI liabilities.
Should the Newham schools manage to overturn the costs in court, other schools looking to fight off extra PFI costs could seek a similar decision.
Schools in Stoke-on-Trent, for instance, have taken on extra PFI costs to make up repayment shortfalls. Birches Head Academy was last year paying more than £380,000 annually on PFI costs, an increase of more than £125,000 in just four years.
Schools Week understands the Department for Education is in the process of considering cases from both sides before issuing a "determination" on the dispute.
A spokesperson for the Newham Community Schools Trust said they are confident the additional £500,000 sum is not provided for in their contract.
A Newham Council spokesperson said it is "premature" of the schools to threaten legal action while the DfE determination is still ongoing.
"Far from asking these schools for more money, the council has sought to clarify the amount they owe under the PFI agreements their governing bodies signed.
"The council has a duty to all Newham schools and Council Tax payers to ensure that its funding is spent fairly and for the benefit of all. The issue is now with the Department of Education to determine the costs the school must pay."
The spokesperson said they hope that legal action can be avoided, adding they want to secure the "very best education for all our pupils and are supportive of these schools forming a multi-academy trust".
Save