A networking and events group aimed at encouraging more black, Asian and ethnic minority candidates into teaching and headship roles will launch in January.
BAMEed aims to emulate the success of the recently launched WomenEd and "raise the status" of teaching among communities from ethnic minority backgrounds by encouraging progression up the career ladder.
Co-founder Allana Gay, deputy headteacher at Lea Valley primary school in north London, said she and colleagues were dismayed when the 2015 school workforce data showed 93.4 per cent of headteachers were white British – a larger percentage than the 87 per cent of white British classroom teachers.
"When we looked at the census, to be honest, we began to wonder about our chances of headship. And for me that's also an issue of representation for students. It limits an understanding of diversity. If I'm an ethnic minority child inside a school, and most of the diversity I see is among assistants and cleaners, that's a problem."
Teachers with Pakistani heritage made up 1 per cent of all teachers in England, as did those with black Caribbean backgrounds.
If I'm an ethnic minority child inside a school, and most of the diversity I see is among assistants and cleaners, that's a problem
In contrast, 3.8 per cent of teaching assistants have a black Caribbean background, and 4.3 per cent have Bangladeshi, Pakistani or Indian backgrounds.
Meanwhile, just 1.3 per cent of headteachers are from south Asian backgrounds overall, and 0.9 from a black African or Caribbean background. Yet 30.4 per cent of primary students and 26.6 per cent of secondary students are from minority ethnic backgrounds.
The government's census does not include details on teachers from traveller or gypsy backgrounds, nor from smaller ethnic groups such as Turks or Eastern Europeans.
"A school needs to reflect its local area, too," Gay said. "We need more Turkish teachers. And if I live in Sheffield, we need more black and Chinese teachers. What we want to avoid is a monoculture in schools."
Gay, who came to England in 2002 from Trinidad, said the lack of salaried training posts posed a problem for migrant teachers.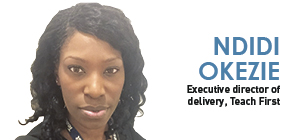 "It also depends on how you recruit – if it's just through Schools Direct, and there aren't many salaried posts, then some people will be limited by that. If you come to this country you have to have a salaried job."
The situation is also becoming more stringent, as from April 1 non-EU nationals are expected to show they are earning a salary of at least £35,000 a year to stay in the UK for longer than six years.
Co-founder Amjad Ali (pictured), assistant headteacher at Cheney secondary school in Oxfordshire, said in the new year BAMEed would launch an annual conference and networking events, as well as provide support with applications for teaching and leadership roles through a new website and coaching scheme.
The government did not publish data on the ethnic backgrounds of applications for teaching jobs, meaning it was impossible to see how many were successful and rejected, Ali said.
Visit the BAMEd website or follow them on Twitter: @BAMEedNetwork