A teachers' union is urging the government to consider the potential of secondary schools moving to a rota system in 'high' and 'very high' risk areas.
The National Education Union says that as of October 16, its analysis shows the infection rate in secondary schools is "now 17 times higher than it was on September 1".
Dr Mary Bousted and Kevin Courtney, NEU's joint general secretaries, say this is "alarming" and that it was "crucial the government looks at all potential measures to stabilise the situation".
They say this could include the possibility of moving to a rota system for secondary schools and colleges in tier 2 and 3 areas under the government's local Covid alert level system.
Under the Department for Education's own control framework, moving to a rota system is classed as tier 2. Currently, schools in 'high' and 'very high' risk areas are classed as tier 1 (meaning pupils and staff should wear face masks in communal areas).
But the NEU claimed the "education system will be plunged into disarray" if nothing is put in place to try and reduce infection levels.
DfE's revamped attendance statistics showed that around half of all state-funded secondary schools have pupils self-isolating, with 409,000 pupils not attending school for covid related reasons last week.
In a letter requesting to "urgently" meet with education secretary Gavin Williamson, Bousted and Courtney said: "We are of the view that it is now necessary to consider having the conversation with civic leaders and school leaders on what these rotas should look like.
"Rotas will enable better social distancing in schools, and proper, regularised arrangements to be made to enable high quality blended learning to be planned for and delivered."
The NEU has put together a report on the pros and cons of a rota system, based on colleges who have already implemented them.
In the letter, they say they were "particularly concerned" about statistics showing the low attendance rates in some areas of the country.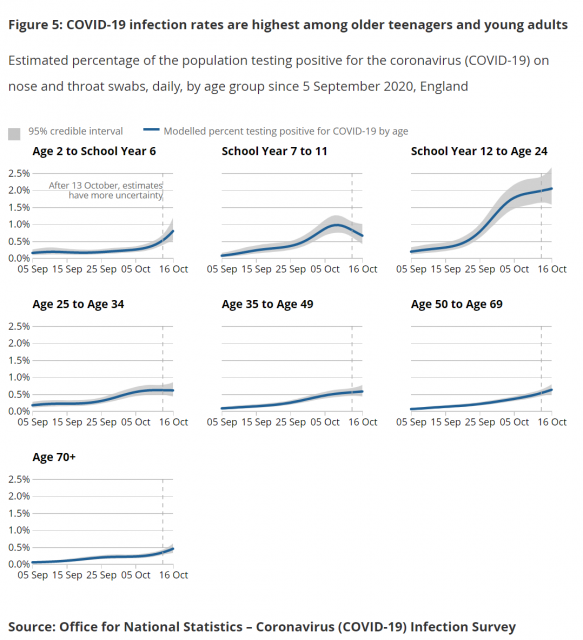 As Schools Week reported this week, Liverpool, Calderdale and Knowsley, all of which are in the 'very high' tier, reported attendance rates of 67, 64 and 61 per cent respectively. While Kingston upon Thames, which recorded 68 per cent, is currently in tier 2.
In the Office for National Statistics' Infection Survey, which estimates the numbers testing positive for the coronavirus, they say there has been growth in infection rates in all age groups over the past two weeks, with the current rates highest in older teenagers and young adults.
But they do warn extreme caution should be taken in over-interpreting small movements in the narrower age groups, particularly those in school Years 7 to 11, which have wider credible intervals.
The NEU's own analysis, which looks at the ONS data, found that from September 1 the rate of covid-19 infection per 100,000 for secondary age pupils went from 40 to 660 by October 16.
This is compared to 130 to 2,050 over the same timescale for those in school year 12 to age 24.
The Financial Times reported this week that a series of studies have cast doubt on the role of schools in spreading the coronavirus. But The Independent has reported that a study published in the Lancet Infectious Diseases Journal found reopening schools following coronavirus lockdowns is linked to a surge in transmissions within a month.
The DfE has been approached for comment.