The country's largest education union will survey its members to "build towards a ballot for national strike action" if its pay demands are not met.
Chancellor Rishi Sunak announced last year that school staff earning over £24,000 a year won't receive a pay rise in 2021, while those earning below the threshold will receive a rise of at least £250.
The National Education Union, along with leadership unions the NAHT and ASCL and teaching union Voice, rejected the pay freeze in February, urging the School Teachers' Review Body, which makes recommendations on teacher pay, to defy the government and propose a rise.
Today, the NEU's annual conference passed a motion instructing the union's executive to submit a claim to the STRB to "restore real terms pay to 2010 levels for teachers within three years, with a 2021 pay award of at least 7 per cent". The union will also support a "similar claim for support staff".
Should the government not meet the union's demands, the motion directs the union to "use surveys of members to build towards a ballot for national strike action at an appropriate time, with all tactical options considered", while seeking the involvement of other trade unions "where possible".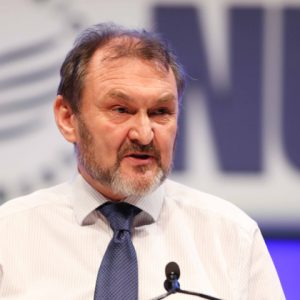 The motion also instructs the union to target employers "who produce unreasonable or unfair pay policies which withhold pay progression from staff or use their policies in unreasonable and unfair ways". It will also give "full backing, up to and including strike action, to members in schools that are withholding pay progression".
It comes after the NASUWT teaching union voted last week to use industrial action "where necessary" to challenge schools which fail to mitigate the impact of Covid-19 on staff performance management and appraisals, amid fears some could be denied pay progression.
Kevin Courtney, joint general secretary of the NEU, today described the government's pay freeze as "unjustified and unfair".
"Education staff are key workers who have contributed hugely to the country's pandemic response, but this year they face another significant cut to the real value of their pay against inflation following a decade of previous attacks on their pay."