Schools in inner London and urban areas are most likely to lose out in the government's funding shake-up.
The Department for Education has published the second consultation on its national funding formula today – revealing more details about which schools will win and lose under the new cash distribution model.
The document shows that schools in inner London and urban areas are the biggest losers – as the new formula takes into account more recent levels of deprivation figures.
However schools with low prior attainment, small rural schools and those with pupils from "just about managing" families are more likely to be given extra cash.
The government has also acknowledged how some schools are being pushed to the brink under hefty PFI contracts – and said schools in the worst PFI areas will be some of the biggest winners.
Winners:
Schools with low prior attainment pupils

The formula allocates more funding through this factor than local authorities collectively do now, the report stated. Schools with the highest levels of low prior attainment will gain an average of 1.8 per cent.
Schools with 'just about managing' families (outside of London)
The government states the inclusion of a wider definition of deprivation in the formula means that funding can be better targeted to pupils more likely to have additional needs.
This will support schools to address the needs of families 'just managing', the report read. Outside of London, these schools will gain 1.4 per cent on average.
Schools will historically low funding
This is a more obvious finding. But schools in the historically lowest-funded local authority areas will gain an average of 3.6 per cent more under the new formula.
Small rural schools
Schools in areas identified as rural (by the Department for Environment, Food and Rural Affairs) will gain on average 1.3 per cent more – mostly through proposals for a lump sum and sparsity funds.
The government said some of these schools are in local authorities that have never recognised the additional needs.
PFI schools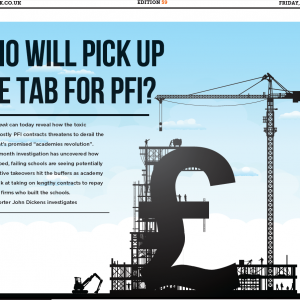 The report states that schools getting the largest per-pupil increases are those in Knowsely, Barnsley and Derby that have been "heavily affected" by PFI. (Schools Week has covered this issue extensively)
Local authorities will be funded for PFI based on historic spend, which includes an uprate for inflation.
"This means that schools where per-pupil funding is currently affected by PFI costs… will be funded more fairly under the national funding formula."
Losers:
Schools in inner London and urban areas
These schools, the report states, have benefited from historic funding decisions that are based on old deprivation data. The level of deprivation in these areas has since fallen, the report said. The new formula will use more recent deprivation data – hence funding allocations will drop.
But despite this, inner London schools will still be funded at the highest level of all schools – and also get the greatest share of pupil premium cash of regions (relative to their size).
Nottingham, Liverpool, Birmingham and Manchester would be the highest funded areas outside of London.
Small urban schools
This is a result of proposals to set a lump sum factor at a lower level than the current national average, so that funding can focus on pupil-led factors. Small schools in rural areas won't be hit as hard, though, as they will be eligible for sparsity funding