National free school meal data sharing, real-terms increases in education funding, money for mental health support and reviews of "excessive" testing will all be campaign issues for the National Association of Head Teachers (NAHT) in the coming months.
The union's annual conference in Liverpool last weekend passed 30 motions that will shape policy over the next year, which could be critical for the union as it strives to get its voice heard by a new government.
A motion on mental health addressed the "fundamental role that mental health plays in children's success and that poor mental health is a significant barrier to learning", and called on the government to increase the funding to raise awareness and to support children and young people with mental health issues.
Proposing the motion, Julie Simpson, headteacher of St Martin's C of E primary school in Liskeard, Cornwall, reminded delegates that it was only a year ago that the conference had paid tribute to Ann Maguire, a teacher stabbed to death by a pupil in her Leeds secondary school.
She also drew a link between excessive testing and damage to children's mental and emotional wellbeing, and said the government's obsession with levels and grades was a "national scandal".
"We need to have the training and support to recognise poor mental health in children at an early age to prevent escalation to a serious mental health condition."
The frequency of testing was a running theme across several motions, with one declaring that the amount of national testing given to primary children was "excessive and…not good for them". The motion called on the NAHT executive to commission a study into the effects of testing on this age group.
Another motion called for the NAHT's "vigorous" opposition to "any assessment system that is harmful to children" while another from the SEND committee called on the Department for Education to "urgently" review its approach to national benchmarking and assessment for pupils working significantly below national norms.
The association will also spend the next year campaigning for a national funding formula and a real-term increases to education funding to avoid a "budget crisis" in schools.
Conference overwhelmingly passed the motion relating to finances after Plymouth branch life member Vince Burke warned funding increases were needed to cover rising costs. "If the current situation continues, with income frozen and outgoings rising, it will mean the bankruptcy of our schools."
A motion calling for a "national system of data sharing" for information on free school meal entitlement passed after Nicky Gillhespy, business manager of Cheam Fields Primary School in Surrey, and Alan Doyle, business manager at Mount Primary School in Wirral, spoke about the negative impact on pupil premium funding when parents failed to register for meals.
Debate about Ofsted led to motions calling on the association to resist moves to sack headteachers solely based on the outcomes of inspections and for any future system to give "greater acknowledgement in its judgment of leadership to strategic, long-term planning and ingenuity".
Proposing a motion that lamented the "continuing attempts by the political parties to use testing of grammar and maths at key stage 2 as a political football", Lancashire branch member Tony Roberts described the "industrial scale" of political meddling under the coalition government.
"We have had change, meddling or idiosyncratic intervention by secretaries of state for decades, but not on the industrial scale of the past five years, largely led by Michael Gove and his rosy vision of the 1950s grammar school curriculum."
In the wake of the motions, the NAHT will also campaign to have disqualification by association legislation repealed, to remedy the "dire situation" of pay for school leaders and for a database of governors barred from service.
Click here for a full list of conference motions.
Excellence is individual
Russel Hobby, NAHT general secretary
"An atomised education system, where schools are the only agents, competing in a market of provision is not a healthy system. It is not a realistic vision. Schools succeed when they play to their strengths in a well-balanced system. I strongly believe in a school-led system. We have been doing just that. But I do not believe in a schools-only system.
This does not mean centralised prescription. It is possible to combine high levels of autonomy within wider structures of support and co-ordination.
Yet the promise of autonomy and freedom feels unfulfilled. It is not just poverty that limits schools but bureaucracy and heavy handed measurement too.
It is hard to make the most of curriculum freedom when so much of what you do is constrained by the exam syllabus. It is hard to develop new approaches to teaching when the inspection team has its own ideas. It is hard to plot a long-term course when the measures change every year.
Looking back on the past five years I think we will find that, far from delegating power and authority to school leaders, the Secretary of State has in fact delegated power to the Chief Inspector of Schools.
Schools must now spend too long guessing what the inspector wants instead of thinking about what their pupils need.
I have come to feel that one of the most pernicious aspects of our inspection regime is the "outstanding" grade.
We have handed the definition of excellence to our regulator rather than owning it as profession.
Excellence – to which all schools should aspire – is individual and subjective. It is not captured by a checklist or framework. The outstanding grade tames the mavericks. When it underpins so many other opportunities and initiatives it introduces a dangerous fragility to the system."
Schools are the A&E departments of communities
Family life – as we know in this room – has never been under more threat than it is today.
Public services slashed, two incomes not enough to make ends meet, children losing out as life gets in the way.
And where do families turn when times are tough? They turn to us.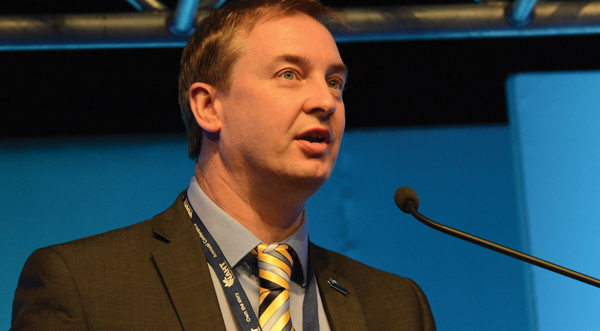 These days we're not just educating children, we're supporting mums and dads and putting neighbourhoods back together.
Schools are the A&E departments of communities. We're the first and last point of contact for families.
What use is a vague promise to protect education spending when the other sources of support for families are disappearing or have already gone?
The school is the centre of the community, never has that been more true than today.
The school is the family that every family needs and values, and we take on that burden just as keenly as we do with our own flesh and blood.
For many years, my school, Water Hall Primary, was labelled a failing school.
Our story was one of repeated intervention and year upon year of doing more of the same.
Our story was being written for us by bullying and inept people from the DfE and the local authority. Our story was one that you will all recognise, I know.
So we decided we weren't going to be controlled by the story anymore and that we needed to take charge of it.
We focused on values. We embedded those values in the environment and the curriculum. Vulnerable children re-engaged with their learning. Damaged families re-engaged with the school.
We employed new teachers and retained the ones who shared our values, putting the interests, the welfare and the learning of the children above all else.
We created our own family at school."
Tony Draper, NAHT president