Private firms have posted profits totalling tens of millions of pounds since 2012 from selling their stake in government-awarded contracts to build schools – while company directors pocketed seven-figure salaries.
The guaranteed yearly rise of PFI repayment costs is heaping more pressure on schools as their budgets are tightened by the public sector squeeze.
But an analysis of annual accounts and publically available documents has found business is booming for firms running the projects. A process known as "flipping" – where building firms sell on the value of their equity in PFI projects to other companies – came under scrutiny as part of the public accounts committee's 2011 investigation.
Former committee chair Margaret Hodge (pictured right) said firms were making excessive profits, which critics say should be shared with taxpayers.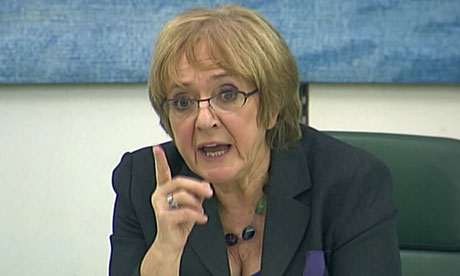 Schools Week can reveal – despite the public criticism – at least 70 school PFI projects have been flipped from July 2012.
The data, not yet published, will form part of an updated PFI database by the social justice not-for-profit organisation European Services Strategy Unit (ESSU).
Building firm Balfour Beatty made nearly £50 million from selling its shares in two PFI deals.
In April 2013, the firm sold its 50 per cent stake in four PFI schools projects to its partner in the projects, investment group Innisfree (see left). The total sale was
£42.5 million – making a profit of £24.4 million for the builder.
The construction firm made another £24 million profit from selling its 100 per cent stake in the Knowsley schools PFI project. It was sold for £42 million in May 2014 to investment fund Dalmore Capital, seven years into a 27-year contract.
Interserve also made £60 million profit by selling half its stake in 19 PFI projects – four of which were schools in Plymouth, St Helens, Sandwell and Leeds – to Dalmore Capital in October 2012.
Schools Week was unable to ascertain from publically-available documents how much of this profit could be attributed to school projects.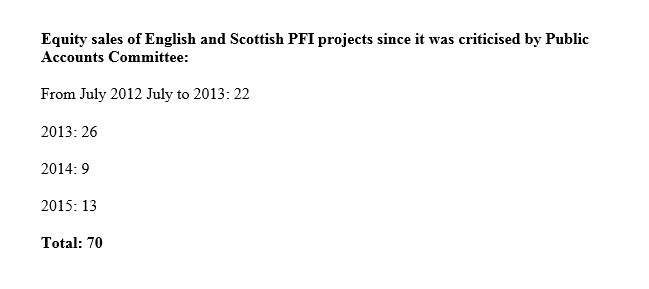 The PAC, in its report, "Lessons from PFI and other projects", said it had heard evidence tax revenue was being lost because of the offshore arrangements of some of the investment companies snapping up contracts.
And Schools Week has found 40 of the equity deals since 2012 have been acquired by offshore infrastructure funds, including in tax havens such as Jersey, Guernsey and Luxembourg.
Professor Dexter Whitfield, the director of ESSU, which compiles the data, said PFI contracts were expected to deliver a 12-15 per cent rate of return for the private sector. But the National Audit Office, as part of its review in 2012, found investors selling their shares in equity early resulted in returns of between 15 and 30 per cent on their original investment.
Professor Whitfield said: "This reveals a scandalous exploitation of taxpayers' money."
Philip Nye contributed research
OTHER STORIES FROM OUR PFI INVESTIGATION:
Investigation: Who will pick up the PFI tab?
Revealed: The true scale of school PFI debts
The future: Fair Funding Formula could be toxic for PFI schools
The future: Will schools get a better deal under PF2
The PFI firms: The low-key investment firm that owns 260 UK schools