As exams get tougher will we see more pupils requesting extra time? New data from Ofqual suggests that could be the case.
Exams regulator Ofqual this morning released data regarding access arrangements for the summer 2015 exam series.
Access arrangements are provisions made for candidates to ensure they are not unfairly disadvantaged in an exam due to disability, illness or special educational need.
Overall, there appears to have been an increase in the number of requests approved with Ofqual stating – "there were 284,300 requests for access arrangements, up 5 per cent on 2013/14".
But what else does the data reveal?
1. Requests for access arrangements have gone up – but the percentage of approvals has continued to decline. A-level candidates are more likely to have an access arrangement approved.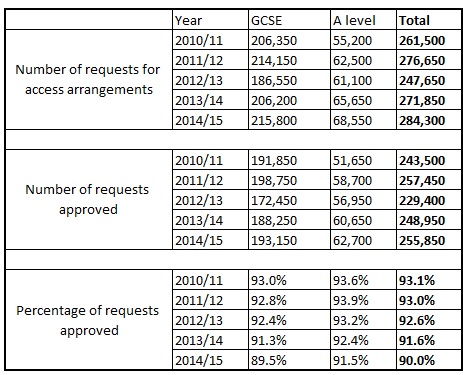 2. A lower percentage of candidates were approved for access arrangements this year.
In 2014/15 there were 173,850 candidates making applications, almost back at the high watermark in 2010/11 when more than 180,000 candidates made requests. This is a 5 percent increase on requests, and a 3 per cent increase taking into account the slightly higher number of candidates this year.
But, the percentage of applicants granted requests has continued to fall.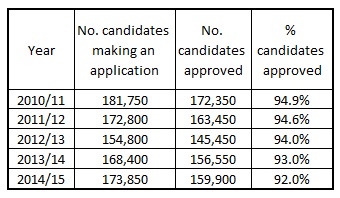 3. The most common access arrangement continues to be "25 per cent extra time", and an increase of 5 per cent from last year.
Overall more than 90 per cent of requests for extra time were approved.
4. The second most frequently granted arrangement was the use of readers for candidates with a learning difficulty or a visual impairment affecting their reading.
Ofqual said 58,950 requests were approved ( amounting to 23 per cent of all approved access arrangements) this summer, a 1 per cent decrease on 2013/14 (59,600 approved).
5. And finally, by exam board, there is very little variation in the percentage of granted modified papers (papers with larger font, or in Braille etc) – all around the 0.2 per cent mark.
But the percentage of requests for modified papers has jumped dramatically since 2012/13 and increased again this year by 26 per cent from just under 29,000 to just over 36,000.