A £200,000 investment in mental health training for school staff will train just 1,000 teachers and only cover the first year of the programme, the government has admitted after making a mistake with its figures.
The Department of Health and Downing Street had originally said that the £200,000 allocated by the prime minister for mental health "first aid" training would pay to train 3,000 secondary school teachers over three years.
However, the government has been forced to correct its announcement after Schools Week pointed out the original amount worked out at £67 per head – far less than the £117.25 it costs to deliver the training.
The correction was issued several hours after the mistake was identified and after the £67 figure was raised in parliament by the shadow education secretary Angela Rayner.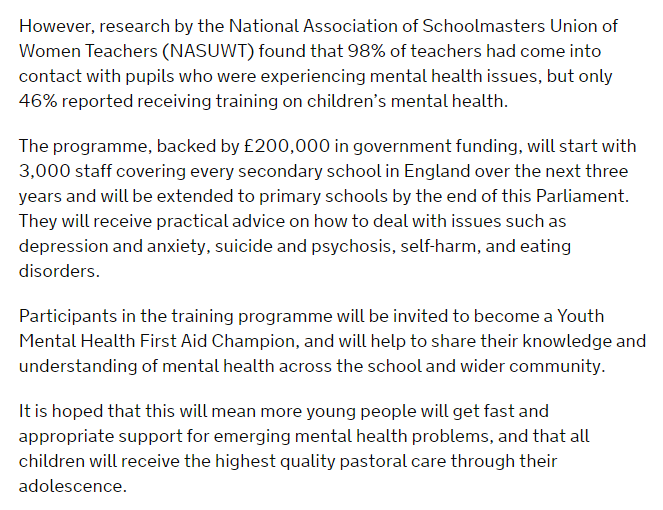 In an updated press release, the government says the funding announced today is for the training of 1,000 teachers in the first year of the programme – not 3,000 teachers. It will be delivered by the charity Mental Health First Aid.
The project will then be extended to cover all secondary schools in England over the following two years and will eventually be delivered to primary teachers too, although the government is yet to agree how much it will spend to make this happen.
The government also appears to have corrected a mistake in its original announcement relating to the total number of secondary schools in England.
In its original release issued earlier today, the government said the £200,000 would pay for "3,000 staff covering every secondary school in England over the next three years".
According to the latest school census data, there are more than 3,400 secondary schools in England.
The mistakes were highlighted after Mental Health First Aid told Schools Week it costs at least £117.25 per head to deliver the training, based on a cost of £1,876 per 16-person training session.