The education select committee has published an independent report highlighting conflicts of interests at academy trusts and concerns about government oversight.
The commissioned report, published today, was compiled by Professor Toby Greany and Jean Scott of the Institute of Education at the University of London, and lists a number of recommendations.
Examples of conflicts include situations where family members of academy trustees were given high-paying jobs, and payments made by the trust to companies run by the academy's directors.
The report stated that "checks and balances on academy trusts in relation to conflicts of interest are still too weak."
One recommendation called on the committee to consider whether the Education Funding Agency (EFA) – which funds pupils and all schools and allocates funds to local authorities – should be separated from the Department for Education (DfE) so that it can conduct its regulatory work independently from ministers.
The report said interviewees did not believe either the EFA or Ofsted is "fit for purpose" when it comes to preventing conflicts of interest.
Checks and balances on academy trusts in relation to conflicts of interest are still too weak
It said: "The ability of the system to pick up on intangible conflicts that do not involve money seems almost non-existent.
"Hopes that the new Regional Commissioners will address these issues are low.
"There are almost certainly issues that will need to be addressed in relation to the new Head Teacher Boards. There is a broader sense that the academy system lacks transparency and is overly politicised, from the top down.
"The Committee should conduct an enquiry session to understand whether the regulatory powers of the EFA should be split from its funding role."
Schools Week asked Chair of the education committee Graham Stuart (pictured below) if the EFA was too close to ministers: "I can't answer that question as the committee hasn't considered all the evidence yet."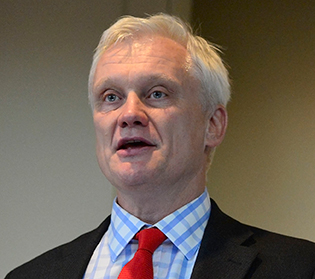 He added: "The research suggests the need for further tightening of rules and the committee will question the Secretary of State as to her plans for keeping the right balance between autonomy for academies and academy chains.
"Most academy trusts are working hard in challenging conditions to raise standards and the greed and nepotism of a self-serving few shouldn't bring the honest into disrepute.
"The report suggests most of the large academy chains have now improved their governance structures and provide more effective management of potential conflicts of interest.
Nansi Ellis, assistant general secretary of policy at the Association of Teachers and Lecturers, said: "Millions of pounds of public money is being spent on this government's academy and free school schemes.
"Evidence shows £80 million has been spent on legal, accountancy, recruitment, property services and other consultancy fees connected with academy conversions.
"It is vital the public can have confidence this money is being spent to improve children's education and not to line the pockets of shareholders and chief executives."
A DfE spokesperson said: "As the report recognises, the vast majority of academy trusts are focused on raising standards of education – often in our most challenging areas.
"All academies are subject to a strict oversight and regulatory regime which has been further tightened since 2010.
"We will consider the report's findings carefully."
Picture caption: The education select committee in session