The Liberal Democrats will pledge to increase teacher numbers in English schools by 20,000 over the next five years.
In its manifesto, to be launched tomorrow, the party will also promise to increase the schools budget by £10 billion by 2024-25. A further £7 billion would be allocated for new school buildings and maintenance over five years.
The party has also pledged annual pay rises of at least three per cent for teachers.
It is disgraceful that some schools feel they have no choice but to ask parents to chip in for supplies, and are closing early on Friday to balance the books
But headteachers have demanded more information about the spending plans, after the party admitted the extra money would have to cover a number of costly initiatives, including substantial increases in teacher pay.
According to the party, the additional money allocated will be also be spent on reversing real-terms cuts faced by schools over the past decade and to "boost teaching numbers by 20,000 over five years".
As of last November, there were 453,400 full-time-equivalent teachers working in state-funded schools in England, up by 12,000 since 2010.
Demand for teachers is expected to rise in the coming years, particularly at secondary level, where a baby boom in the early 2000s has prompted a sharp rise in pupil numbers moving into the system from primary schools.
The pledge also comes during a growing teacher recruitment and retention crisis, which has seen issues such as pay and workload become a priority for successive Conservative education secretaries.
In their manifesto the Lib Dems will match the Conservatives' pledge of a £30,000 starting salary for all teachers by 2022-23, and promise that all state school teachers will get an annual pay rise of at least 3 per cent over five years.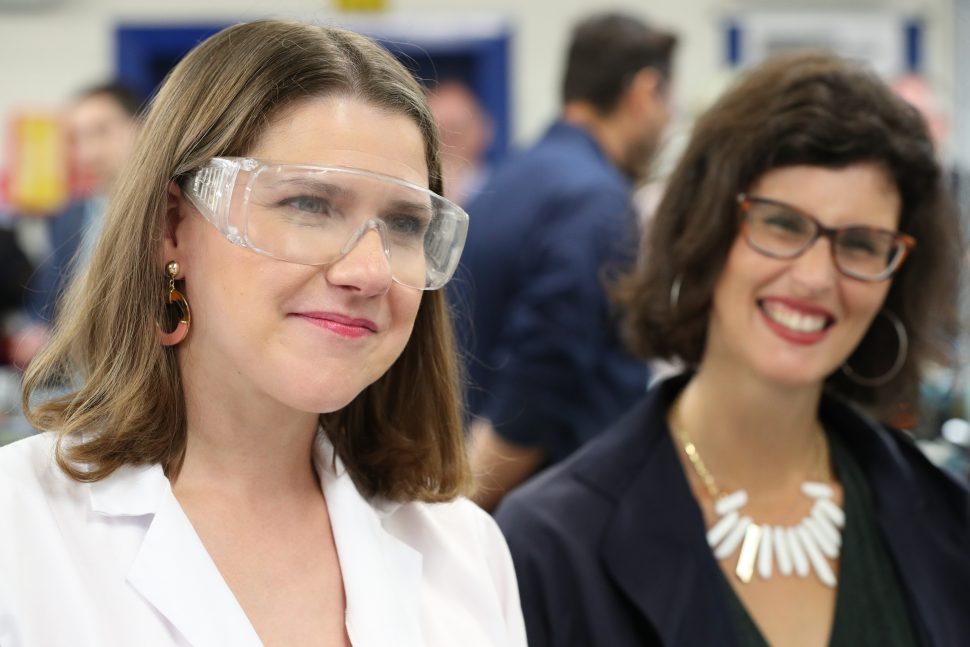 The £10.6 billion will also be expected to cover extra funding for special educational needs and disabilities support and a "fully-funded" entitlement to 50 hours of continuing professional development a year for all teachers, which will be in place by 2025 if the party wins the election.
It means the total schools budget would rise to £54.1 billion by 2024-25, a £10.6 billion cash-terms increase on its level this year.
"Headteachers are crying out for more staff, but too many are leaving the profession because they are overworked and underpaid," said Lib Dem education spokesperson Layla Moran (top, right).
"The Conservatives only care about teaching children to be tested. High-stakes Ofsted inspections and SATs tests are placing an unacceptable burden on pupils and teachers alike."
The Lib Dems are the third party to set out their spending commitments for schools. Boris Johnson pledged to boost funding by £7.1 billion by 2022-23 earlier in the year, and the Greens proposed a rise of at least £4 billion a year in their manifesto earlier today.
The party says the funding for its various education initiatives will come as part of a "remain bonus" resulting from its plans to scrap Brexit.

Lib Dem leader Jo Swinson accused the Conservatives, who she served with in government between 2010 and 2015, of cutting school funding "to the bone".
"It is disgraceful that some schools feel they have no choice but to ask parents to chip in for supplies, and are closing early on Friday to balance the books," she said.
"By stopping Brexit, we can spend £10 billion of our remain bonus on reversing school cuts and hiring 20,000 more teachers – so that pupils can leave school happy, healthy and with the skills they need to succeed in life."
According to the Lib Dems, the additional funding will allow it to keep the schools block of funding rising in line with pupil numbers and "actual cost pressures", based on calculations by the teaching unions.
Geoff Barton, the general secretary of the ASCL school leaders' union, warned the spending commitments on pay and CPD would "absorb a sizeable chunk of the extra money".
"We would therefore need to understand the figures in more detail to be able to assess exactly how it impacts on schools," he said, adding that it was "critical" that the party's manifesto also addresses 16 to 19 funding.