A legal loophole means sixth forms can get away with pushing out low-attaining pupils halfway through their A-levels – leaving other schools to pick up the pieces.
The law prevents mainstream schools from excluding pupils on the basis of academic performance, however government guidance makes clear this does not apply to 16-19 free schools or sixth form colleges.
Now lawyers have called on the government to shut down the loophole, claiming more pupils are being pushed out or forced to retake a year, without being "technically excluded".
If a pupil meets the requirements to be admitted to a school and behaves, they should be entitled to carry on
Alice de Coverley, barrister at law firm 3PB, said: "These schools usually say they are doing it in the child's best interest. But in reality the pupil is put in a terribly difficult position."
Last year Schools Week revealed that Newham Collegiate Sixth Form Centre (The NCS), a selective 16-19 academy in east London, stopped about 20 pupils from entering year 13 because they didn't achieve three Cs in internal year 12 tests.
It appears The NCS is continuing the practice.
A parent, who did not want to be named, told Schools Week that her son had been pushed out of The NCS a month before he was due to start year 13 this September.
The parent said principal Mouhssin Ismail told her son he could not continue after scoring three Ds in internal tests, leaving his confidence "shattered".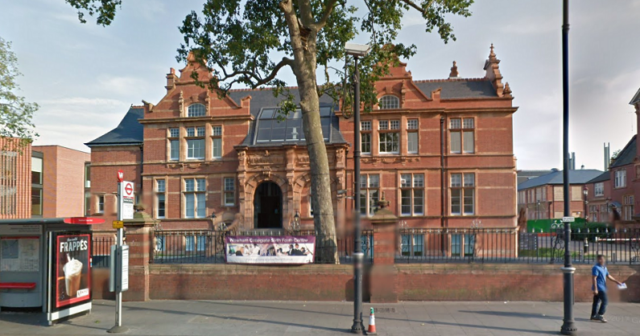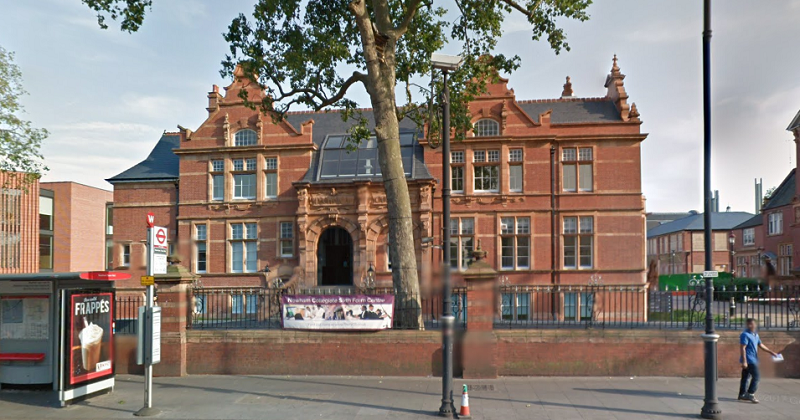 Despite the sixth form having since been taken over by the City of London Academies Trust, it still falls outside the admission rules that ban any such practice in schools, or sixth forms attached to schools.
But Russell Holland, barrister at law firm Michelmores, said even with the legal loophole, preventing pupils from continuing into year 13 is "highly questionable".
"If a pupil meets the requirements to be admitted to a school and behaves, they should be entitled to carry on," said Holland.
The NCS website states pupils can be excluded because of behaviour breaches "and/or poor academic progress".
However the City of London Academies trust, which took over the sixth form last year, claimed "no pupil is excluded from NCS on the basis of their grades".
A trust spokesperson said pupils are instead offered "appropriate progression routes into year 13".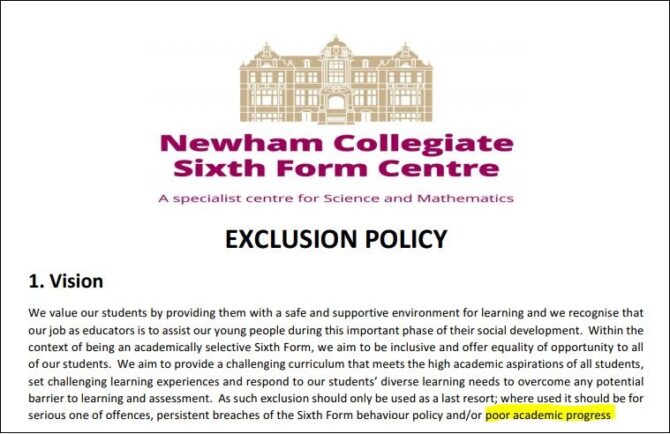 A "progression policy" on the school website says pupils must get three passes in year 12 to continue, however what constitutes a pass is not defined.
The anonymous parent said any criteria over the progression policy was not explained when her son applied.
She claimed Ismail, during a meeting in August, said her son could re-take year 12 in different subjects, but these didn't fit his chosen university course.
The progression policy also claims pupils without a "viable year 13 programme" will be offered "guidance" about other options.
But as the sixth form only spoke to the parent in August, most alternatives were full and the pupil now has more than an hour's commute.
Nearby City and Islington Sixth Form College said at least two former NCS students had joined in September.
Director Peter Murray said despite the "upheaval" of moving, NCS pupils are learning well.
Local Labour MP Stephen Timms, when asked about the practice by Schools Week, said he will seek a discussion with Ismail about the school's policy.
Exclusions legislation should be extended to cover all pupils until the end of their education
Last year, St Olave's grammar school, in Kent, was forced into readmitting pupils the Guardian newspaper revealed it had pushed out halfway through sixth form.
However as the sixth form was attached to a school, it falls under stricter rules banning exclusions of pupils for non-disciplinary reasons.
Now de Coverley has suggested exclusions legislation should be extended to cover all pupils until the end of their education.
Holland also stated equalities legislation could be used to challenge a sixth form for failing to consider the learning needs or mental health issues of pupils removed from subjects.
A DfE spokesperson confirmed 16-19 academies should "take all reasonable steps to ensure a student can complete their studies once they are enrolled".