Ofqual has this morning published figures on the number of late GCSE and AS/A-level entries for this summer's exam series.
Schools and colleges are given deadlines by which exam entries need to be made. Those made after that date are classed as "late" and are subject to extra charges.
Last year, just over half a million entries to A-level and GCSEs were late, with 523,685 entries late overall.
But how different is this to previous years?
1. Late GCSE entries continue dropping
Late entries to GCSEs have been dropping steadily over last three years, and fell again this year.
Whereas 3.3 per cent of all entries to GCSEs were late in 2014-15, that fell to 3.2 per cent last year.
This year, 3 per cent of all entries were late – a further slight drop.
Moving from modular exams to linear GCSEs helped reduce the figures as schools were less likely to remove pupils last minute and had fewer decisions to make with regard to papers.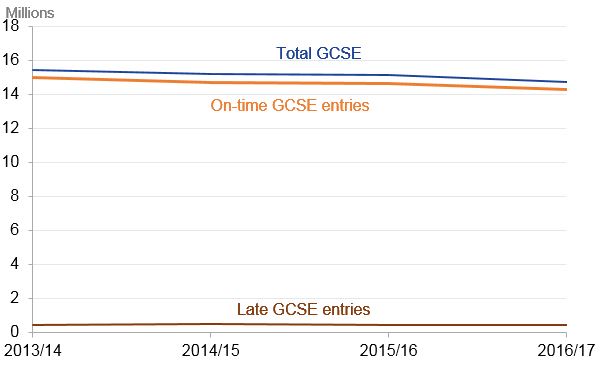 2. The proportion of late A-level entries is levelling out
After several years of dropping, the late entries to A-levels are levelling out.
They've fallen from 2.4 per cent of all entries in 2014-15, to 2.1 per cent last year.
This year, they've steadied out at 2.2 per cent.
3. OCR has the highest proportion of late entries
OCR has the highest proportion of late GCSE entries. The numbers of late entries to the exam board had been falling, but that trend reversed this year.
Altogether, 3.5 per cent of entries to OCR GCSEs were late – with the figure driven by a large proportion, 15.2 per cent of entries, in November put in as late entry.
AQA was close behind with 3.2 per cent. Only 1.5 per cent of entries were late for WJEC and 2.7 per cent were late for Pearson.
At A-level, OCR had 4 per cent of entries registered late – compared to just 0.5 per cent at WJEC, 1.9 per cent at Pearson and 1.6 per cent at AQA.
A spokesperson for OCR said the late entry figures for 2017 are "still much lower than the 2014 figures which is a result of a concerted effort in recent years to get the important message about deadlines out to all our schools and colleges."
However they added the "slight upswing this year is disappointing and we will renew our efforts to communicate as effectively as possible."
AQA continues to be the most popular exam board, with 7.1 million entries at GCSE last year and 1.5 million at A-level.
4. Entries to AS/A-level continue to fall
There's been a 17 per cent decrease in AS/A-level certificates since last year to this summer.
The drop-off is explained by AS- and A-levels being de-coupled since 2015, meaning AS-level results no longer count towards their A-level grade.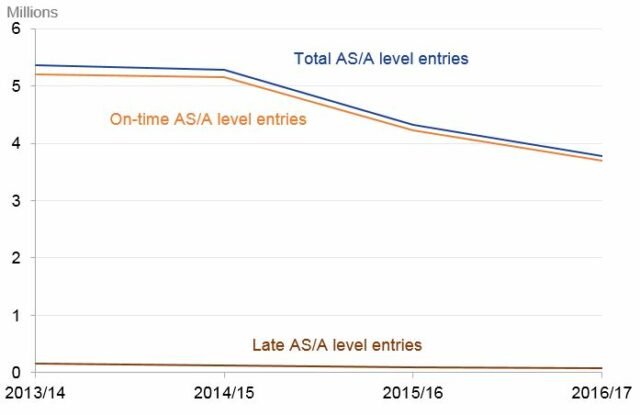 5. Costs decrease overall
The decreasing numbers of late entries and certifications mean the costs borne by schools for their exams continue to drop.