The Labour Party should "move on" from the debate over academies and focus on campaigning for greater controls over the way they are run, the shadow education secretary has said.
Speaking to Schools Week ahead of the Labour Party conference, Angela Rayner no longer wants to get "bogged down" in debates on the merits of certain types of school, and will instead pursue the government on the use of public money.
This marks a departure from the party's strident anti-academies stance and raises questions on the role local authorities would play under a future Labour government.
The MP for Ashton-under-Lyne, who has been in post for 14 months, still believes in "local accountability and local say" over where schools should open, but she is not "fixated on local authorities" as the solution to all problems in the system.
"I'm not going backwards – I'm going forwards," she says when we meet in her Westminster office. "Most parents, including me, are interested in a good school that their kids can go to. They don't care what it's called, quite frankly."
Despite this very obvious softening of Labour's position, it is clear that to Rayner, the academies system is still far from perfect. She rails against the government for allowing situations like the recent one in Yorkshire, where Wakefield City Academies Trust shrugged off all 21 of its schools.
"They're just handing back the keys in Wakefield," she says, in disbelief. "Where was the accountability there? Where was the secretary of state?
"She cannot oversee the system that she's created, unless she sits there at night literally looking at a fiefdom of academies thinking, 'how do I look after these multi-academy trusts and these standalone academies?'"
I'd challenge anyone with a child to live on £16,000 a year, it's a really low income
With academies now making up two thirds of secondary schools and a quarter of primaries, it was almost inevitable that Labour would eventually have to give up on the idea of returning them all to council scrutiny.
But Rayner's comments, coming so soon after an election campaign in which her party pledged to allow councils to "run schools", provides welcome clarity on Labour's priorities at a time of great political uncertainty.
With talk of another general election in 2019 or even sooner, Rayner has to convince the public that she is an education secretary in waiting. For her, this means ditching some of the anti-academy rhetoric that has been at the heart of Labour's campaigning for over half a decade.
On the party's last election manifesto, and the universalism behind her proposals for a new National Education Service, Rayner is candid but stubborn, as she defends party policies on universal free school meals and tuition fees.
She admits the manifesto, which Schools Week was the first to publish, "wasn't perfect", and puts this down to the timing of the election, but insists it reflected "Labour values" about "making sure that everyone gets all opportunities".
"We had literally a couple of weeks to pull all the things together that we'd been working on for some time," she admits.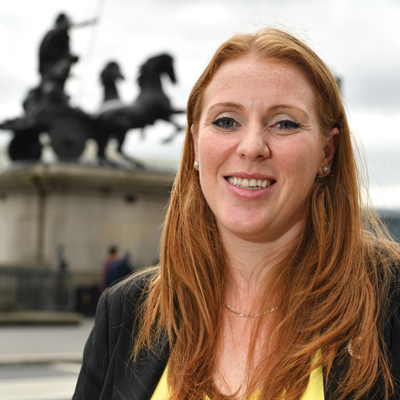 "Is the National Education Service fully envisaged with all the fine minutiae? No. There's always room for improvement."
Rayner also rejects accusations that her party's policies on free meals and tuition fees were simply handouts for better-off families.
"Above the threshold where you get these free benefits, there is a whole wave of working poor that I believe would benefit from this as well," she says.
"You have to be on £16,000 a year or less to get free school meals. I'd challenge anyone with a child to live on £16,000 a year, it's a really low income."
So why not just raise the threshold for free school meals? Rayner says she "hears the argument", but wants to help all families, and give every primary school pupil a "good, nutritious dinner" every day.
This is also about reducing the stigma that she faced herself as a claimant of free meals during her school days.
"I asked my dad for a picture of me from school for when we did the GCSE results this year, and they gave me a picture that he's kept in his wallet of me, and it's on my school dinner token, which I thought was quite apt.
"You knew you were free school meals kid, and you got a lot of stigma for that. I don't believe we need to do that, and I think helping working families is really important."
Is she bothered by the lack of analysis of the impact of existing universal primary free school meals policies in Islington and Newham?
"The benefits are clearly there," she says, although she acknowledges that the evidence is incomplete.
"There is anecdotal stuff," she says. "I'm sure that evidence will come along as well."